By Louis Senecal on Sat, 01/16/2010
No matter what device I have ever owned, I have always had the hankering to get cases for it.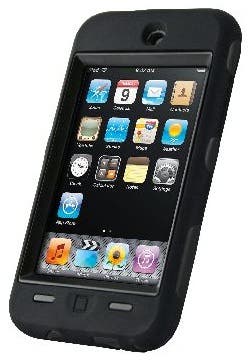 They add extra protection and can be very stylish. When I think about it, I think it's an addiction I have, because I am always looking for the perfect case. When I think I have found one, something comes along and catches my eye and it begins all over again; How much is it?  What are the reviews?  and Where can I find it cheaper? When the iPod came along in my life, it got worst, as pretty much every store you go in these days have iPod accessories. These businesses are fueling my addiction. I have been happy with the incase slider I had purchased a couple months ago. Then I spotted the Otterbox Defender series case before Christmas. So when my family asked me what I wanted for Christmas, I said I have the perfect idea. I actually provided them the online shopping link and found a really great price for them. I thought this is awesome, a new case coming my way and it's saving me some money for a future case that comes out (see it's an addiction.) On Christmas Eve, I received the case and put my baby in the Otterbox that evening. I still have the case on it. Solid feel constructed of both plastic and a silicone outer shell with a built in screen protector. (The only drawback is that you have to remove the entire case to use it with the Apple Universal Dock, but I can live with that). My wife calls me a geek when I see a case I want, at which point I ask her what purse she is using today. That gets her to stop.  Last week, I went to the Otterbox site and purchased my son a version of it for his Nano. I then saw that Otterbox discontinued the iPod touch (and others) and it only focusing on Smartphones going forward. Who knows what the next great case I find will be. So this brings me to a question for all of you. If you use a case on your device (no matter what device), what do you use and why do you like it? 
Master your iPhone in one minute a day:
Sign up to iPhone Life's Tip of the Day Newsletter and we'll send you a tip each day to save time and get the most out of your iPhone or iPad.