By Louis Senecal on Thu, 06/09/2011

Master your iPhone in one minute a day:
Sign up to iPhone Life's Tip of the Day Newsletter and we'll send you a tip each day to save time and get the most out of your iPhone or iPad.
The Zaggsparq 2.0 is the latest external battery pack I was testing out with the iPad. This is also the first battery from Zagg that I have tried. In the package, you receive the Zaggsparq 2.0, an EU adaptor, and an instruction sheet.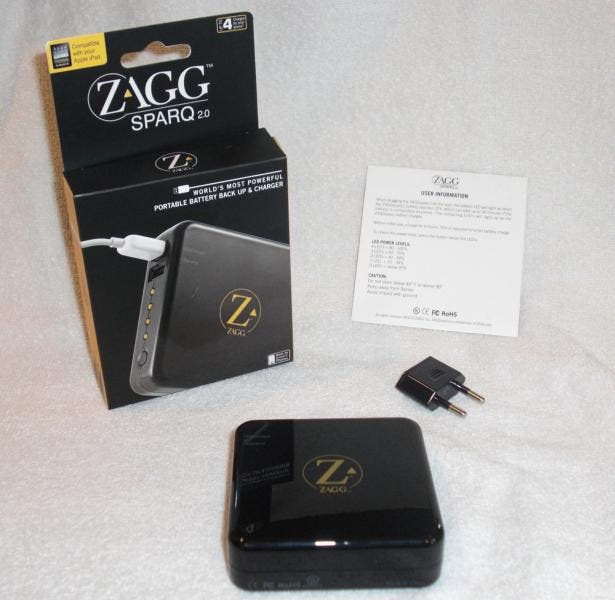 With the exception of a few of the facts in this review, you can find the full technical specs on the link at the end. This battery is 6000 mAH. The only higher capacity battery I tried besides this was the Richard Solo 9000 mah which I will compare a few things to it. I have also tried the Richard Solo 5000 mAH battery.
-Power Lights: This has four yellow lights that indicate power level,
25%,50%,75%,100%. This feature is not unique but it is very appreciated, as you can get a visual idea of how much juice is left.
-Built in Wall Plug: This is a big feature. None of the battery packs I have used in the past have this. You had to rely on your own power brick. This plug folds in when not in use. I was a bit worried about if falling off the wall but it sits there with no problems and is pretty secure to the wall. I like being able to just throw this in a bag. It's an all in one solution.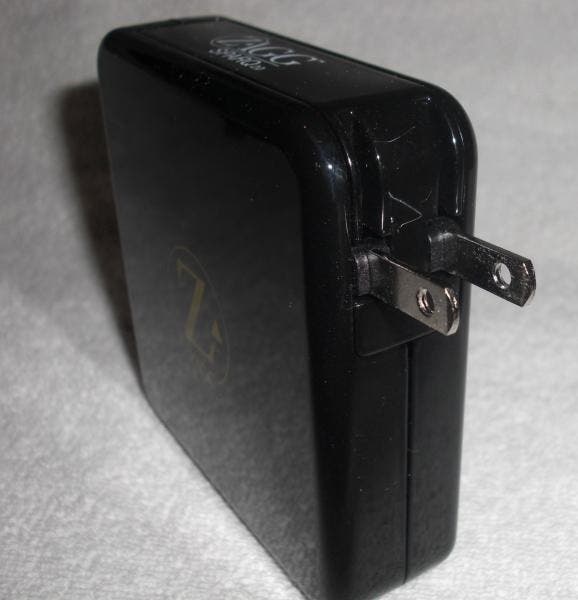 Two USB outlets: This has two usb plugs so you can charge two devices at one time. The Richard Solo 9000 mAH does not have this, but their 5000 mAH power station I have does. The Zaggsparq has made one plug optimized and one for general charging. It all comes down to what your device is and what the best charging option is.
Size: This fits in the palm of my hand. While it's not as thin at the 5000 Powerstation, it still is fairly compact. I do not think this could get skinnier AND still be able to keep the built in plug. I like that plug too much and would not want to change it. This is also lighter compared to the Richard Solo 9000.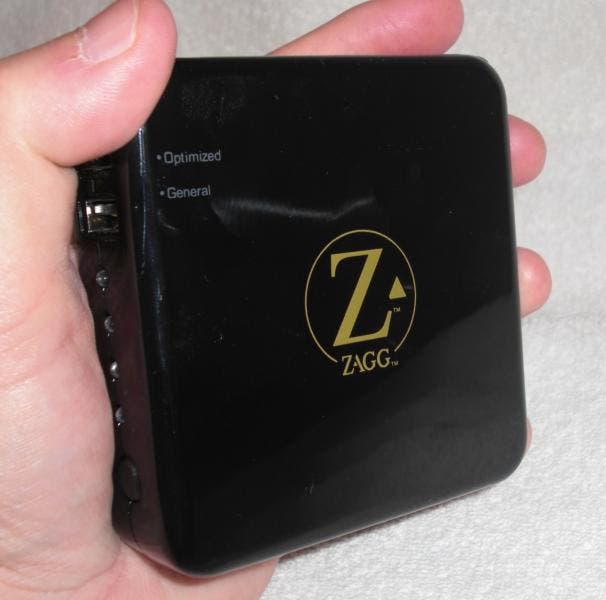 As instructed, it does take all day to charge. If your battery lights don't light up right away, don't freak out. When it's dead, it takes a little bit for the first indicator light to get going. I only tested this with the iPad, as that is the purpose I was using it for. I do want to mention that if you use this with the iPhone, it is said you will get four full charges. With the iPad, you are supposed to get an additional 5 to 6 hours of usage, which I believe comes out to 50-60% of extra battery power on your device. Did it succeed? It sure did. On average, it charged my iPad up to an additional 53%, which is a little over 5 hours. It took approximately 2.5 hours to charge the iPad. It performed just as Zagg said and designed it to do.
On a side note, the Zaggsparq also provided me some much needed emergency power. Last night, in my part of Western Ma, we had some tough thunderstorms that turned a lot of trees into flying weapons and toothpicks. We were without power the full night and some of this evening because of that so I used this to charge my sons iPod, as it had a flashlight app on it. While I did not need to use that app, I would have if I used all my flashlight batteries up. I also charged my iPod Nano in the second plug, so I could have power to listen to the FM Radio for the news. Just another example of how extra battery power comes in handy. (my cell phones do not charge off USB, other wise this is what the Zaggsparq would have been saved for.
Specs and Features:
 -Portable power: More than a simple extended battery, carries multiple charges for any personal electronic device with you - including four full recharges for most power-hungry smart phones
-On-the-go convenience: fits easily in a pocket or bag-
- works with most USB charged gadgets, including cell phones, handheld gaming systems, digital cameras, and the Apple® iPad® (adapters for mini-USB to USB not included)
-Two USB charging ports: Optimized and General
-6,000 mAh Lithium Polymer
-Max output: 2000mA @ 5V
-Power Source: 100-240 VAC @ 50/60 Hz
- Size 3.5 x 3.5 x 1 inches
-Weight 8.6 ounces
Website:
http://www.zagg.com/accessories/zaggsparq.php
Price:
$99.99