By Louis Senecal on Mon, 12/12/2011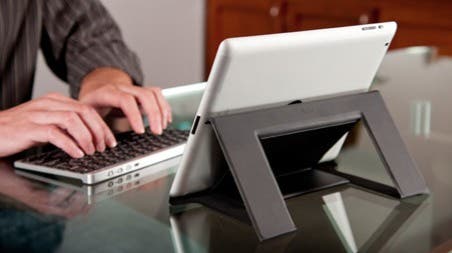 Let me first start off by disclaiming two things. I'm a huge ZAGG fan and I love keyboards. I think the external keyboard for your tablet of choice is a great accessory. I don't use one all the time, other wise I would have purchased a laptop. But I do use them when I have greater amounts of typing to do where I'm going to be using my iPad or Galaxy Tab. Last month I posted my usage of the Zagg Keys Solo keyboard. When I finished, I saw on their Facebook page that they were releasing the ZAGGkeys Flex.  Besides the size difference, the Flex is truly more of a Universal Bluetooth Keyboard. While you could use the Solo on many devices, it did have the slot built in for an iPad and Samsung Galaxy Tab 10".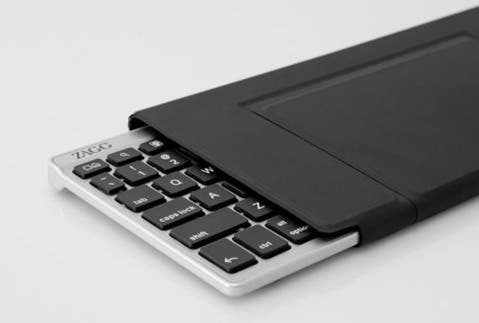 Master your iPhone in one minute a day:
Sign up to iPhone Life's Tip of the Day Newsletter and we'll send you a tip each day to save time and get the most out of your iPhone or iPad.
In the package you get the Keyboard, Stand, charging cable and user manual. The user manual is very similar to the Solo as it discusses what the special function keys are for iOS and Android. It is compatible with these two operating systems, can be used with some smart phones as well.
Below are two Zagg videos where you can see the keyboard in action. My review pics will be at the end of the review, so keep scrolling when you are done.
As you saw from the video, the keyboard cover is also a portable stand. When not in use, it protects the keyboard. To me, the outer material of the stand feels like a more solid similar material that Apple's original iPad case was made of.
The keyboard is very light. When I took it out of the package, I was not sure what to think. My initial impression was that this is made of flimsy cheap plastic, like some of the toys you would find at a dollar store. I did not have this experience with the Solo, as that seemed to be more solid and is a bit heavier. But, so far, I'm completely wrong. The keyboard has held up very well and the construction seems to be very solid. I thought the key feedback was good also. It made me feel like I was typing on my work laptop. I'm thinking that they designed this to shed some of the weight. The solo weights 11.5 ounces and the Flex weighs 6.3 ounces. With the protective cover, the total weight is 11.3 ounces.
I compared this physically to the Solo and from what I can tell the actual keyboard and keys are very close, if not the same. The comparison pics are at the end also. Size wise, it could be the Solo but without the stand strip at the top.
It has most of the same buttons as on the Solo, except they are on the back and have added one. Besides your charging input, on/off, and pairing, they added a button so you could choose iOS or Android. You would obviously choose the correct one based on whatever device you are using. This is to enable the special function keys that pertain to each operating system.
On the bottom, you have four little rubber feet.
There are three lights on top. Charging Light, Status Lights, and CAPS Lock Light.
Pairing the device is the same process as you would pair any other Bluetooth device. For those that may be unfamiliar with it, you power your keyboard on. On your tablet, go to your Bluetooth setting and enable that. Press the pair button on the keyboard and you should see it pop up on your tablet. Type the code in that comes up on your display via the Flex and press enter.
The stand is a great idea. It will support large and small tablets, as well as phones and iPod Touches. I think it's a fingerprint/dirt magnet just like the original Apple case, but it does its job of protecting the keyboard and provides a sturdy stand.
As I said in the beginning, I'm a huge Zagg fan. I have been very satisfied with their review unit performances, my additional Zagg purchases, and even the one on one customer service experiences from the Zagg Mall Carts that I have received. I have enjoyed using this Flex. I love the continued ease of use and the size. Dare I say this on this primarily iOS centric blog, but I think this Flex Keyboard, because of its size, makes a great companion for our 7" tablets. But no matter what device you use, this does not take a lot of room in your tech bag, purse, etc. If you have a Zagg Mall Cart in your area and you are interested in learning more, you should see if they have one on display that you could try out.
Specs and Features:
-Length: 9.4 inches (242 mm)
w/ Smart Stand: 9.4 inches (242 mm)
-Width: 4.8 inches (120 mm)
w/ Smart Stand: 5.0 inches (127 mm)
-Height: .65 inches (12 mm)
w/ Smart Stand: 0.75 inches (17 mm)
-Weight: 6.3 ounces (128 grams)
w/ Smart Stand: 11.3 ounces (320 grams)
-510 mAh rechargeable lithium polymer battery.
Product Website:
http://www.zagg.com/accessories/zaggkeys-flex-tablet-keyboard-stand.php
Price:
$79.99
Review Photo Gallery Below