By Louis Senecal on Fri, 06/17/2011

I'm going to get right into it. As I stated before, it is compatible with the iPad 2 and 1.
Master your iPhone in one minute a day:
Sign up to iPhone Life's Tip of the Day Newsletter and we'll send you a tip each day to save time and get the most out of your iPhone or iPad.
The iPad 1 can be placed in this battery pack in the glass down position. It sits in there well, just like the Zaggmate. Your iPad does need to be naked. This does not provide any back protection for the iPad 1.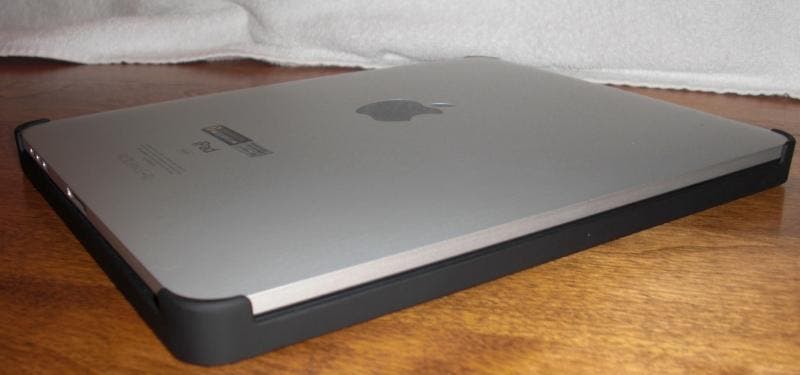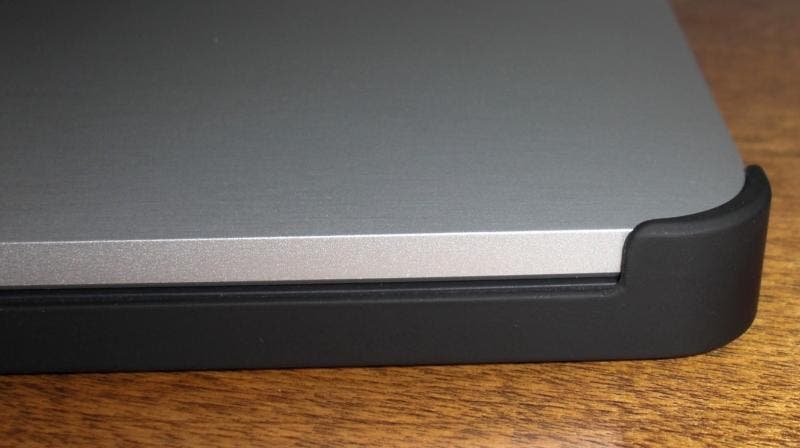 The general construction seems to be pretty good on this thing. In my use and examination, I did not see any defects or less than desire-able workmanship. One of the main points I wanted to make is that it's not that heavy. I have reviewed other external batteries that felt heavier than this.
The material to me feels like the original Apple case, except harder. With this also come the finger prints though (like the Apple case).
On the outside of the case, there is an on/off switch. The power switch is a little difficult sometimes for my fingers to get in there and use it. It slides back and forth with a click for operation.
On the bottom side of the case, you have a USB out plug as well as the connector to plug in the included power cord. You need to use your own power brick.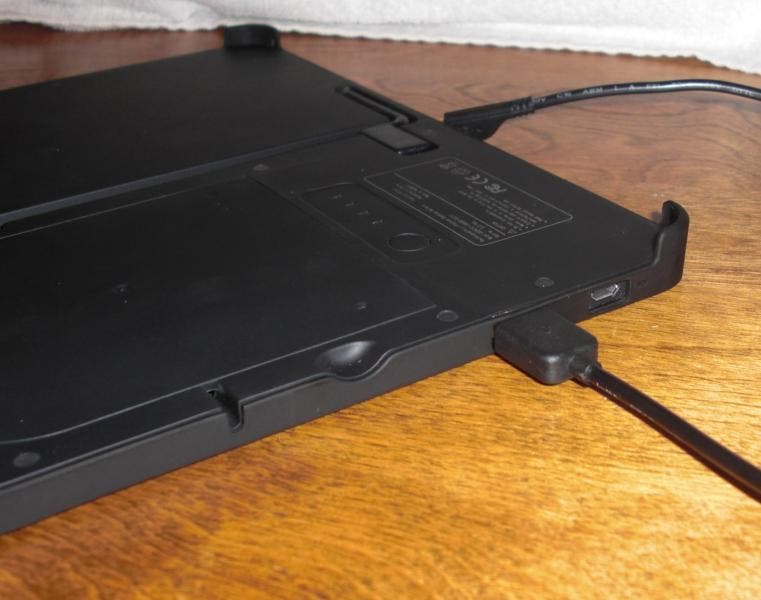 On the inside, you have a few things.
There is a power button with four indicator lights that visually tells you how much juice is left.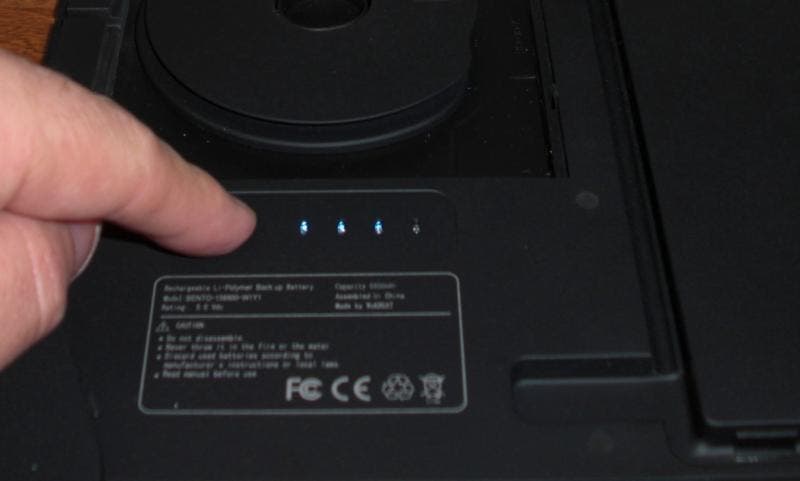 There is a metal stand that lifts out that allows for different viewing angles. One such would be for looking at movies. You can also adjust it to a lower position for typing. I cannot lift the stand out with my fingers. I do not have fat fingers but at the same time, there is not enough room for my finger to get in there. I have to use a pen or paperclip. The finger access hole could have been a little bigger. Other than that, the stand is a nice feature and is very functional.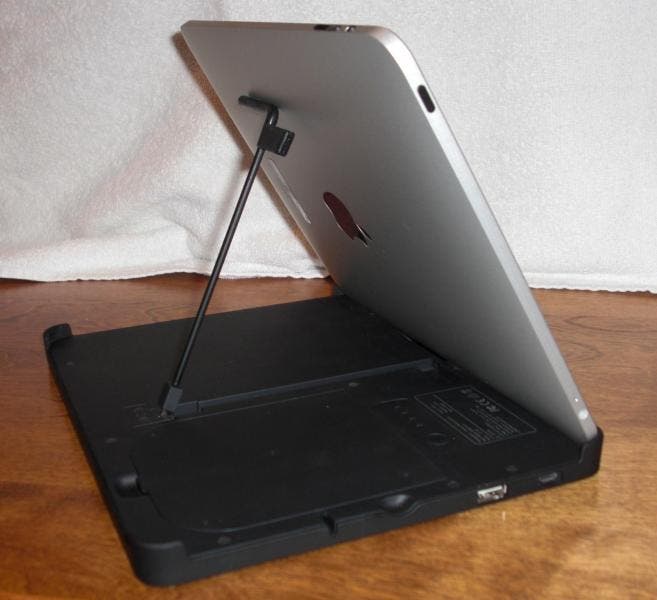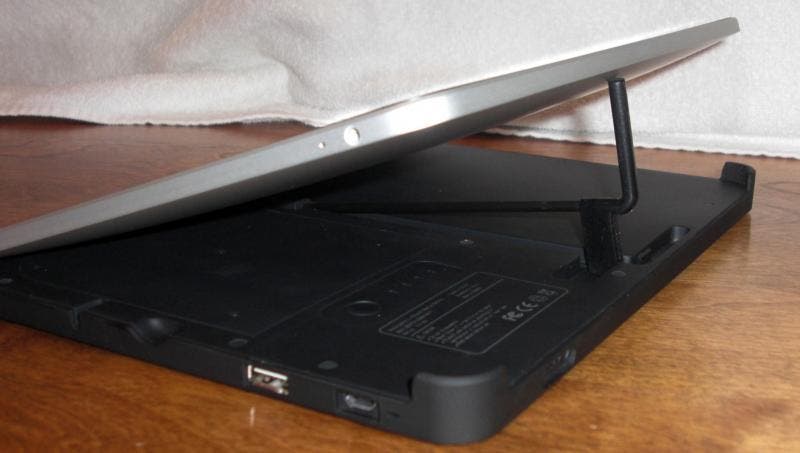 The third thing is the hidden cord real. Pop the cover off and you can lift out the reel. This is where you would wind your apple cable in for use and storage. It took me a little bit to get it right so it would fit in place and keep it flat as possible to reduce the pressure on the cover. As soon as I got it in, I plugged the USB end of the cable into the USB slot in this reel area. This is where the power output is for the iPad. Note that there is a little slot where the 30 pin connector feeds through the side so you can cover the reel. You can then charge the iPad whether it is in stand mode or laying glass down as a case.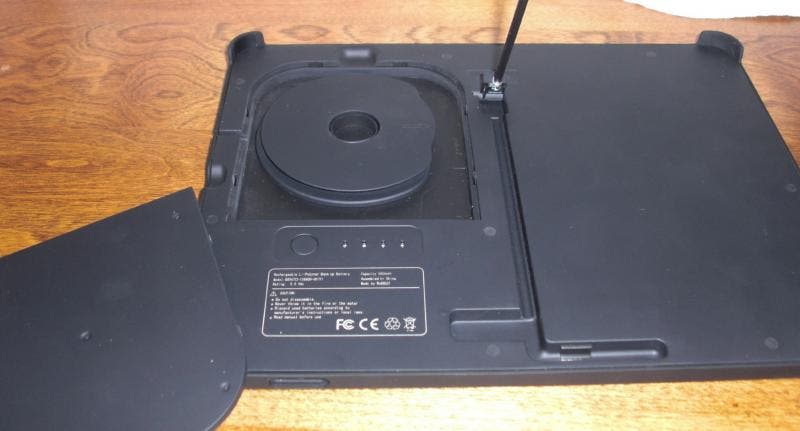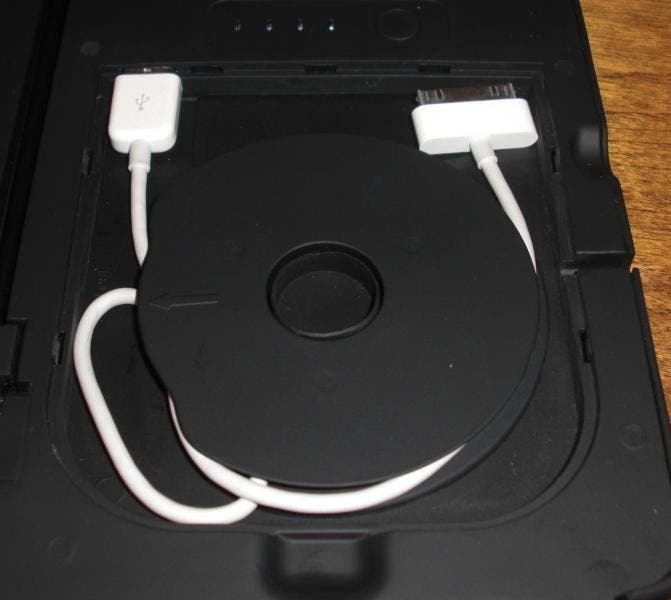 When you are done, you can put the entire apple cord in the compartment for storage. I think this is a pretty neat idea and I like it.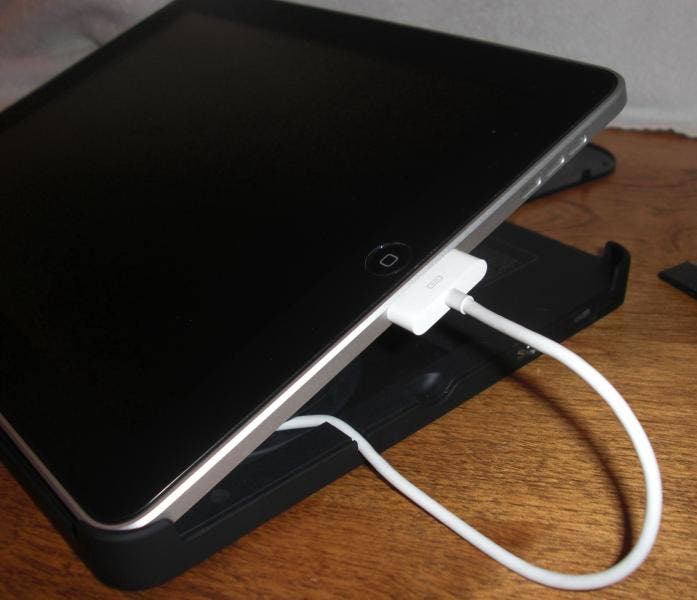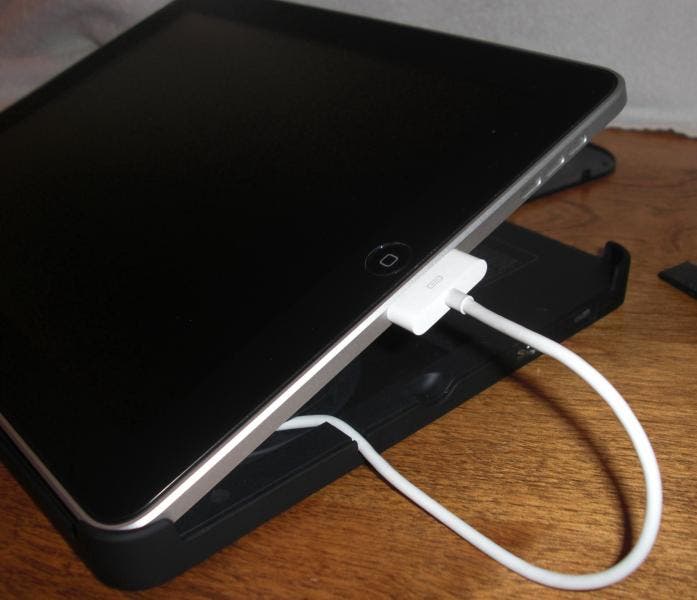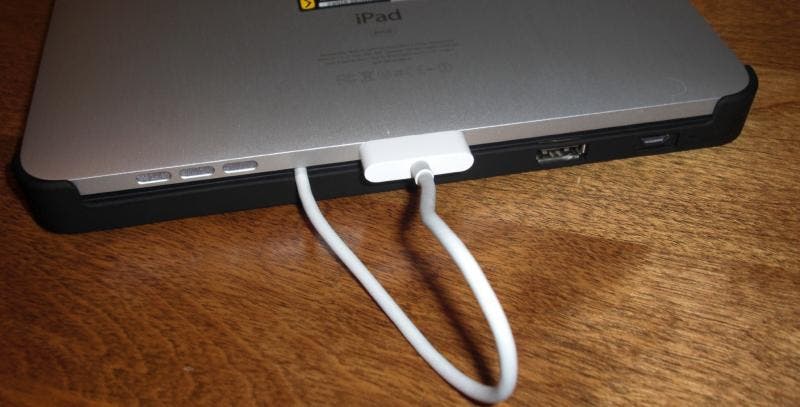 The USB plug inside the compartment charges the iPad. The outside plug does not.
The outside one will charge other devices. I tried it out with an iPod Touch.
The specs say that the battery will provide up to an additional 8 hours of power. In my tests and usage, I got an extra 60% power off the battery pack. That calculates to approximately an extra 6 hours.
A similar case that the Bento can be compared to is the Kensington Power pack for iPad 1. I did a review on that also, which you can find below. Design wise, they are different, but yet they share some similarities and in my opinion is the only other case I know of that can be compared with it.
http://www.iphonelife.com/blog/5811/review-part-2-kensington-powerback%E2%84%A2-battery-case-kickstand-and-dock
Speaking in terms of using this with an iPad 1 only, I would probably not buy this. It's not that this does not seem to be a quality product and have its uses. It's just with an iPad 1, it has limited use compared to the functionality of the accessories for the iPad 2. Essentially it provides us iPad 1 users battery power and stand options. If you use your iPad naked, then you may like the storage feature.
With an iPad 1, based on my own usage history and opinion, this product is not going to replace or do better than say a full protection case that has stand functionality combined with an external battery pack such as a Zaggsparq or RichardSolo. The Bento does not provide full iPad 1 case protection and you can't use it as a case when using the iPad.
If you are using the Bento with the iPad 1, please let me know the good and bad. The bad always helps a manufacturer make their products good, and I know from my communications with WeKreat that they want to know both.
If you are using this with an ipad 2, please wait for part 3 of that review to submit your comments then. I think you are going to find that this has a better value and usage with the new iPad 2 version.