By Louis Senecal on Thu, 07/22/2010

Master your iPhone in one minute a day:
Sign up to iPhone Life's Tip of the Day Newsletter and we'll send you a tip each day to save time and get the most out of your iPhone or iPad.
Well, I have had some time to try out this new RedEye Mini. What's different about this than their original?  A lot. The original was more of a base station unit that was tied to one room. This new Mini is all about Portability and multi iDevice usage. You can keep it at home, or you can bring it on the go. You can use it in an iPad, an iPhone, or an iPod Touch. There are no restrictions, and as you can see from the pictures, it comes with a handy keychain case. Plus, this unit is more affordable and I think this added with the fact it is portable, makes it a better value. Plus you can have fun with it on the go.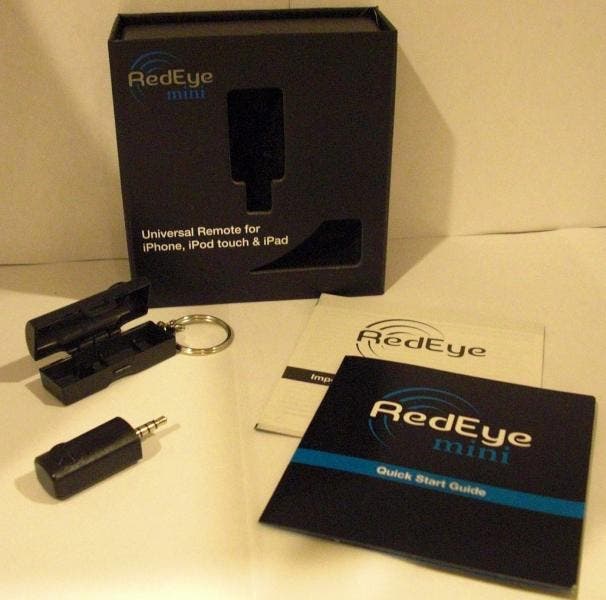 I have been testing this for a few days now with my iPod Touch. The RedEye software itself was also updated last week. And for those that do not remember, there is no added cost for the software.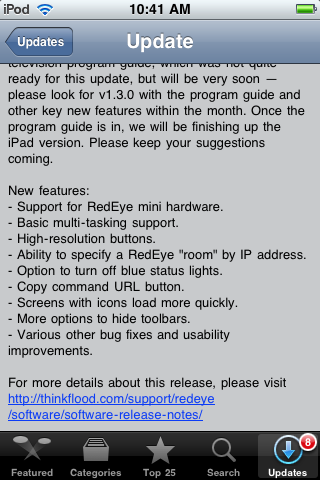 Here are some of the highlights on the Mini from their release notes:
• Available now in 52 countries (US MSRP $49)
• Compatible with iPhone, iPod touch and iPad
• Download IR codes anywhere using a 3G connection or Wi-Fi
• Activity-based control and macros (common in advanced home theater remotes)
• Smaller than a thumb drive; comes with carrying case
• Database of 45,000+ IR codes; ability to learn commands from existing remotes
• Free in-app TV program/channel guide (coming later this summer for the US and Canada)
• Customizable touch screen buttons, Multi-Touch and motion gesture shortcuts
• Leaves iOS device's dock connector open for charging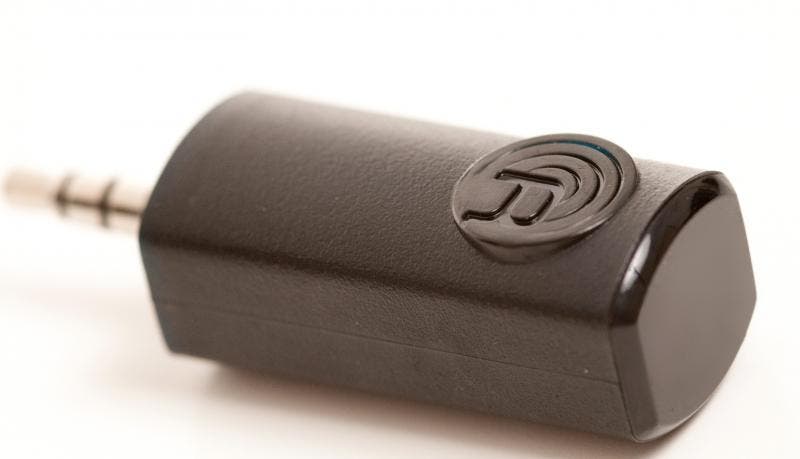 RedEye Mini can be as simple as Plug-N-Play, or you can add in all kinds of complicated commands, macros, and activities. In the original RedEye station, I set up the commands by reading the IR signal from my dedicated remote control that came with your TV, DVD player, etc. In that test, you first had to pair your device and software up with the base station and either use the built in RedEye Wi-Fi or your own Wi-Fi network. With the RedEye mini, you plug that sucker in, and you can start as easily as pointing it to your TV, for example, to find actionable codes that are most likely already set up for you. If that does not work, you can still do it manually. Here is a basic setup using codes from online. The below is based on a DVD player setup.
Make sure your Wi-Fi is on or you are connected to 3G (to get the online codes)
Plug the RedEye Mini into the earphone jack. You may get the below message.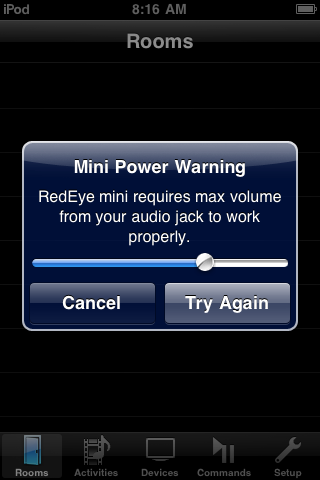 Go into Setup and click on the "Enable RedEye Mini" button. Or if you have never installed the RedEye software, you can choose the RedEye device when you open the app.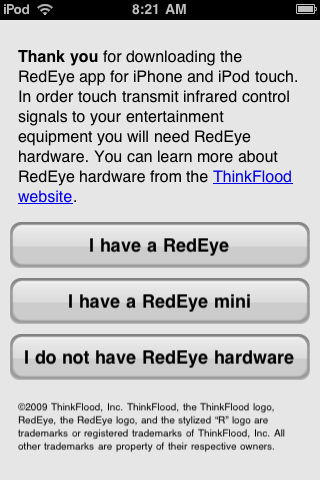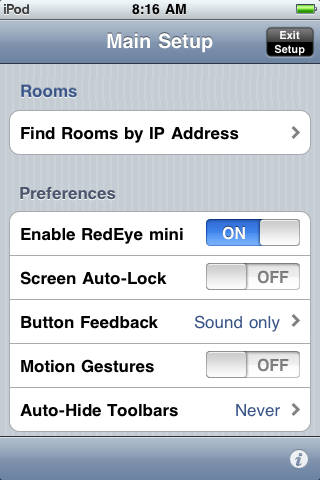 You will then start adding the devices in. Select the "Manufacturer", "Device Type", and type in a description. Click Save.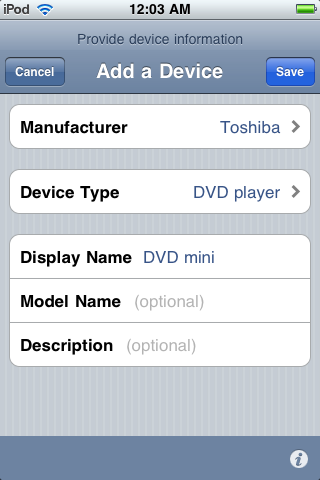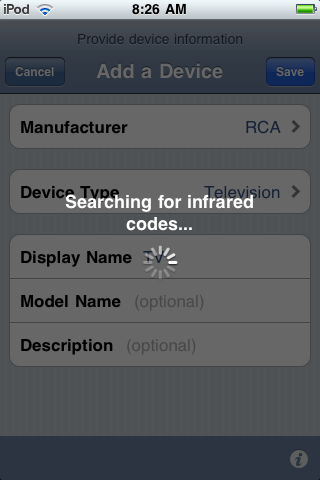 Your device will then retrieve several power codes. Select the first one and see if it powers on your DVD. Keep trying the different codes until you find one that works. Select it with a check mark and click save once you find one that did work. The other commands associated with the remote will automatically populate. These should work. If they do not, start over. If you have to, you can setup the codes manually but you will need the remote control for that.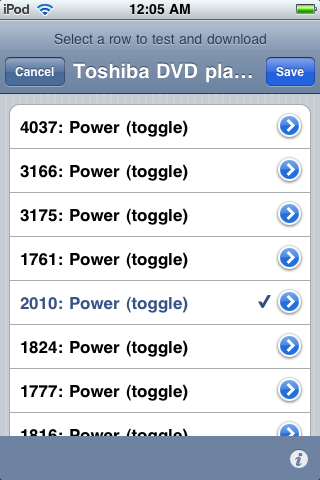 Repeat this process for the other devices (i.e. TV, VCR etc). When you are done, exit setup.
That's how easy it is to set up the basic program. I set up my TV, DVD player and VCR in less than 5 minutes total.
At the end of the review, there is a video link that shows how to do this. It may be easier to watch it than to really describe it.
If all you want to do is change the TV channel at home, or at a bar, or a Gym, or where ever, the above steps accomplish that for you. Very simple and quick. That is also what you will see on the video.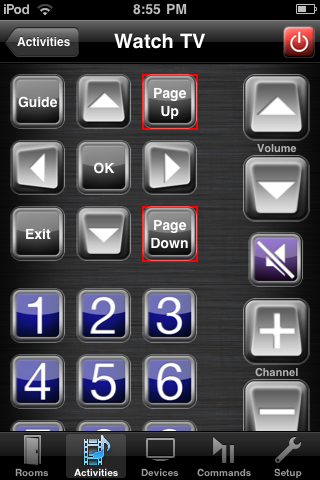 My review of the original RedEye is in the link below. The device and activity setup instructions are pretty much the same process once you click the "enable RedEye Mini" button in the setup menu. Based on that, I am not going to duplicate efforts.
http://www.iphonelife.com/blog/5811/review-thinkflood-redeye
I also shared in my original review, you can make this as simple or intricate as you like. The software supports macros and various customizations. I tried a couple basic ones in my house. I do not have an in home theatre system to really give this a great test, so I just used a couple things I had. I like watching the SyFy channel, which in my cable company is channel 61. So I programmed the RedEye Mini to turn the TV on, wait a couple seconds, press number 6 and then press number 1. It worked like a charm.
             I then programmed an activity as a test to watch a VCR tape. I programmed the activity to turn the TV power on, then turn the VCR power on, then press number 0 and then press number 3 (My TV needs to be on channel 3 to receive the VCR signal). Once that was done, I programmed it to select play. Guess what, it worked well. I did have to tweak a couple things, but the programming is pretty straight forward. The hardest thing is thinking about it beforehand on what you want to accomplish in your head. The programming just involves selecting the device (TV, VCR etc), selecting a type of activity (i.e., watching a DVD), and then choosing the appropriate commands (i.e., channels, play button, power button, etc). There really is nothing really too complicated about this.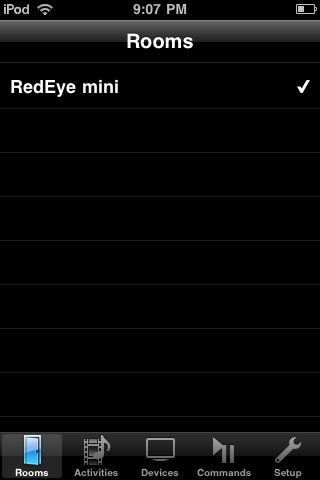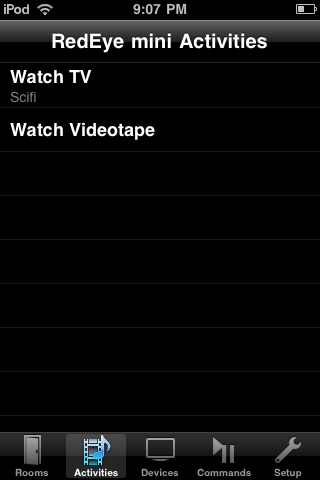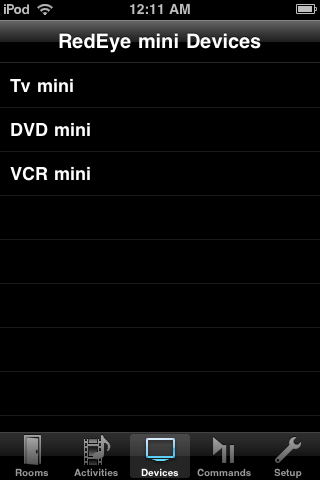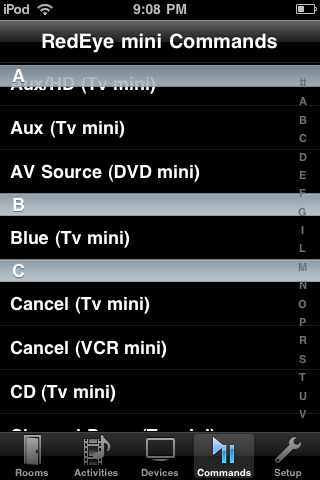 I thought this was a pretty neat system. On the iPod Touch, the screen will actually flip so you are using the touch backwards. This is because the earphone jack is at the bottom and the RedEye Mini needs to face the TV/VCR/ etc, etc.
Here are some things to keep in mind also where the RedEye Mini could be of great benefit.
 - It's great for people who travel because they will be able to control things wherever the go
- Perfect for avoiding touching that icky remote in the hotel room
- Perfect for business -- use it to control your slides for important presentations (a nice high-tech touch)
- Good for people who don't want to invest in an expensive universal remote. They'll get all the benefits of one without   having to shell out hundreds of dollars. (That's a big plus).
If you are in the market for a remote system, head on over to their website and do some homework.
Here is the video that I mentioned above. It's split into two parts, but don't worry, it's not too long, Please note that this is not an official instructional video from ThinkFlood.
RedEye mini setup demo (part 1 of 2): 
http://www.youtube.com/watch?v=qhONIXINrFc
RedEye mini setup demo (part 2 of 2): 
http://www.youtube.com/watch?v=e5E4OneGCM8
RedEye Mini Product Page:
http://thinkflood.com/products/redeye-mini/