By Louis Senecal on Mon, 04/19/2010

I recently received the opportunity to review the RedEye remote control system. I want to say Thank You to ThinkFlood for sending me a review unit to borrow for this review. Many of you may be wondering what exactly is a RedEye? The RedEye is a system where you can turn your iPod Touch or iPhone into an infrared remote control. You can use this for media or other devices that use infrared signals. Please note for the interest of the review, I am conducting this test drive based on an average consumer. I have never owned a high end universal remote nor have I ever tried out any other software similar solutions for the iPhone/iPod Touch as well.
What do you get with your purchase?
Well, the product comes in a very nice packaged and elegant looking box. It's definitely not flimsy material. In the box, you get one RedEye Cradle, wall power supply, various iPod/iPhone dock adaptors, as well as a quick start guide. The RedEye was made for the iPod Touch and iPhone. In addition, there is a free RedEye App that you need to install onto your device to work with this kit.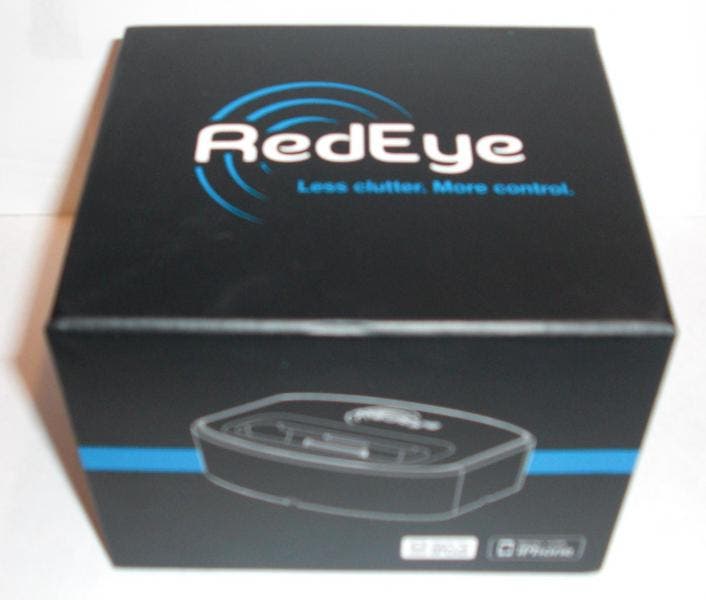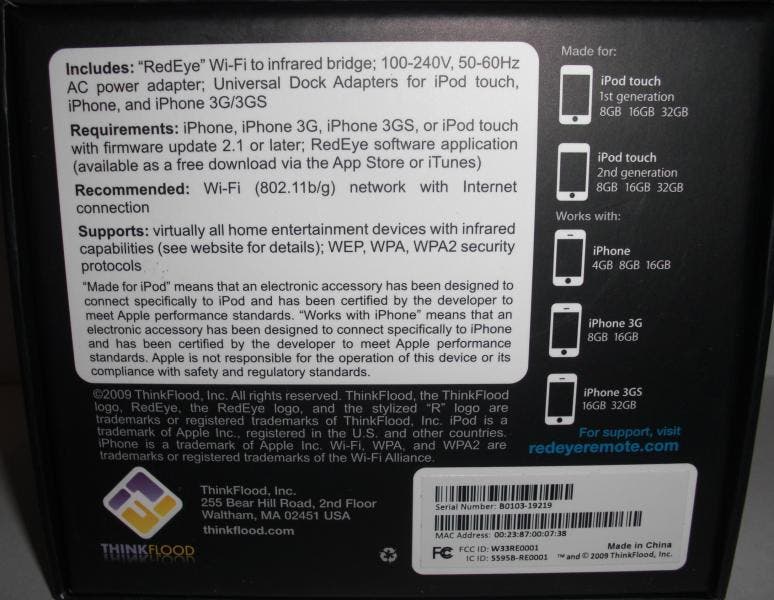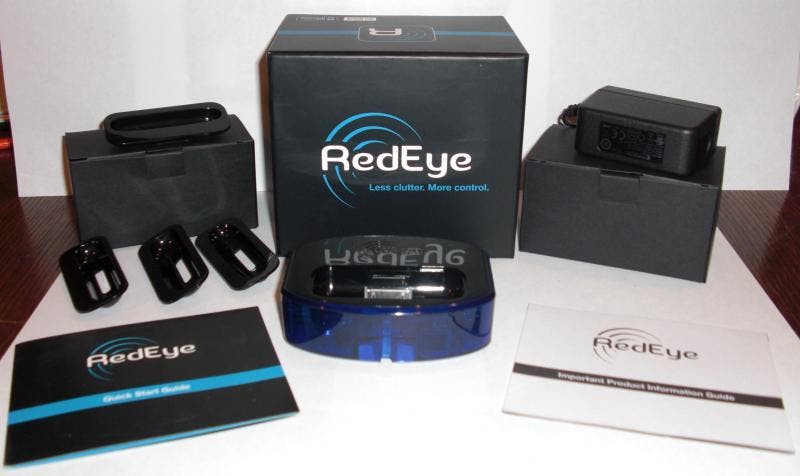 As you can see from the pictures, the cradle is blue. When it has power going to it when communicating data, it also glows blue.
If you click on the link below, there are several hi res photo's of this product for you to take a look at.
How does it work?
Here is the basic information. I will place a link for the user manual and FAQ at the end which has a lot more detailed information that will be very helpful to you and will answer your questions if it is not covered here.
-You plug the power cable into the cradle and wall. Select the dock adaptor that fits your device. The cradle can also charge your iPhone or iPod Touch. I am using a Touch for this review. The cradle needs to be placed in your room in an area where it can communicate directly with your equipment via the infrared signal.
-Download the RedEye app that I mentioned earlier.
-You do not need to have a Wi-Fi network in place already. It's very helpful if you do, but not required. If you do not have one, the red eye cradle has its own built-in wireless connection that talks to your iPhone/iPod Touch. In the Wi-Fi connection on your device, it would be listed as "Red Eye."
If you have a Wi-Fi network already, you can tell the app to use your network with the cradle. That is what I did for mine so I did not have to keep switching back and forth when I was programming it. You can also then connect to their website from the app as well.
Once you are connected wirelessly to the cradle, you are good to go. Have your various remotes you already have ready for programming purposes. Please note that if you have multiple rooms that you want to use your "idevice" to control, you would need to purchase multiple cradles, Generally speaking, a cradle is good for one room, but can handle a lot of devices tied to it.
In my particular instance, I used the cradle in my living room. I don't have a stereo system for my music (I use a laptop or iPod) so I could not use that as part of the test. I did use my modest TV, VCR and DVD though.
Going into the app, you are greeted with getting started information and a video.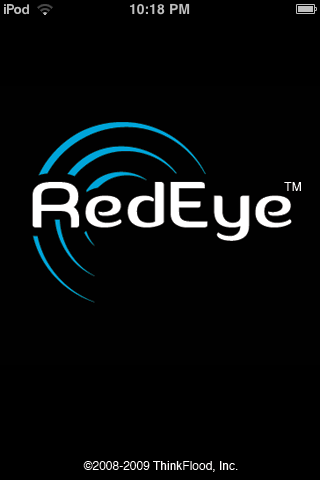 Some of these screenshots may be out of order, but I wanted to keep some sort of organization on how you are going to program this. There is a setup screen where you do the programming. A lot of the screenshots below are what the main app sections look like after that information has been input. The first thing you would be doing is basically creating a room name on your device of where the cradle is. I named mine "Living Room" The information in this section also shows what cradle is associated with it.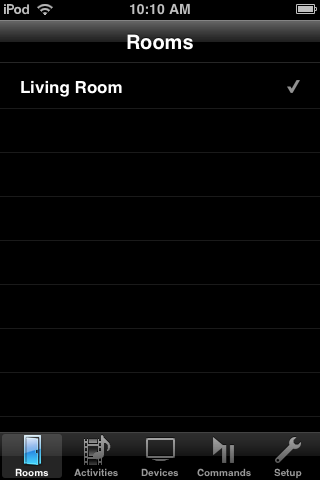 The next thing it to tell the device what type of activity you want to do. In my case, it was "Watching TV" (There are multiple options given). This makes sense since you watch TV with a TV, VCR and DVD player.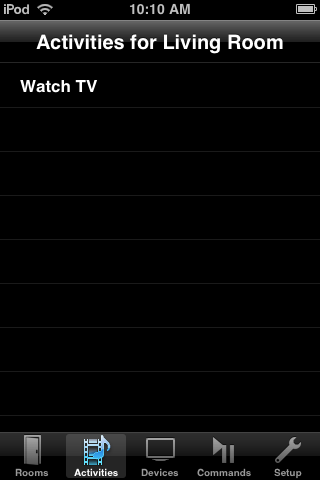 Then you will tell the app and cradle what devices you have (I input TV, DVD, VCR)
In the setup screen, you tell what the manufacturer of the device is, what kind of device it is, and what name you want for it. You can also in put model numbers as well. If there are any pre-populated commands for the equipment, the app will show you. If there is not, the app will also tell you.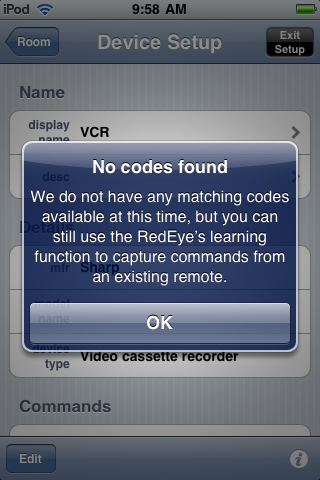 When you are inputting information into the app, the app is also communicating that to the cradle as well. Let's go through a quick setup of the TV.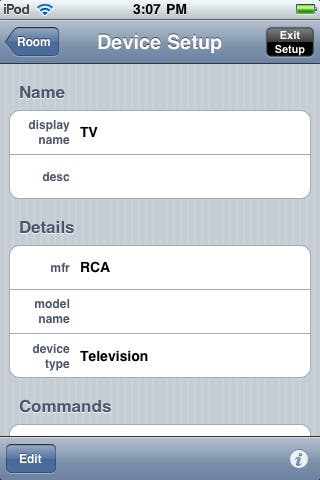 If the commands were pre-populated, you will see several commands as illustrated below. If they were not pre-populated, not a problem because you can enter your own. You can also delete the commands that you do not want.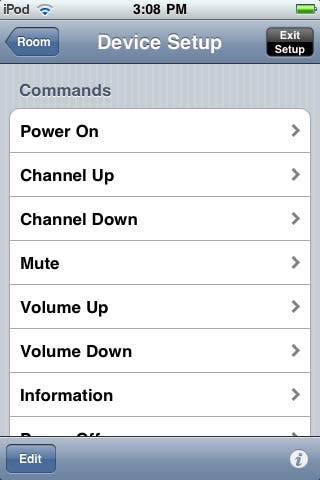 Now you have to program each command that you want. In this example, we will use power. In the app, you select the power options. (naming, icons etc). You then select the option "capture new control signal" to program the power signal. Point your TV remote control to the cradle and press the power button that is on your dedicated remote. You will notice that the app will capture that signal. From there you can either continue to program other buttons or you can test the signal out and make sure this one works.
I had to do some tweaking here and there myself.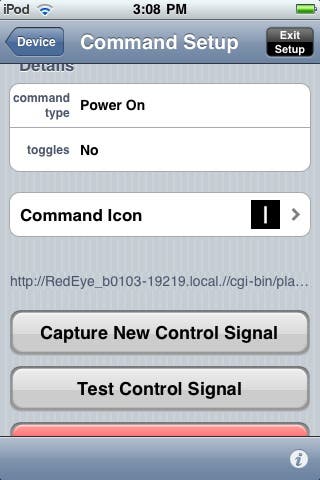 When you are done with the programming you can either exit the setup or start all over again with a new device (meaning the VCR or DVD player). This is what the command section looks like afterwards. It contains all the commands which also work from this screen.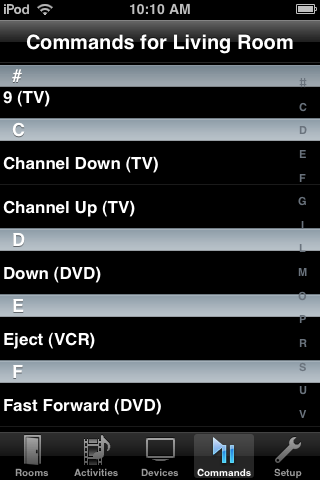 Here are some other setup screenshots that you would be using.
When you are ready to use the remote to control your media and other equipment, you go to the activity screen. In my example, click on "watch TV" and the following remote control comes up (changeable).
You can program multiple pieces of equipment to operate at the same time by programming multiple commands. This software does support macros. The one I programmed and used was where I wanted to watch a DVD. In the below screenshot, I set the following commands up, which I would normally have to do with two remotes. Note that I did already insert a DVD into the player for testing.
I setup the following command:
Turn DVD power on
Turn TV power on
Select DVD input from TV
Play DVD
There are different variations you can do obviously. It all just depends on what you want and what you have for equipment. The cool feature also is that you can make this very complicated with all kinds of actions or buttons or you can go the very simple route. I prefer the simple route. Again, it's all based on what you like.
Who would buy this?
Well, anyone basically. If you are in the market for a universal remote and you already have an iPhone or an iPod Touch, this could be a solution for you. Maybe you have an iPhone or Touch just laying around not in use and you want to make some use of it. Maybe you use your iPhone/Touch and just want to add more functionality to it.
(This is also not just for media devices. It will also work with non media devices that may have infrared input. Check out the videos at the end.)
Will it work with the iPad?
While the cradle will obviously not dock with the iPad, it will communicate with it. I downloaded the app to my iPad and it connected to the cradle. All of the commands and settings I had programmed seamlessly went into the iPad. I did not have to double program anything. I then tested them and they worked. That was pretty cool.
How Much is It?
This product retails for $188.00 with free shipping. If you are not familiar with quality universal remotes, don't let the price scare you off. If you do a search on the web or in stores for a quality universal remote control, those prices range from $100 and up. There are some that are also much higher than the cost of the RedEye.
In closing, if you are in the market for a remote (that would also integrate with your iPhone, iPod Touch, and even your iPad), I would consider this as a possible solution. I did not have any bad experiences at all when I was using this. It worked like it was supposed to. It does take a little time to get the remote commands set up, but that is expected. In the end, you want a system that is very functional and very easy to use, that fits your needs. The only potential drawback I see is that depending on how many rooms you want to set up with the same system, you would need to purchase multiple cradles. At a certain quantity (whatever number that is depending on your circumstances), I would think that would be cost prohibitive.
Below are some links that have detailed specs, comparisons and videos on what else the RedEye system can do.
Links
Fellow iPhone Life blogger Todd Bernhard reviews a similar solution from a different company. This is good for comparison purposes.
RedEye FAQ
RedEye User Manual
The user manual can be downloaded form the above link in either PDF or in HTML viewing
ThinkFlood customer controls his 1969 Pontiac GTO using RedEye and iPod touch:
ThinkFlood customer in Germany shows off his iPad controlled living room:
ThinkFlood customer shows of his iPhone and iPod touch controlled living room:
More videos available on ThinkFlood's YouTube channel, redeyeremote: