By Louis Senecal on Sun, 11/14/2010

Master your iPhone in one minute a day:
Sign up to iPhone Life's Tip of the Day Newsletter and we'll send you a tip each day to save time and get the most out of your iPhone or iPad.
Skooba Design is a company in Rochester NY who designs various types of bags and gear for our computers and other tech. I was recently reading one of their press releases when I stumbled upon a product of theirs called the Techlife Netbook/iPad Messenger.  I contacted them to see if I could test it out and they kindly sent me a loaner review. This bag was just recently introduced and is part of their tech life collection? I have been using it for a week now and below are my thoughts.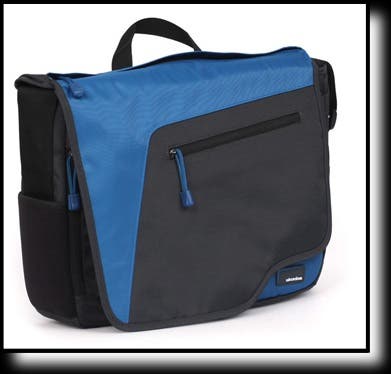 The bag comes in three flavors: Charcoal/Inferno Red, Charcoal/Deep Ocean Blue and Charcoal/Abyss Black. I received the first one. There are tons of pockets on this guy so I though it would be easier for me to list the sections out with some of my notes.
Main Compartment: This compartment has two main sections and has padding all around it. There is an interior section which is where the netbook or iPad goes. There is a flap that velcros over the top to secure the device in place.  And then there is larger section, which I think could also hold a smaller laptop. I think this bag would be very nice for the new Macbook Air (based on what I have seen). There is also a meshed pocket on the interior wall next to the iPad sleeve. I was able to stand my Apple keyboard on end in the main section and it did not go over the bag edge. It's a perfect height. But in general, there is a good deal of room in the main compartment.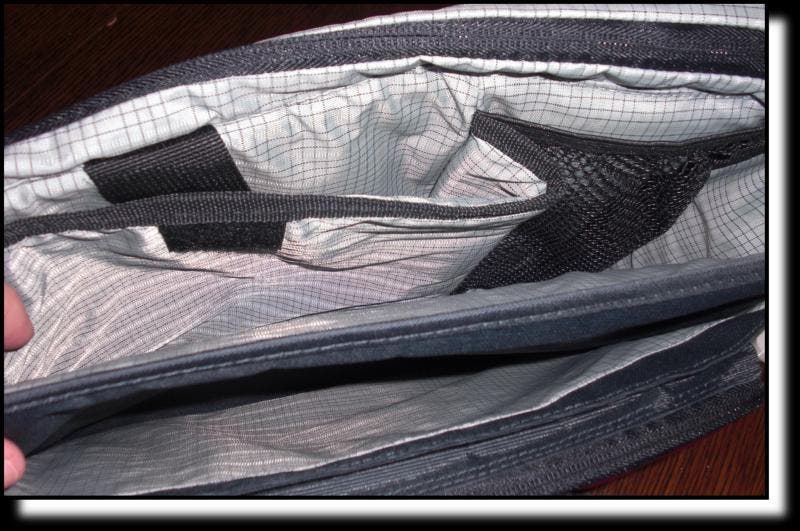 Note that one of the great things is that there is a zippered opening on top of the bag when the flap is closed. This allows you to have quick access inside. I found that to be very handy.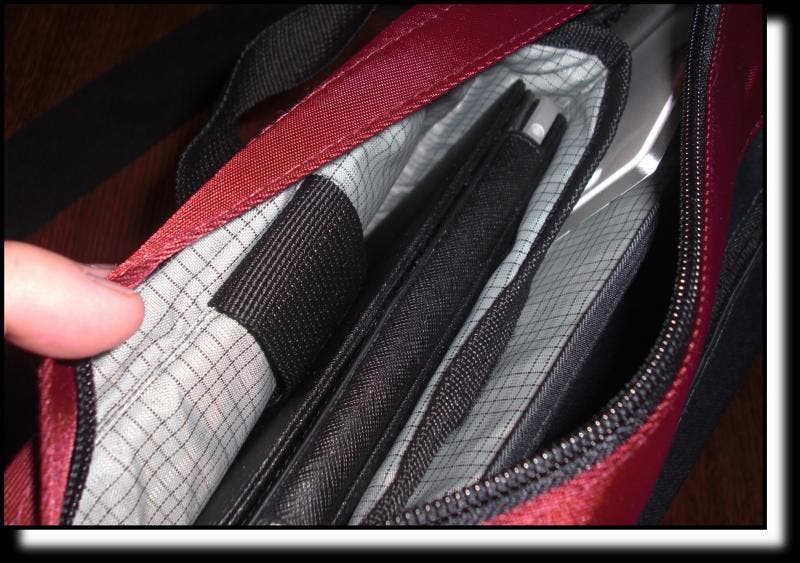 Front Compartment: On the front of the bag, is a zippered section that opens up and flaps down. There are various pockets galore in here, meshed, zippered and not zippered. They are various sizes. I counted 10 of them. It nice that there are different sizing and organization options depending on what you carry with you.
Between Compartments: Between the above sections there are two other compartments. One is accessible from the top down and holds paper, pads etc. It's more of a flat pocket, but it did hold my keyboard at one point. The other pocket is zippered and accessible from the side. There is a small meshed bag inside as well as space that goes to the other side of the bag. I did not use this for any storage, but it's there if you need it.
Water Bottle pockets: On either side are pockets you could use for a water bottle or possibly for something else that you may have that could occupy that space.
Rear top loader: At the rear, there is also another top loader pocket. Flatter items would be good for this section although it does give some, so the there are additional possibilities here too.
Flap Pocket: There is a smaller zipped pocket right on the flap. This would be good for something small such as an MP3 player, change, phone etc, where you need quick access. Again, it's really your choice on what you want to put there.
            While I am on the flap, there are two methods in which it stays closed. There is a Velcro connection that keeps the flap connected to the bag. There is also a plastic connector that closes it more securely.
The strap is not removable, but it is adjustable. There is a removable shoulder pad that ships with it. I removed this for my use.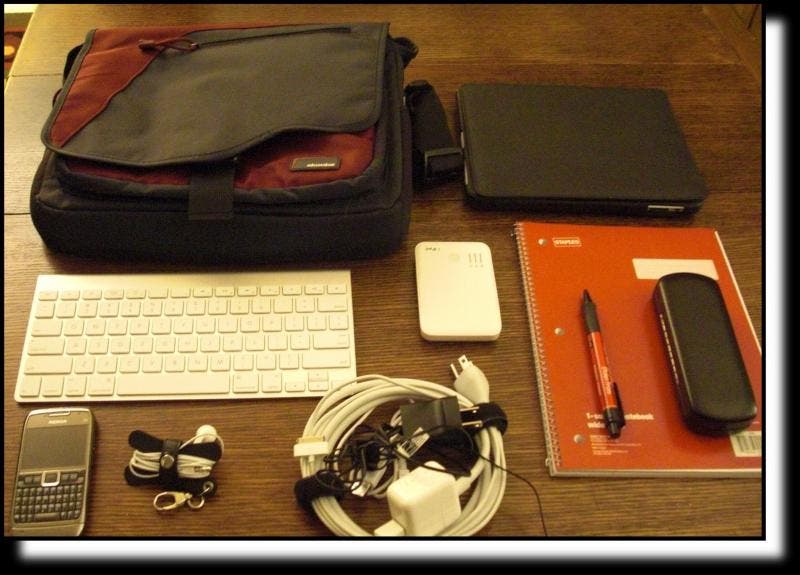 As you can see in the picture, this is my essential gear that I carry if I am away for more than a day or where I may need extra power. If I am just around town, I really just need the iPad, but it's always nice to have some power accessories with you. I did not picture my keys, aspirin, and some other smaller items that may travel with me. I think you get the idea though of what this bag can handle. I did not even come close to filling this puppy up to maximum. I like all the pockets, as I am someone who needs to be organized. Using the bag was a pleasure. It was not too heavy or awkward. Obviously, after adding all my stuff in there, it does add some weight. But, it did not feel heavy at all. This messenger seems to be very well constructed and well thought out.
Check out the product page below, as they have additional detailed pictures that you will want to see.
Product Page:
http://www.skoobadesign.com/product/techlife-netbook-ipad-messenger-92/
Price:
$49.99
Some Specs:
-Fits iPad, other tablets or netbooks up to 10.5" x 8.5" x 1.5" (includes most netbooks up to 10.1" screen size).
-Front accessory compartment has stretchy neoprene compartments for cords, adapters, portable audio, camera and more. There's even a special, protective slot for your USB thumb drive so you'll never lose it at the bottom of a bag.
-Water bottle holder stows completely out of sight when you don't need it, pops out in 2 seconds when you do.
-Primary materials: Nylon twill exterior, smooth checked nylon interior.  All materials water-repellant.
-Hardware and trim: High-quality buckles, clips, zippers and adjusters throughout
-Overall Size: 14.5"L x 12"H x 3"D.
-Weight: 24.8 oz.