By Louis Senecal on Sun, 03/04/2012
I have been using SGP Klasden Levanaus backpack for a few weeks and I can honestly say I am digging it. The photos will follow my review at the end. This backpack series is very durable, sleek, and provides a lot of storage inside.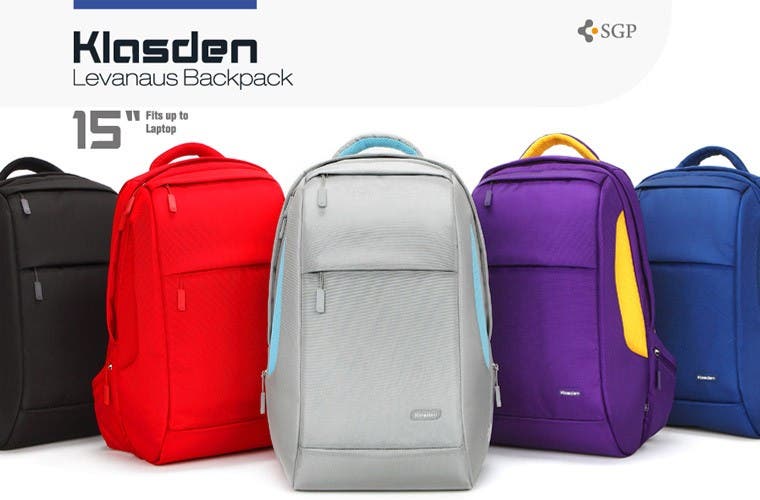 Master your iPhone in one minute a day:
Sign up to iPhone Life's Tip of the Day Newsletter and we'll send you a tip each day to save time and get the most out of your iPhone or iPad.
I believe I stated in a previous review that I usually use my Swiss Gear backpack the few times when I travel with my gear for work and for all of my play. The Swiss Gear bag is also very tough but the biggest drawback is the weight. It's heavy even before you put anything in there. The Levanaus is the opposite as far as I am concerned. Even with a laptop and my other junk in the bag, it did not even come close to the weight I deal with in the Swiss bag.
The Levanaus offers a lot of storage and organizational pockets inside. Let me give you a quick tour of the various things this bag offers. I have been using the Charcoal version.
-The shoulder straps have built in bands that allow you to rung wired headphones through so they stay out of your way. SGP also offers an optional pouch that can attach here also.
-At the bottom of the shoulder strap at the base of the bag, there is a small zippered pocket on each end. I found this great for change, batteries, and other small items.
-On the outside of the on the top flap, there is a small pocket lined with synthetic fur. I think most people would probably use this for their phone or maybe MP3 player because of the quick access and non scratch qualities. But, you can use it for anything you want.
-Down lower on the outside flap, is a larger pocket. This is not fur lined. My Galaxy Tab 7 fits in there perfect. It's a decent size storage for some quick access items you may want.
-Inside the bag you have your laptop holder sleeve, which is synthetic fur lines also. It will fit a laptop up to 15" and anything smaller. Great for computers and tablets. I found that if you are not carrying your laptop; throw some of your file folders in here. It works just as well for that size also.
-On the outside of the laptop sleeve, there is a smaller pocket. You could also throw a file, magazine etc here too. It is also big enough for a tablet but there is not protective fur like the laptop holder. Of course, if your device is in a case that fits in here, then that's probably not an issue.
-You then have a larger main compartment that you can store all kind of stuff in. I like space like this because it makes a bag more usable, and not just for a specific task, like just for protecting and carrying your device for work.
-On the inside of the flap, there is a plethora of pockets and holders. I counted eight which also includes storage for two writing utensils.
-At the top outside of the bag, you have a carry handle. The straps are very adjustable and are very comfortable.
The bag is designed well and is structurally well built and very sturdy. It's breathable and ergonomic.  One of the best parts of the bag is that you can fill it up to your hearts content, and it will maintain a slim look. This is one of those bags you can use for multiple purposes (work, play, day trips, etc).
As a side note/fact (which I did not know), SGP changed there name to SPIGEN SGP (pronounced: spee-gehn with a hard "g" sound). This may change in the future to just SPIGEN.
Specs and Features:
•Fits laptops up to 15 inches (Or Books, Tablets, etc)
•Two zippered compartments on either side for easy access to mobile devices and small personal belongings
• The laptop compartment is lined with synthetic fur to keep your laptop safe and unharmed.
•On the shoulder straps are bands to pull your earphones through to keep the wires tidy.
You can attach the Levanaus Pouch to either shoulder strap for additional convenient storage space. (Levanaus Pouch sold separately.)
•Available in 5 colors: Charcoal, Red, Navy, Violet, and Gray
•Made from durable and weather resistant nylon
Product Website:
http://www.spigen.com/etc-accesories-2/klasden/sgp-klasden-levanaus-backpack-series.html
Price:
$89.99