By Louis Senecal on Mon, 09/06/2010

Master your iPhone in one minute a day:
Sign up to iPhone Life's Tip of the Day Newsletter and we'll send you a tip each day to save time and get the most out of your iPhone or iPad.
When you talk about extra power as it relates to your iPhone or iPod Touch, there is a good chance that you heard the name RichardSolo. We have covered and reviewed various power packs here at iPhone Life that RichardSolo has created. But what about that extra power for the iPad? You may not have thought about that since the iPad has long lasting power, but what about the times that you can't get to that plug? Maybe you are traveling and have various flights to take? Maybe your power is out and you need access to your iPad 3G? There are lots of maybes we could discuss. I contacted RichardSolo to see what they were doing for the iPad. There response was the USB Power Station for iPad / iPhone (and for other smartphones also). Let's see what this is all about.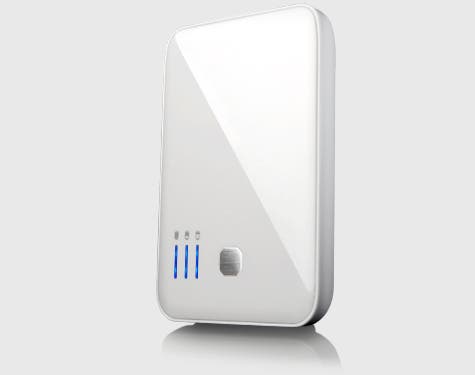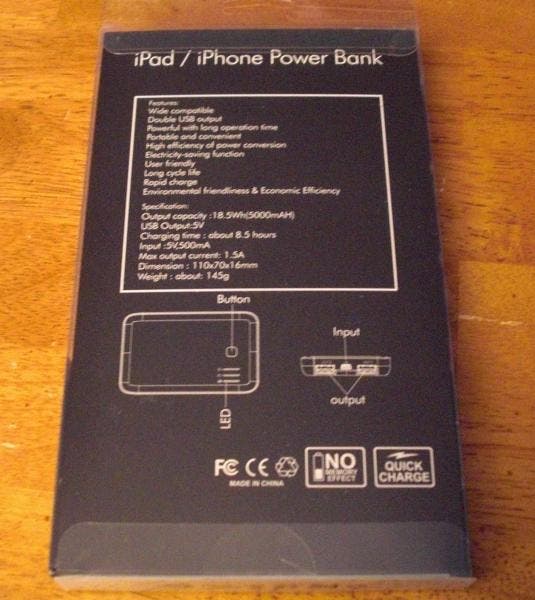 The PowerStation is packaged in a clear plastic box. In the box, you get a white PowerStation, a USB cable for charging the PowerStation, and a set of instructions. You do not get any wall plugs, but you can use most USB compatible ones, especially the ones that come with your current device. I was using a Belkin plug that I use to power my iPod Touch from the wall. You also need to supply the USB cable that actually plugs into your device. In the case of the iPad (and even iPod Touch and iPhone) a sync/power cable comes with them.
The unit itself is not much bigger than the palm of your hand.  On the top there are three lights and an on off button. The lights signify how much charge is left when powering a device, or vice versa when you are recharging the PowerStation. You can figure that each LED light represents approx 33% power.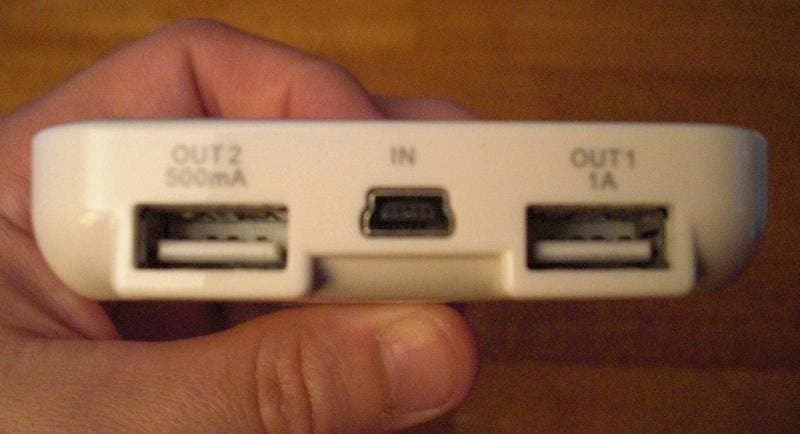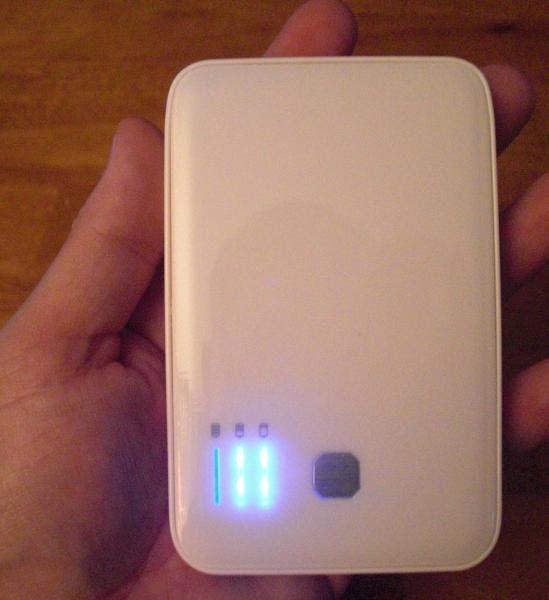 There are three plugs on the side.
A Mini USB plug that goes with the included cable to be used with a wall charger you supply to recharge the PowerStation.
Two regular USB plugs.
Port One has an Output of DC 5.0V1A.  You can plug the iPad or Iphone into this one.
Port Two has an Output of DC 5.0 V 500mA. You can plug in a cell phone, iphone, iPod or any other device that has charging capability through a USB plug.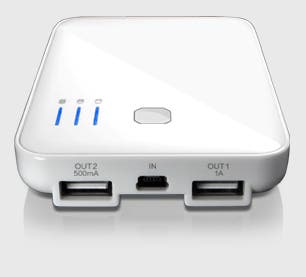 For my testing and review, I was only concerned about the iPad so that is the only device I tried with it. When I received it in the mail, it came with a partial charge so I topped it up. The website says it takes about 8 hours to fully charge the PowerStation and I found that to be correct. So how much power does this give to your Pad?  If you reference the website again and I will quote "For iPad, you will add nearly 50% capacity and gain 5 hours usage from one complete charge session." I found this to be very accurate and right on it. When I put my testing figures together, I averaged 55% extra power given to the iPad.  In most of the cases, I started with an approximate 20% remaining charge when I plugged the PowerStation into my iPad. I have no cons to report because it does what it says it does.
Here are the full specs from the product page for your review:
http://richardsolo.com/usbpowerstation.aspx
Features Overview
-5,000 mAh portable lithium-ion backup battery
-Elegant, smooth white polycarbonate housing
-Dual USB ports — can charge two devices at once
-Convenient on/off push button power switch
-Push button also illuminates LEDs for checking remaining charge capacity
-LEDs monitor capacity while charging and during recharging
-Provides 300% charge capacity for iPhone/iPod
-Provides nearly 50% charge capacity for iPad
-Connects using your Apple or compatible USB cable that fits your device
-Charges iPhone 4 with Bumper using Apple iPhone 4 USB cable
-Charges iPhone 2G/3G/3GS and iPod (except shuffle) using Apple USB cable
-Charges smartphones, GPS units, Amazon Kindle, and more (device-specific USB cable required)
-Charge-up Power Station from wall charger (not included) or via USB port on your computer
-Uses Apple or standard 5V compatible wall charger (available here)
-Includes USB/mini-USB cable for charging-up the Power Station
-One-year warranty from RichardSolo.com
Technical Specifications
-Measures: 4.3" x 2.75" x 0.63" (110 x 70 x 16 mm)
-Weighs: 5.5 oz (156g)
-Output capacity: 18.5Wh (5000 mAh)
-USB output: 5.3V
-Input: 5V, 1A
-Max. output current: 1A
-Charging time: about 8 hours
The cost of this unit is listed as $59.95 but at the time of this review, it is on sale for $39.57. It looks like everyone is jumping on this, as they are on backorder. This is a very handy iPad accessory to have. It has a small footprint so it's easy to store in your bag and it does not add any bulk. Just remember to charge it the day before, as it does take a while to get that full charge.