By Louis Senecal on Tue, 12/07/2010

Master your iPhone in one minute a day:
Sign up to iPhone Life's Tip of the Day Newsletter and we'll send you a tip each day to save time and get the most out of your iPhone or iPad.
Here is part 2 of my ZAGGmate review. In case you did not see it, the link below brings you to part one of the review which includes the unboxing, general information, as well as the ZAGGmate video.
http://www.iphonelife.com/blog/5811/review-part-1-zagg%E2%80%99s-zaggmate-case-keyboard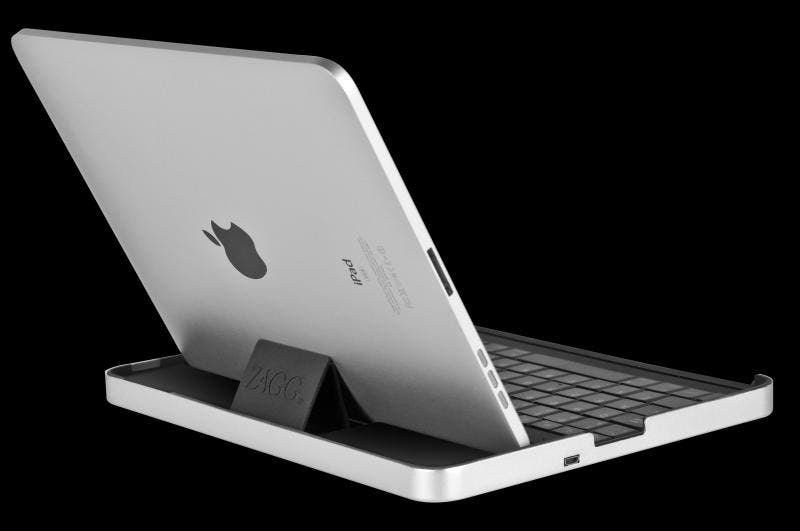 I was trying to think what the best way to write this review was and keep it kind of logical, organized and pretty straightforward. I will be breaking each section down with my thoughts.
The body of the ZAGGmate
As stated previously, it's made from aircraft aluminum. At the bottom of the case, there is a connector for the mini USB cable for charging as well as a cutout for the Apple 30 pin connector. On the right side of the case, there is a cutout in the side so you can get the iPad out. The iPad fits in there very well, and is pretty snug. I dare say that it looks pretty sexy when you put these two products together.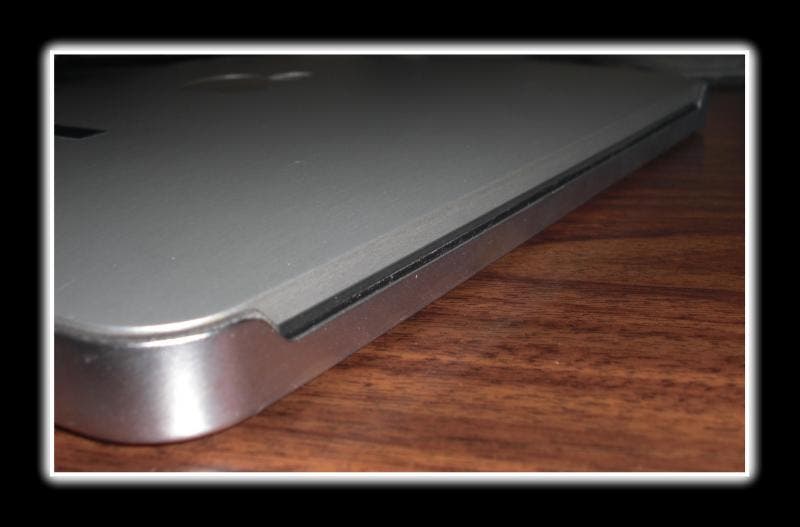 Around the inside edge of the case, there is soft foam. This helps keep the iPad in place as well as prevent scratches to the device.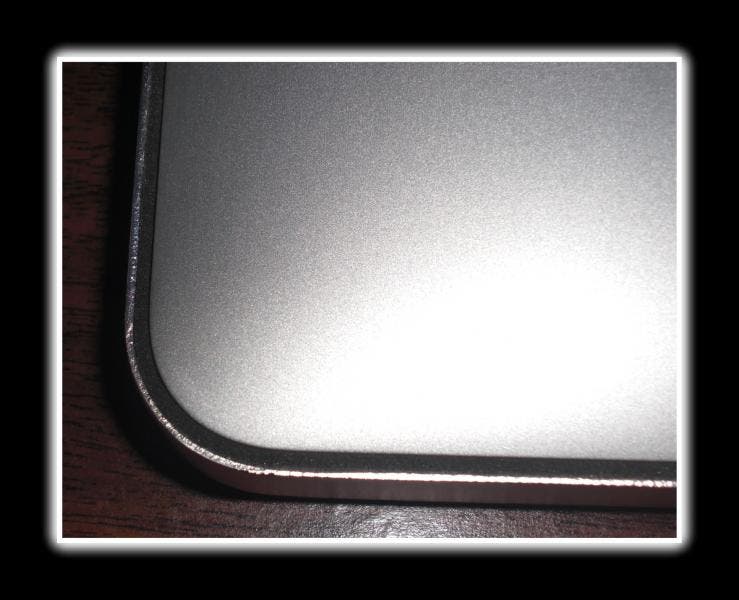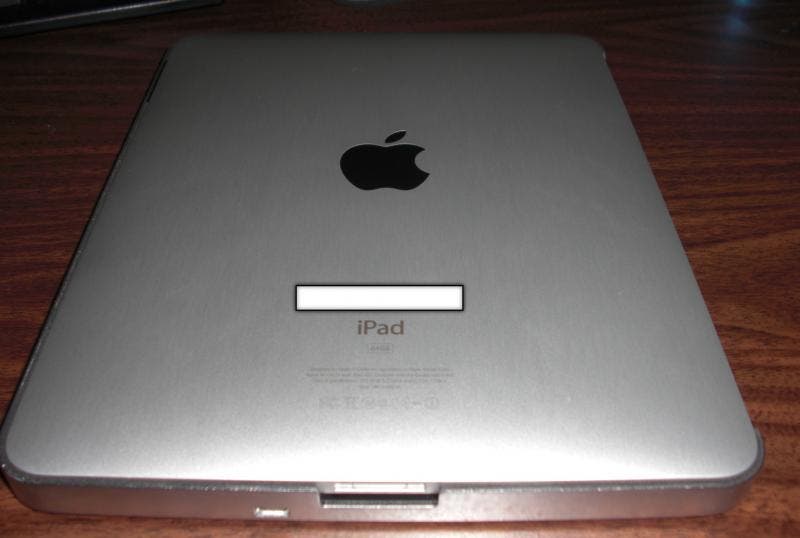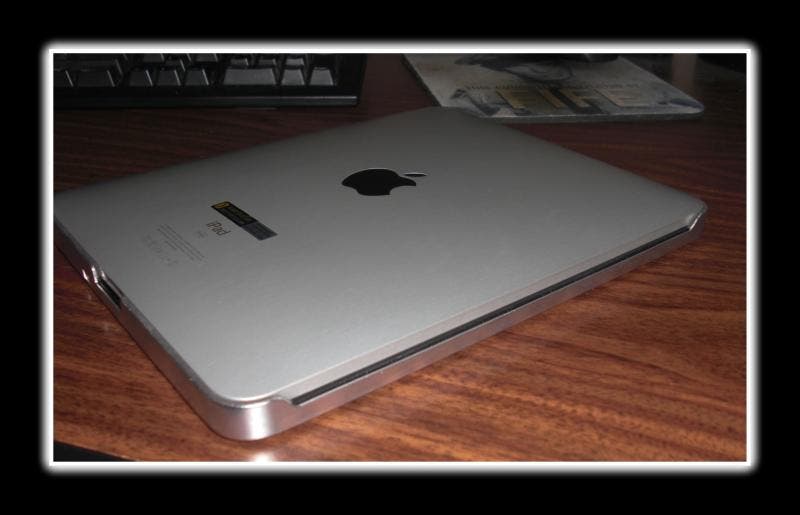 To remove the iPad, you just need to apply a slight downward pressure from the side of the case that has the cutout. After that, just swing it and lift the iPad out. It's very important though that you are also holding the iPad and ZAGGmate with your other hand so you do not drop it. I was very nervous about this myself that the iPad would slip from my hand and drop. I still am a little bit. (Note that a possible solution may be to add an accessory such as a "NinjaGrip" onto the iPad back. This may help in holding and using the naked iPad itself if you choose.)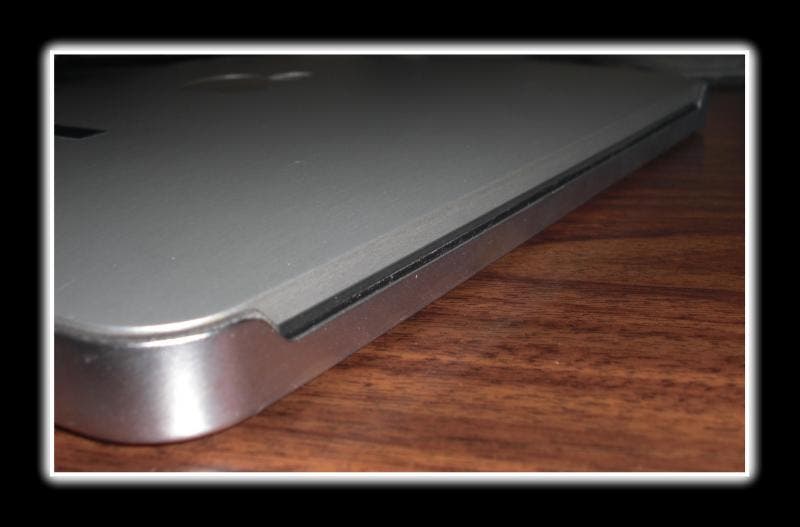 Keyboard
The Bluetooth keyboard is integrated into the case. What I liked about this keyboard was that there is no rubberized coating on the keys (like in my Kensington Keyboard Folio review). It looks, works and feels like a regular keyboard. The keyboard itself is about an 88% ratio to a full size keyboard. From what Zagg told me, a lot of the prototypes involved netbook sized keyboards which is what many users out there were using. The size was tweaked a bit in the final versions to account for the iPad size.
Pairing it with the iPad was no problem. I only had to type in the passkey the initial time. After that, I did not have to do that again. The keyboard itself does not appear to touch the iPad screen. It sits a little lower than where the glass sits. There is more rubberized foam where the front of the iPad rests on throughout the inside of the case.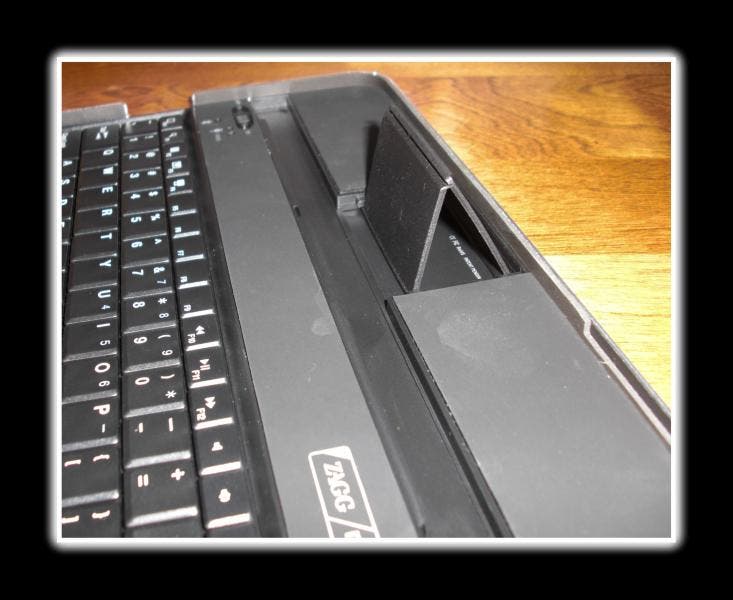 There are three lights and two buttons in the upper left hand side of the keyboard.
On/Off Button
Bluetooth Button
Charging Light
Status Light (flashes when battery is low and/or when pairing, and lights briefly when you turn the ZAGGmate on)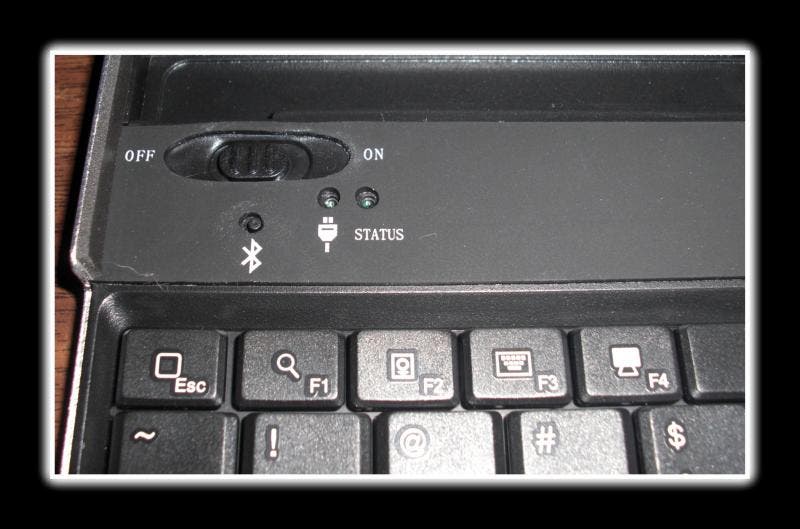 There are several predefined function keys on the ZAGGmate. Like the shorter Apple BT keyboard, there are buttons for music controls, soft keyboard hide show, volume controls and screen brightness. But there are a few others that can prove very useful that I did not see on the Apple KB (I even tried this on the Apple KB and could not replicate it).
Home Button-This brings you to the iPad home screen
Search Button-Gets you to the search function on the iPad
Slideshow Button-Click this and you have a photo slideshow instantly.
Black Screen Button-Turns the screen black and then back again when pressed a second time. I would think this would be good for privacy.
International Keyboard Button-If you have international keyboards already on the iPad, this allows you to toggle between them.

Just as in the Apple Keyboard, the ZAGGmate also allows you to use commands as well. A sample is below. I do not have a Mac to test this, but Zagg said that it can basically do anything a Mac/keyboard can do.
Copy: Command C
Cut: Command X
Paste: Command V
Undo: Command Z
End: Command right arrow
Beginning: Command Left Arrow
Page UP: Command Up Arrow
Page Down: Command Down Arrow
Select All: Command A
Select Left: Shift Left
Select Right: Shift Right
Select Down: Shift Down
Select Up: Shift Up
iPad Stand
There is a plastic stand that unfolds and locks in place. You can set your iPad either landscape or portrait. There is a large groove above the keyboard area where the iPad sits in and leans against the stand. This worked well, but I feel that if anything went wrong with this case, this would be it. I think under normal responsible usage there would not be any issues at all. The scenario I see is the potential for a drop and it gets torn/broke from hitting another object. Or if a child is trying to use it, how much force does it take for the little locking pegs to get snapped off. I would think that Zagg's testing would have dealt with this issue as they do have quality products. Accidents do happen though, so these were some thoughts I had as I was using the product.
I did ask Zagg about the stand as well. I was told that the part is very strong but they also designed it to be easily user replaceable should something happen. The stand part was designed to be mailed to customer who could replace it very easily themselves.
(There is a one year warranty on the ZAGGmate.)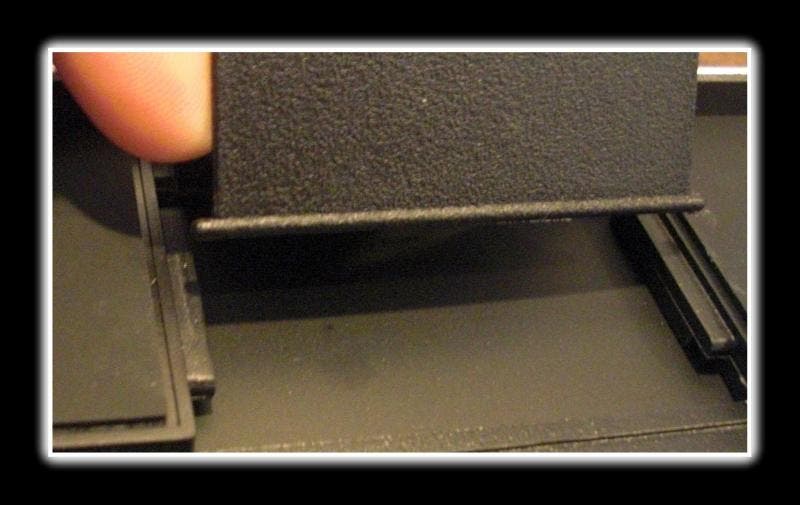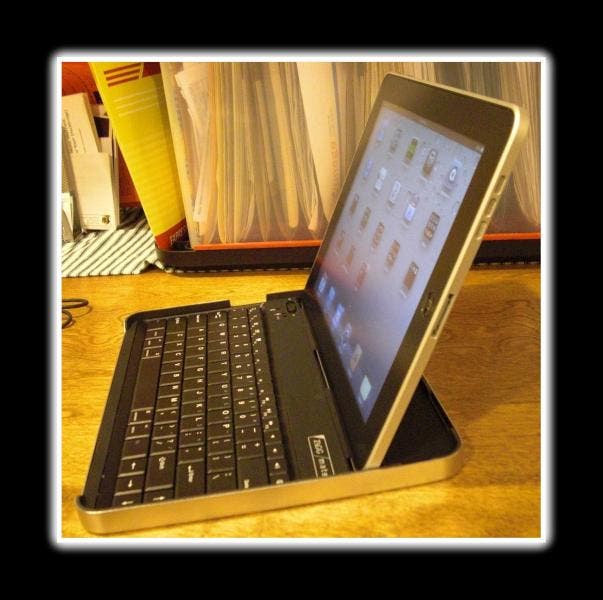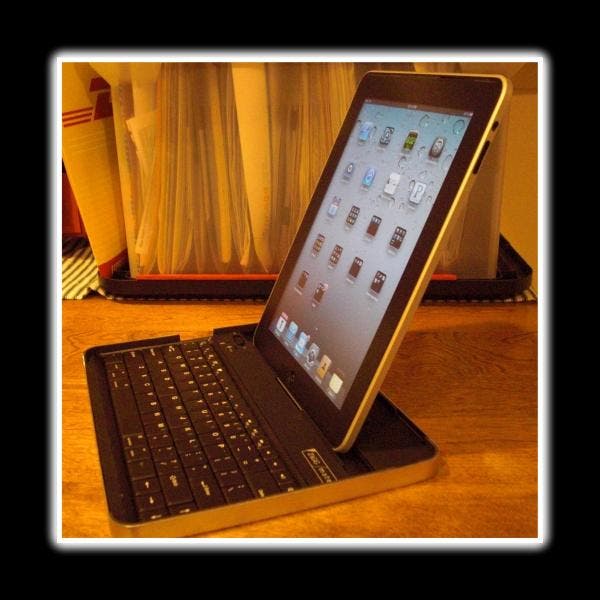 A mini USB cable is included with the keyboard for charging purposes. You need to supply your own charging brick.
Four rubber stick-on feet also came in the package for optional use. I did stick these on the bottom of the case to help minimize scratches and to also add some extra stay in place grip for when in use.
I experienced no negative issues at all using the keyboard. I had typed a cell phone usage contract for my son using this keyboard as one of the documents I tried out. It worked very well and I was very comfortable using it. There was some charge in the battery when I received it, and it charged up fine for the remainder. Zagg says the "battery can stay charged in standby mode for a couple of months." 
As I stated previously, the responsiveness and feel of the keyboard is like using a regular keyboard (albeit smaller shorter keys). You do not need any extra push or force.
I love the look of the aluminum especially when the case and iPad are together. But what impresses me the most is that there is not a lot of extra weight or size here. It does not feel heavy or awkward at all.
Product Page:
http://www.zagg.com/accessories/zaggmate.php
Price:
$99.99 ZAGGmate with keyboard