By Louis Senecal on Tue, 11/02/2010

Master your iPhone in one minute a day:
Sign up to iPhone Life's Tip of the Day Newsletter and we'll send you a tip each day to save time and get the most out of your iPhone or iPad.
Last week I posted a sneak peak of the Kensington Folio case for iPad.
http://www.iphonelife.com/blog/5811/review-part-1-kensington-keyfolio%E2%84%A2-bluetooth-keyboard-and-case-ipad
The setup is pretty straight forward. Slip the iPad inside and secure it with the flap that prevents it from falling out. You just need to place the flap under the back of the iPad. This keeps it from slipping out. Also, mark sure to charge the keyboard with the included mini USB cable. You need to use your own power brick.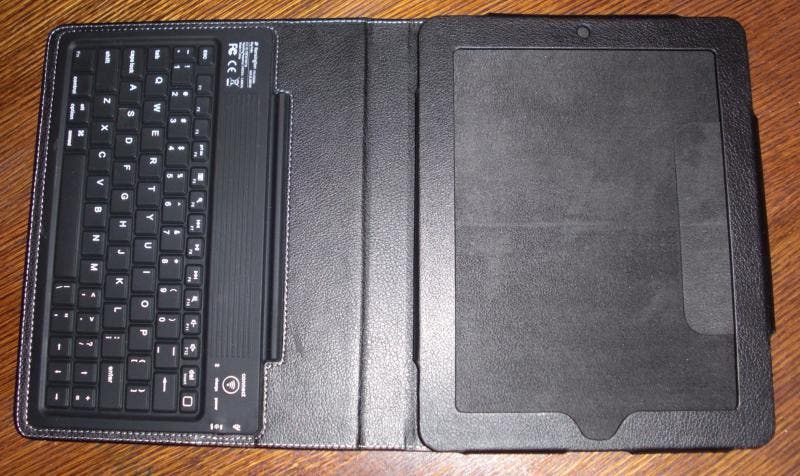 The case itself is pretty nice. It seems like pretty rock solid construction. The keyboard props up for the typing position. You can also fold back the keyboard so you are just in the slate mode also. I did this, as I wanted to use the pad and not the keyboard. In my opinion, it's too awkward to do this frequently. One of the issues I have is that I found this to be too heavy to be doing this for any period of time. I think if you were going to purchase this product, your primary purpose anyway would be for the keyboard services and not for an everyday case. I think it's too heavy and bulky for an everyday case when you want to use the iPad like it was designed to be. With that said, this would be great if you travel a lot.  The footprint is fairly small if you want to use it on a tray table on a plane/train for example. I could also see college students using this to take notes in class or in the library.  There are a lot of possibilities and scenarios here.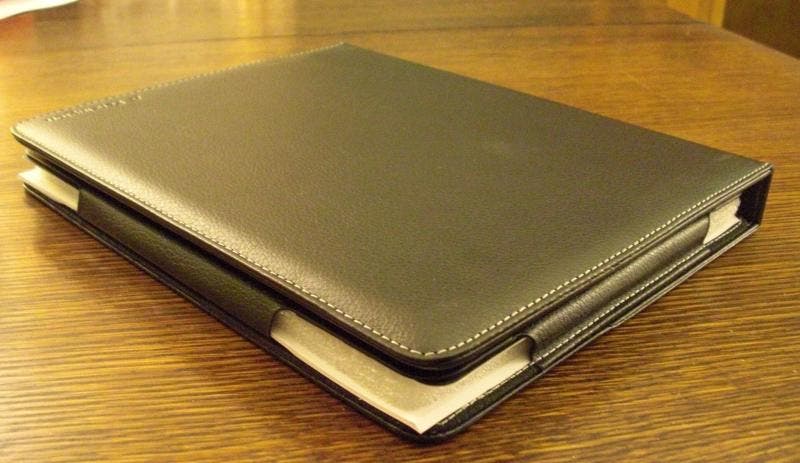 Setting up the Bluetooth connection is pretty straightforward also. But first, let me tell you about the keyboard. As you know from the specs, it is covered in soft rubber. This is to help prevent scratches on your iPad screen. There is an on off switch, the mini USB connector slot, lights for Power-Charge-Bluetooth, and a Connect Button. To make a connection, turn the switch on. Two lights will light up and one will turn off. Go to your Settings, General and then turn Bluetooth on.  The keyboard will show up at which point you click it. It will then give you a passkey to enter.  Now you are connected.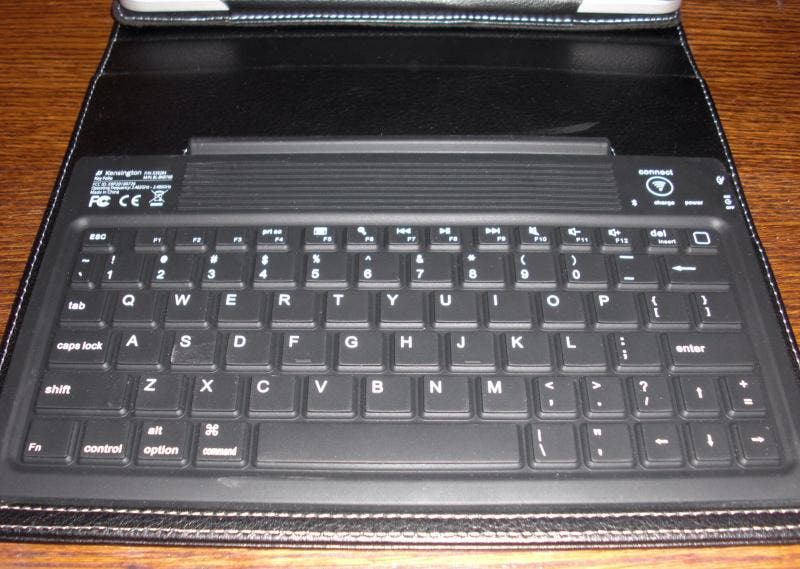 Using the keyboard is not that bad. I do feel like I have to press harder on each of the keys. I think that has to do with the rubber design. On a normal keyboard you do not have to press that hard. I am thinking that this would not be an issue as you use the device more often. It's like having a mini laptop (Insert Laptop vs. iPad argument here).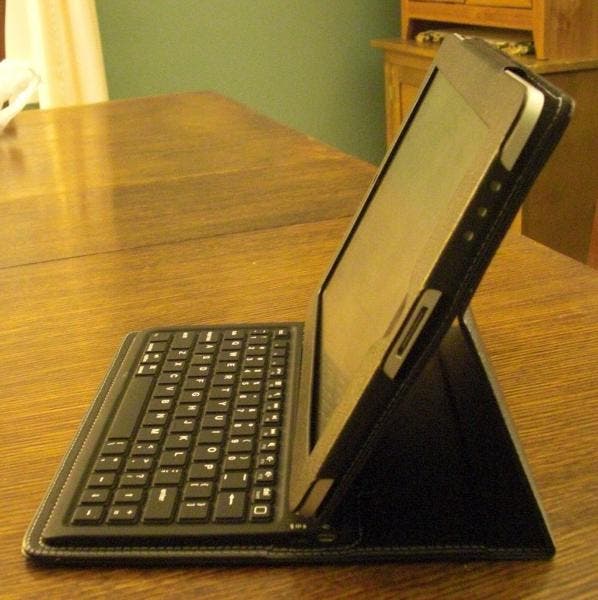 I found it very convenient to have all of this in one setup. The casing and keyboard do add additional weight but I do not think there is a way to eliminate that I used this setup to type out my blog posts and reviews while I had this unit. I would be interested to see how other manufacturers deal with the extra weight. I have a feeling that this is how it has to be at the moment.  I enjoyed using this product.
Pro's
-I like the look of the case. It's constructed well and even looks professional.
-Can be used for multiple purposes (travel, school, home, field work, etc)
-Not much more thicker than a book style case
-Compact footprint
-Easy to use
Neutral
-I would like to have seen some sort of closure mechanism to keep the lid closed. This could be important, depending on how you transport this.
 -Uncomfortable if you are going to use the pad in slate mode (with keyboard flipped over) Too awkward and heavy like this. I did not list this as a con because I do not think it was meant for this purpose. I did make note of it though as I use the iPad in slate mode more than I use it with a keyboard.
It's available for pre-order for $99.99. Check out the video on the product page.
http://us.kensington.com/html/17835.html
Features
Durable synthetic leather cover protects your iPad in style
Provides full access to all iPad controls and 30-pin connector
Rubberized keys are spill-proof and also protect iPad screen from scratching when closed
Bluetooth keyboard delivers wireless operation and includes iPad specific keys
Adjustable stand securely holds your iPad in landscape mode
Magnet-free folio case ensures uninterrupted operation of the iPad's digital compass
Specifications
Bluetooth: v 2.0 standard
Uninterrupted working time: 90 hours
Standby time: 100 days, Battery life: 3 years
Charging time: up to 4.5 hours
Lithium-ion battery capacity: Minimum 430 mAh