By Louis Senecal on Thu, 10/21/2010
Master your iPhone in one minute a day:
Sign up to iPhone Life's Tip of the Day Newsletter and we'll send you a tip each day to save time and get the most out of your iPhone or iPad.
Krypton Products is a company who is and wants to be environmentally friendly and who also loves to accessorize our electronics.   They recently released two products for the iPad, the Screen Armor screen shield and the Dreamcoat case.
The Screen Armor comes in two flavors: Anti-Fingerprint and Ultra-Clear. You get a complete installation kit in the package which includes one of the above screen shields, 2 Krypton stickies, application card, cleaning cloth, instruction sheet, squeegee and application solution in a spray bottle.  I contacted Krypton to see if using the solution was necessary, as I did not want to put any type of liquid on my device.  They said it was recommended but not necessary. They say their "Krypton PerfectPolish Cleaning System provides the absolute best in bubble removal."   
I decided I was going to install the anti-fingerprint one with out the spray, as I have attached other screen shields in the past like this. Sure there would be some bubbles here and there but they have always comes out.  So I prepped the pad by using the cleaning cloth and the sticky (which is very sticky btw). The sticky takes off any remaining particles that may be left on the screen after using the cloth.  I applied the screen protector and had to work out some bubbles. It looked pretty good and I had turned the device on to see what it looked like, and it was nice.  But I found a few specks of dust in some areas so I had to get them out too. I was working them out with masking tape and the sticky with no problem.  I'm not sure what happen after that but it was definitely user error.  I somehow bent the screen protector and put a fatal crease in it.
So after that I decided I would install the other test screen armor by using Krypton's recommended method.  I prepped the pad again with the cloth and sticky. I sprayed the back of the anti glare screen armor with a few sprays as suggested and aligned and applied it to the iPad. I then removed the other backing and began to squeegee out the liquid.  Some of it came out easy from the sides and some did not. I noticed that there were still some bubbles in both wet and dry areas. Some came out and some did not.  What I noticed and did not like though was that the screen under the shield looked very splotchy and hazy. It was still wet as I was trying to get rid of the rest of the bubbles and liquid.  Ultimately I was not very happy on how it looked with the liquid method and the fact that I could not get all of it out in a reasonable time.  I ended up removing the screen shield and placed another MFR screen shield on in the meantime.  Note that there is an informative instruction video on their site. Once you complete the install, you are also supposed to let the device sit there for 24 hours before turning it on again. 
(Please note that these are washable and reusable. My reality is though that if it does not get applied and used correctly the first time, then it's done.  It's hard enough keeping dust, dirt, hair, etc off the iPad screen when putting on a new one, let alone doing that and trying to clean, keep clean and reuse an existing one).
Also note that once you have installed your screen armor, make sure to recycle the box and paperwork.
So while I would personally not use the spray method again, I would use the apply it dry method, as I was happy with the actual screen shield itself. For any Krypton users out there, please let us know in the comments section or on Facebook page of your experience with this product (usage, installation etc).
Dreamcoat Case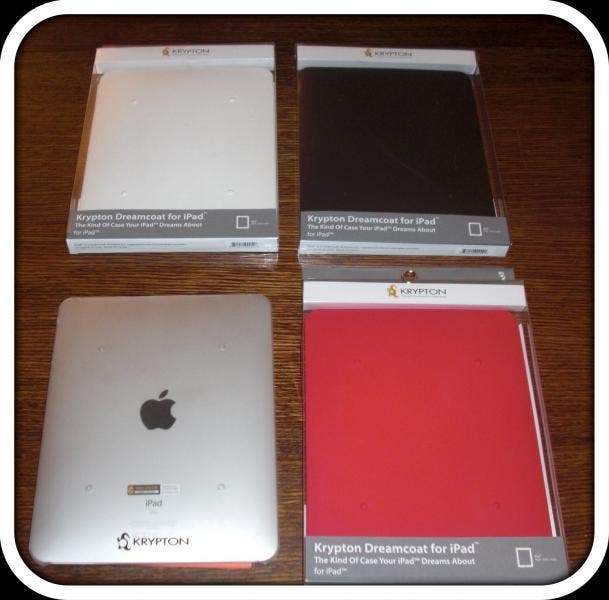 Their second product I test drove was the Dreamcoat case for the iPad. I had a better experience with this and it a nice case. It's basically a thin shell that covers your iPad's back and sides. The case does not protect any part of the screen. While it may provide a small amount of shock protection from a short drop if it fell on its back, I would not expect more than that for any major falls or drops. I do not think they had that in mind anyway when it was developed and I do not think it's supposed to be a case like that.  It does not add any bulk at all and feels very nice in the hand. The Dreamcoat is coated with rubber on both sides.
This case is perfect if you are using it in conjunction with another bag, such as the STM Jacket.
The Dreamcoat comes in four colors: Black, White, Cranberry, and Clear. I am using the clear version in my test. As you can also see, there are four little bumps on the back. This allows the iPad to become a level surface when it's lying on its back.
You do have full access to all the ports. None of the switches or ports are covered. I will say though that if you are using the Apple Camera connection kit, you do need to pry the back off a smudge so the 30pin connector can make full contact. Otherwise, without doing that, there is a little gap and the iPad will not recognize the kit.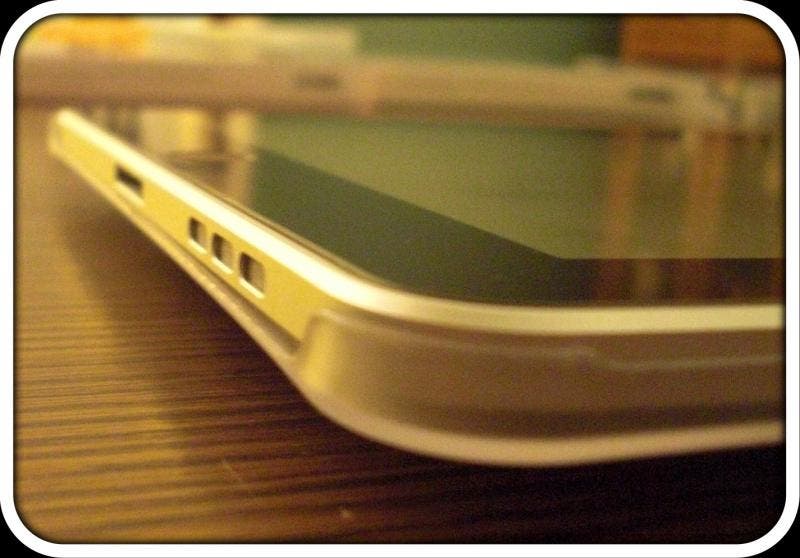 The case is on there pretty solid. I took it off and had to pry and work it off a bit. I do not know how much it will "stretch" if any, so to speak after prolonged use, but during the initial review, it was not going anywhere.
As you can see in the pictures, the cases are sealed in a plastic box with minimal paper. Maybe there is a way they can reduce this plastic usage as well in their future packing. So in the meantime, if you buy a Dreamcoat, keep the box to store your case in when not in use (or recycle that in your plastics). (Hey, we all have to do our recycling part!)
Visit www.KryptonProducts.comfor pricing and other product information.
The Screen Armors retail for $19.99 and $24.99 depending on which version you want.
The Dreamcoat case retails for $29.99