By Louis Senecal on Sat, 03/31/2012
Last Month I used and reviewed the SGP Klasden Levanaus Backpack. The link is below. These last few weeks, I have been using the shoulder bag, which is part of the Klasden Neumann series. I was very impressed with the quality and functionality of the backpack, that I requested a test drive of this messenger style bag. The bag looks a little bigger in person than I thought it be based on the pictures on-line, but it's been working out rather nicely for me.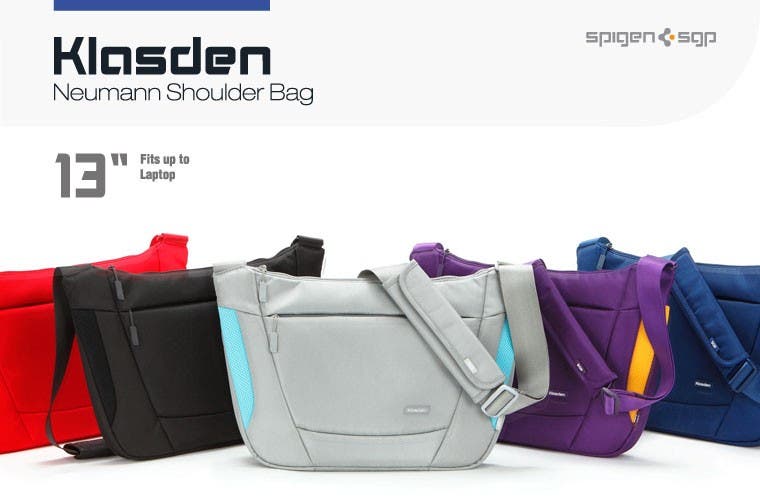 Master your iPhone in one minute a day:
Sign up to iPhone Life's Tip of the Day Newsletter and we'll send you a tip each day to save time and get the most out of your iPhone or iPad.
For my fulltime job, I work from home so I don't use a briefcase or bag obviously. But I work a second part time job outside of the home where this bag has been put to the grind. I use the bag to primarily transport my work files, notes, and tablet (along with some other junk I have). I don't have my own office at these locations so this has become my portable functional working office.
Let me tell you about the storage and other options this bag has to offer (my pictures are at the end of the review)
-On either side of the nylon bag, there is a large zippered pocket. I have been using this to store my glasses, keys, and other smaller objects. The way the bag is made, the zipper is kind of recessed back in. So when the zipper is shut, the material around the opening actually hides the zipper. This I feel gives it a little more weather resistance and not a bad look to it either.
-This is a top loader so there is one zipper into the main compartment. Inside you will find a compartment with synthetic fur (just like the backpack) where you can store a laptop up to 13" or an iPad or other tablet. There is also a Velcro tab that can secure the device in place. I don't have a small laptop that would fit, so I have actually been using it to hold file folders. It works very well. I did try the iPad in there but I don't bring my iPad to work. It stays home. If you have an iPad case on your laptop, it will most likely fit in the holder. So you do not have to worry about taking a case of it just for transport.
In between the inside pockets, you have some free space. I have a paper notebook and additional forms in mine.
-On the other side there are three pen holders (or for a stylus) and two additional smaller pockets with a Velcro tab. I actually use one of these pockets to carry my more portable smaller tablet to work. It fits great in there for my needs.
The strap is attached to the bag and is not removable. But the strap is very soft and comfortable. And most of all, there is a good amount of strap so you can adjust it to your needs. What I found in the past on some of these other shoulder bags was that they were not designed with enough strap (length) that allowed a user to really make it a comfortable and usable fit. Not the case here. In addition, there is a removable shoulder pad.
This bag was also designed with a slim look and feel in mind, just like the backpack. I think it's a great size to carry your essentials (and then some). It does hold quite a bit of stuff, in fact more stuff than I care to carry with me. I usually wear it with the strap over my chest and the bag on my back side like a messenger bag. I also carry it over my shoulder at times. I guess it depends on my mood. It's held up well and I have not found any construction or design flaws. For my needs, it has been very comfortable and very functional. This is one bag that I recommend you look into further if you are in the market for something like this.
Specs and Features:
-Fits small laptops
-Zippered compartments inside for easy access to mobile devices and small personal belongings
-SGP's logo is printed on the inner lining of the compartments, which are separated for your laptops, tablet PCs, accessories, etc.
-The laptop compartment is lined with synthetic fur to keep your laptop safe and unharmed.
-Shoulder straps are adjustable for your comfort with removable strap pads.
-You can attach the Levanaus Pouch to either shoulder strap for additional convenient storage space. (Levanaus Pouch sold separately.
-5 colors (Charcoal, Red, Navy, Violet, Gray)
-Made from durable and weather resistant nylon
Product Website:
http://www.spigen.com/etc-accesories-2/klasden/sgp-klasden-neumann-shoulder-bag.html
Price:
$62.99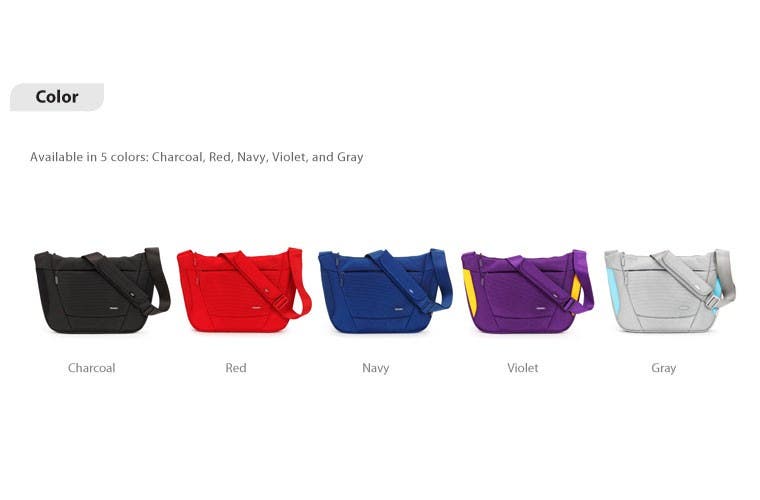 Previous review: SGP Klasden Levanaus Backpack series
http://www.iphonelife.com/blog/5811/review-sgp-klasden-levanaus-backpack-series