By Louis Senecal on Thu, 10/07/2010
I just had the opportunity to test drive the Just Mobile UpStand which I am going to review momentarily. When I first got my iPad, I questioned the need for a stand. But as time went on, I could see the benefits. I just recently purchased Apple's wireless keyboard and I can now see why having a stand (no matter what kind) is important. I am actually using the stand as I type the review. The review below is for one of the stands in the market today, and I must say, that it's pretty nice.
Master your iPhone in one minute a day:
Sign up to iPhone Life's Tip of the Day Newsletter and we'll send you a tip each day to save time and get the most out of your iPhone or iPad.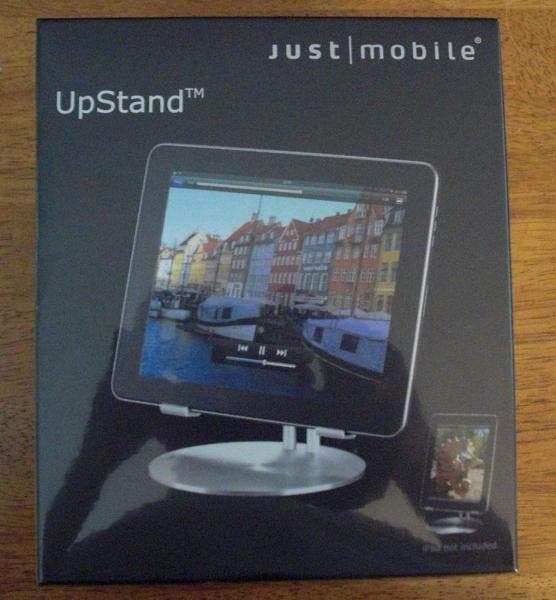 The stand itself comes packaged in a black box. Inside is the stand. There are no instructions, as there are no moving parts. The stand is made of aluminum and resembles the body of your naked iPad. I think the design is pretty simple, yet effective. The base is a circle that supports two cylinders. Attached to the cylinders is the part that holds the iPad, and resembles an upside down letter "V". There are two little hands that rise up a bit that holds the iPad from slipping. On the "V" and under the base, they have added rubber so it does not slide.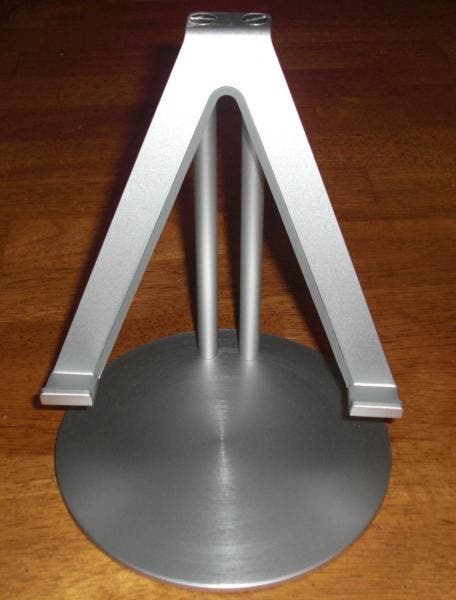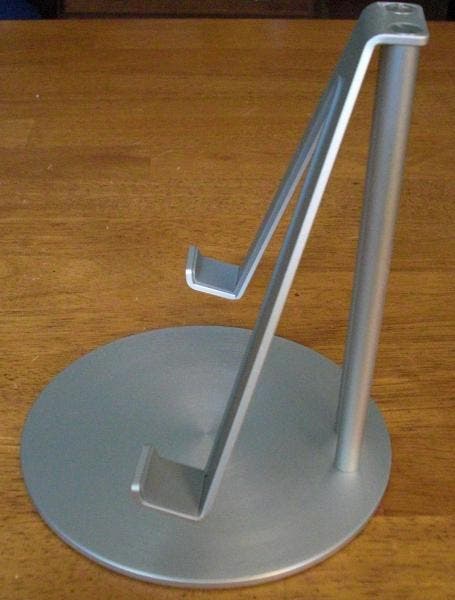 The aluminum look is very sharp. I like it a lot. When you have you iPad on it, it looks like they were meant for each other. Now I am someone who prefers to keep a case on my device. It's not that often that I am using my iPad without one. So I also tried this out with the Apple Case. I let the flap hang over the back, as I felt it would be more secure and help prevent the iPad from topping over. (I felt that the Apple case flap itself was the potential issue here.) Without the case, it fit perfect.
From what I have read, this stand should accommodate other 3rdparty cases as well.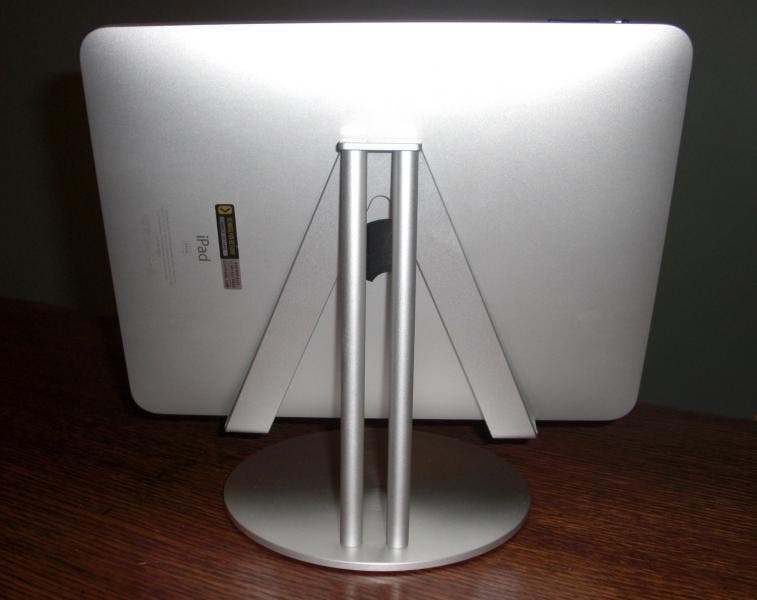 I work from home so my office and living space are the same for me. So I thought it would be fun to go around the house and see what kind of scenarios or uses this stand could be put into.
The desktop use (pictures above). Whether you are using this in conjunction with your keyboard or are just using the stand to help watch videos/listen to music while you're working. It's professional looking as well. Besides holding your device, you can also set your Apple keyboard on it when you are on the go with the Pad. It helps keep your desk clutter free.
Photo Stand. This does an excellent job for this purpose.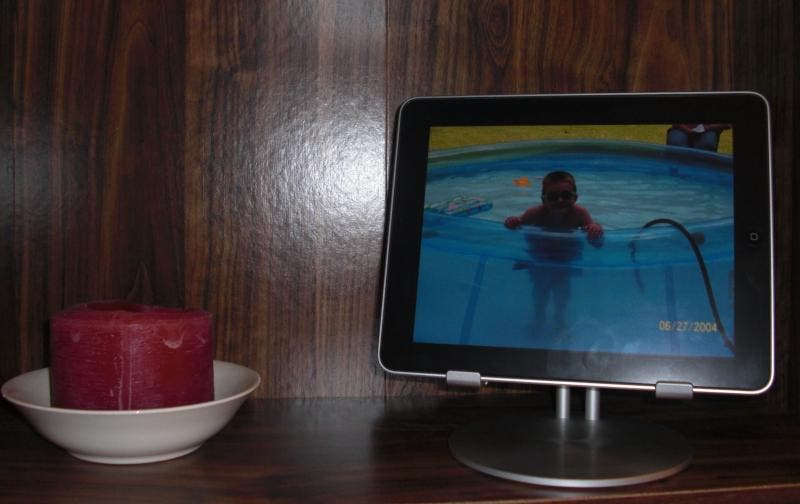 Music. The same thing goes here. Whether you are chilling at home or you are having a get together with friends, you have a mini jukebox at your disposal.
In the Kitchen. I used it in conjunction a TrendyDigital PadShield Element Protection Case that I have reviewed previously. I would never use my iPad in the kitchen with out any type of this kind of protection on it.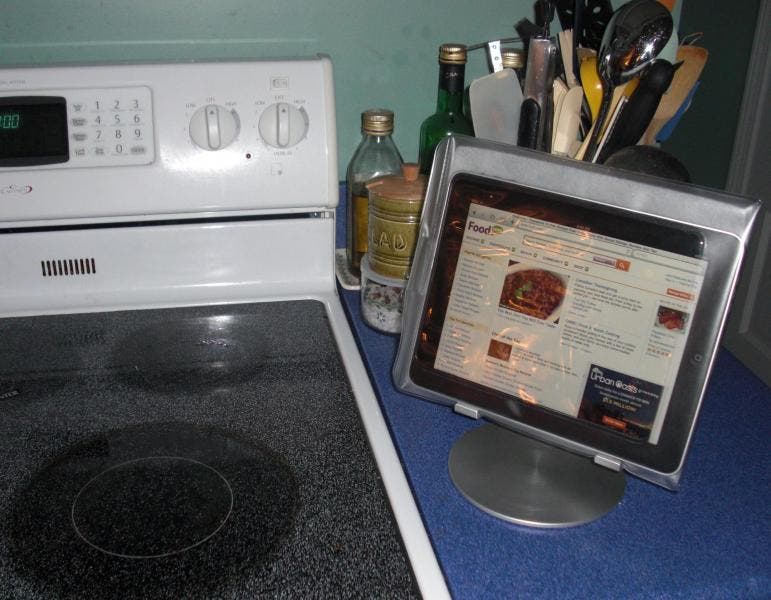 In your workshop. I have used my iPad before for this purpose and I follow the same policy as the kitchen (spill and dust protection). It's nice to have your device supported out of the way. You still have to be careful, but I think you can see the benefit here.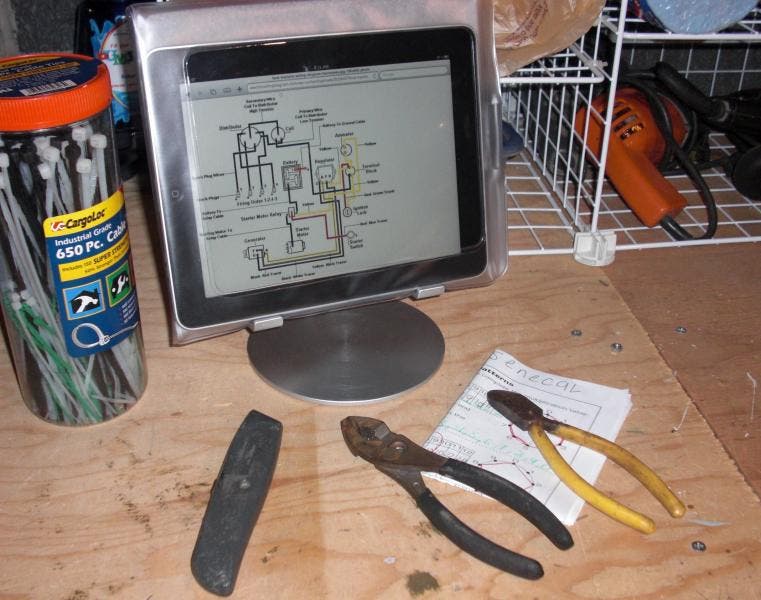 Nightstand. Use it to display your clock, listen to some tunes or watch a video.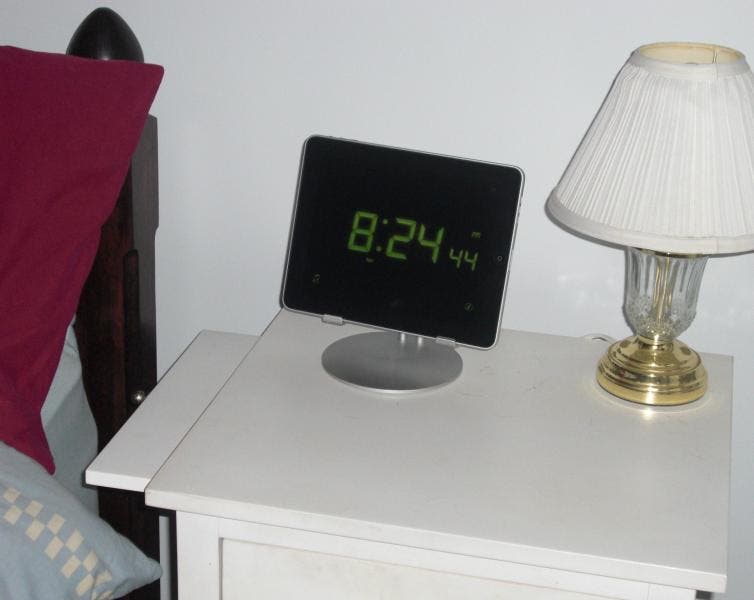 Movies. I was watching Iron Man on the couch. I had placed the stand and iPad on the coffee table in front of me.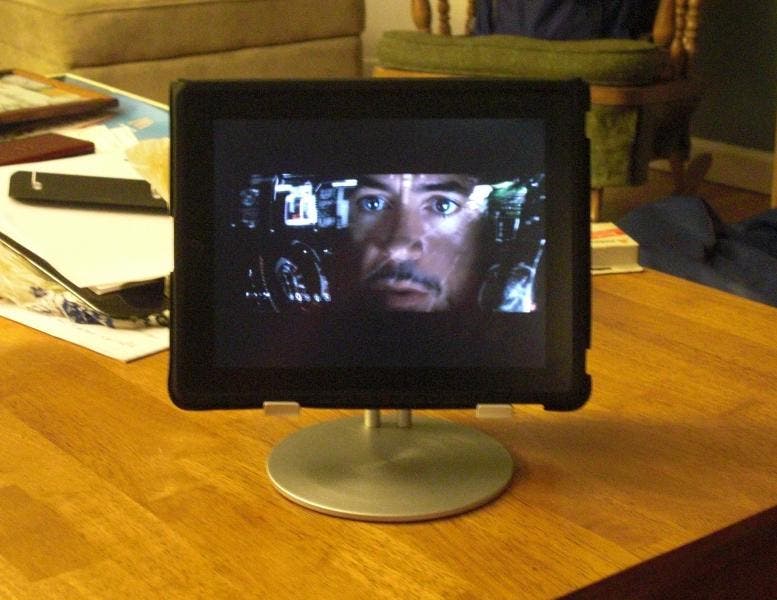 So, there is probably other uses that I have forgotten to mention, for in the home or office. Feel free to comment on this. I do think the office and home setting are ideal for this stand. I do not think it's great for travel, as it's not foldable. While it's not massive, I think it's too bulky for a true road warrior, especially if you travel light. (Car trips on the other hand would be a different story.) To sum it up simply, it does what it was meant to do and it does it with style.
Here is the link for the product page where you can find additional information. This stand retails for $49.99 USD.