By Louis Senecal on Thu, 08/30/2012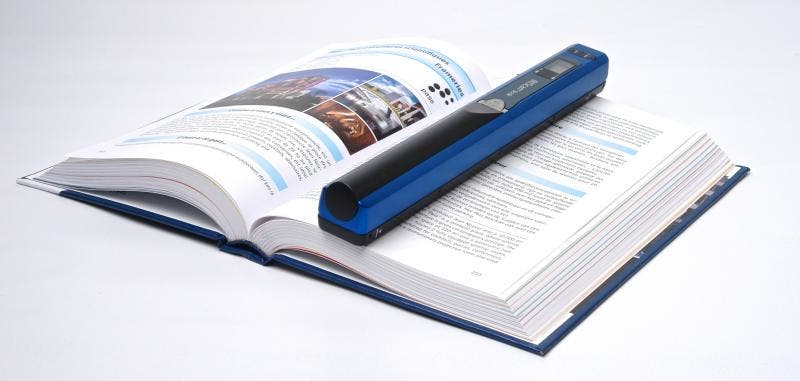 Master your iPhone in one minute a day:
Sign up to iPhone Life's Tip of the Day Newsletter and we'll send you a tip each day to save time and get the most out of your iPhone or iPad.
The IRIScan Book 2 is a portable mobile scanner that allows you to digitize a wide variety of documents and images. Thanks to I.R.I.S. for sending this review sample for me to play with. The Book 2 comes in a complete package with everything you will need to get started. It comes with the unit itself, powered by 2 AA batteries, also included. A USB connector, cleaning cloth, conversion software for your computer, quick start guide, carry case, and  2 GB Micro SD card are also accompanied. (My pics are at the end)
The unit itself is very light weight. A cover at the top slides off so the batteries can be inserted. Let me give a quick tour.
-Bottom: This is where the scanner part is located.
-Side: You will find memory card slot, USB connector, and two small buttons to set time and format the memory card.
-Top: There is a small display screen, power/scan button, and a couple options for changing the quality/type of what you are scanning. For example, black/white or Color, Or high or low resolution.

It could not be easier to use the scanner. Turn it on and position the unit where you are going to start scanning. Click the scan button so the scan light comes on. Slowly scan/glide the unit over your document. At the end of the document when you have finished scanning, press the scan button one more time. The green scan light will go off and your document will be saved. The scan image number will be then displayed of how many items you have saved. Note that these are saved in an image format. You need to make sure you scan slow and smooth so it can accurately read the text. Otherwise, what you see will be a jumbled up mess when you review it later.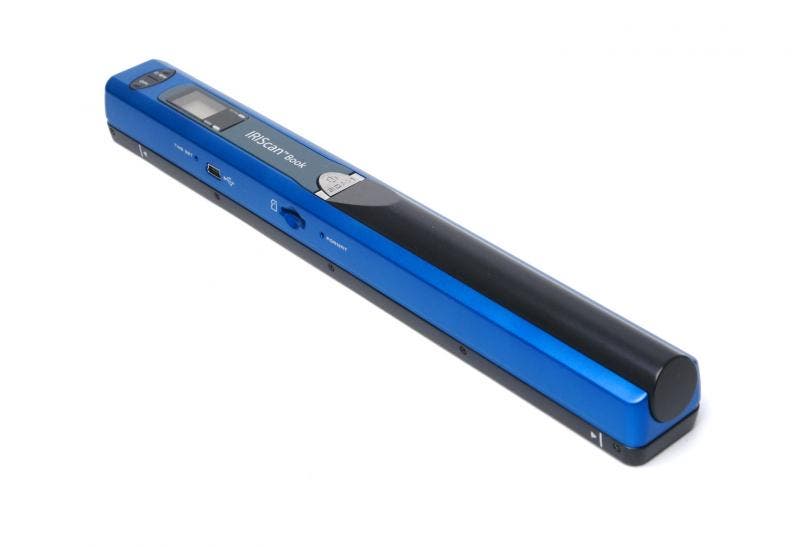 The next part is installing the software. I used mine on my windows XP machine. The software that comes with it is called Readiris Pro 12. My review is more centered around the scanner and complete package so I will not be doing an in depth review of the software itself. A whole separate review could be done about that.  I will highlight some things though, as it's an important component. Installing is as easy as inserting the CD and letting your computer do its thing. You do need to register the software by inputting the included serial number from the CD and your information. I.R.I.S then emails you a software key that you input to complete the registration process. I did this but for some reason every time I open the software it asks me to register it again and again which is very annoying. You start off with a main control panel where you can open the files from the scanner, save in multiple formats (i.e. Word, Excel, PDF, etc), edit the scans so the text can be in a workable format in your output of choice, and so forth. There are a lot of options and you will need to spend some time exploring all of these. It depends on what your use case is.  My main purpose of this is to scan in reference materials that I want to convert to a PDF or an MS Doc and save in my SD Card/ DropBox / Box accounts (depending on what device I am using and what purpose the Item I scanned in).  I can see myself using this to help my son for various school projects for both reference purpose and editing for projects (I have used this for work also).
In summary, I think is this is a pretty neat mobile accessory, with multiple case uses. This is also one of those accessories that can help you reduce document clutter, wasteful paper usage and also help with some organization at the same time. Complete information from the manufacturer can be found on the link below. If you are using this product currently, let us all know what your experiences are with it.
Specs and Features:
-Scan all your documents without being connected to your computer  
-Convert your paper documents into editable text files  
-External Memory : Micro SD card (included)  
-Export your documents to your mobile devices  
-USB 2.0 High speed  
-Readiris 12 (OCR software) included  
-Resolution: 300 dpi or 600 dpi  
-Standard Battery (2 x AA alkaline batteries included)
Product Website:
http://www.irislink.com/c2-1988-189/IRIScan-Book-2---Scan-from-books---magazines-without-computer-.aspx
Price:
$129.00
(Note: If you search the web, you can find this for sale between $59.99 up to $129.99)