By Louis Senecal on Sun, 04/22/2012
For the last few weeks I have been using the iHealth Blood Pressure Dock. This is the first product of this type that I have actually used so I don't have any comparison products to judge it against. But I can say its one of the easiest things to use right out of the box (My pics are at the end of the review)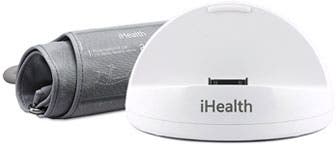 Master your iPhone in one minute a day:
Sign up to iPhone Life's Tip of the Day Newsletter and we'll send you a tip each day to save time and get the most out of your iPhone or iPad.
The kit comes with the dock, instructions, power USB cable for dock, and your choice (out of two sizes) of arm cuff.  The free app required needs a minimum of iOS 3.0 or greater (There was an app update this month). The dock itself contains a rechargeable battery that powers the blood pressure system / cuff. You can charge your iOS device at the same time you recharge the dock. I was using my iPad 1 with the current iOS version.
The cuff itself is plugged right into the dock. It's similar to a blood pressure cuff you would see in the doctors' office.
Using the app is pretty easy.
1-Set up your profile.
It asks for Name, Gender, Age and email. Here is where you can also link it to the iHealth's Cloud for online access or to another app called TargetWeight Pro.
2-Select Your Name (so the results are properly assigned to you)
3-Start the Test
It's as simple as pressing the Big Start Button. Your blood pressure test begins and you feel the pressure build. It's not too long until your blood pressure results and pulse are displayed. There is also a useful note section where you can type in important info regarding that particular test.
Alternately, you can also add in test results without using the kit, should you have had your BP taken, say for example, from a doctor's visit that day. The whole process is pretty simple and straight forward.
The App itself performs various functions besides storing your results and being the control center of the kit.
-Classify-This organizes the results based on your recorded categories of High, Normal, Optimal, etc.
-Select-You can select a range of data and average the BP out
-Graphs-The app presents a graph view (I found a couple variations depending on what part of the app you were in)
-FAQ: There is a series of FAQ's built into the app.
Note: I found that the included paper instructions were very helpful and useful. Some of the stuff is included in the FAQ.
-Share: You can share your results on Facebook and Twitter (for whatever reason you would want to do that I guess) or email them out. The screenshot below is what the email looks like. The email also attaches the .CSV file. There is an App called target Weight Pro that is compatible with the data. You can also register and link your data to iCloudHealth.net. I tried that out and was pretty painless registering (non https//). It's all based on personal preference though.
The question left is how accurate is it? As I mentioned I did do not have any competitor products to check out against this. But since I'm a Firefighter also, I went to my firehouse and had a career EMT take my vitals. I then used this system at home shortly afterwards to compare and there was very little variation. It did not match 100% because that's unrealistic expectation with all the variables that affect your BP. The EMT measured me at 118/80. The machine tested me at 124/80. In my opinion that's good enough a comparison for accuracy for me.
This system works with iPhone, iPad, and iPod Touch. The MSRP is $99.99 but I have seen it advertised on some other sites for as low as $65 (Google it for additional research). Check out iHealth's website below for a complete spec and feature list.
Specs and Features:
-Model: BP3.3.
- Internally powered, Type B applied part, IPX0, No AP or APG,
-Continuous operation.4.
-Machine size: 4.53"×4.53"×2.62"(115mm×115mm×66.5mm).5.
-Cuffcircumference: 8.6"-11.8"(22cm-30cm), 11.8"-16.5"(30cm-42cm)(Optional).6.
-Weight: about 7.6 oz(215g).7.
-Measuring method: Oscillometric method, automatic inflation and measurement..8.
-Power: DC: 5.0V 2.1A, Battery: 3.7V Li-ion 400mAh.9.
-Cuff pressure range: 0-295mmHg.10.
-Range of measurement: 45-250mmHg.11.
-Pressure accuracy: ±3mmHg.12.
-Pulse rate range: 40-180beats/min,accuracy: ±5%.13.
Product Website:
Price: 
$99.99