By Louis Senecal on Sat, 01/29/2011

Just last month, a company called iChair launched a case series they call the iChair. The iChair is a multipurpose slider case which also has some extras. They created one for the iPad, iPhone and iPod Touch. The folks at iChair sent me the iPad case to evaluate. The first thing that came to my mind when I opened the package was an Incase Slider hooked up with a silicone case. But it's actually much more than that which I will present below.
Master your iPhone in one minute a day:
Sign up to iPhone Life's Tip of the Day Newsletter and we'll send you a tip each day to save time and get the most out of your iPhone or iPad.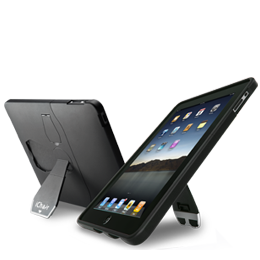 I found a video they created in their media kit of an unboxing. Check it out.
In the box, you get the black two piece slider case, a screen shield, a squeegee, and a dust cloth. You also receive an extra top slider case. You can choose either white or blue. White was in my evaluation unit.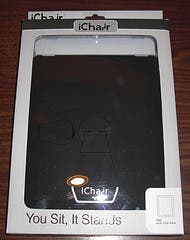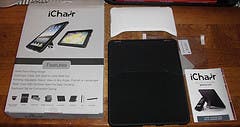 Two things I wanted to mention before I move on. I'm not sure why the extra slider case is not in the same black color. I myself would have preferred that. Maybe it's for mix and match fashion, but it's nice to get an extra piece. I also wanted to make note that even though a screen protector came in this kit, I did not use it as I already had a screen shield on my iPad.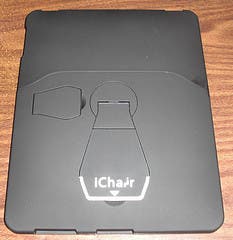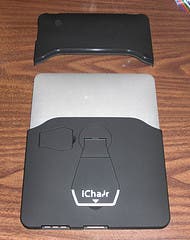 The exterior of the case is polycarbonate which adds a level of protection to the iPad. The outer part of the case is silicone and has a rubbery feel. The inside of the slider is a soft micro fiber. To install it, just slide each end onto the iPad until they come together. It slides on and off with equal ease. This will come in handy for those needing to use the Apple Dock.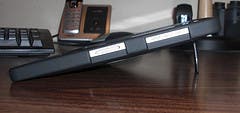 All of your buttons, speakers, and connections have cutouts. The only thing I do not like is that when I went to use the Apple Camera Connection Kit to upload photos, I had to slide the bottom of the case off to be able to use this accessory. Looking at the case and how it was designed, I am not sure if there was even a way to allow this kit to work with it. Regardless, the case appears to be very well built.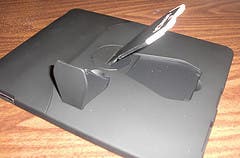 On the back of the case are two built in stands that foldout. The small stand sits the iPad in landscape mode for a fairly comfortable typing angle. I sat at the dining room table using it like this when my son was doing homework. It seems pretty stable and it worked well when typing.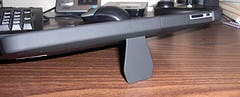 The larger stand pops up and rotates so you can use it in landscape or portrait mode. This larger stand even extends a bit to allow a bit of a change in the angle. Because I'm not shooting a video blog, I can't show you how it looks when using apps and in action. There is another iChair video though at the end of this review that will show you some of this functionality.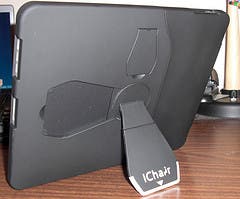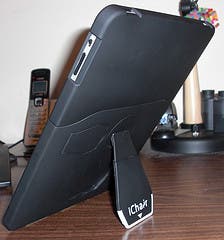 I have a couple of critiques regarding the larger stand. As I mentioned, it extends if you wanted it to. While, I think adding a feature like this is an added benefit, it did not excite me personally. I thought the stand seemed a little floppy and flimsy in this mode. But with that said, if you choose to use it in the non extended mode, there are not any issues. The regular non extended mode is the main mode/stand anyway and that itself is not flimsy. The extension is just for optional use and is not necessary.
I also cannot sometimes get my finger in the access area to flip up the stands. I had my wife try this also and she had the same thing happened to her. Considering this was new, I sat there and continually raised and lowered the stand to free it up a bit. Only time will tell if this will get better. As it stands right now (no pun intended), it's a hit or miss for me to lift the stand up with my finger.
I have one more general comment about the outside of the case itself. I'm not labeling this as a negative but this is something I noticed. If you use or have used the Apple case before, you know that it's a dust, dirt and fingerprint magnet. The iChair and Apple Case have a very similar feel to them material wise. Well, the iChair acts the same way as the Apple case where you can see all of your fingerprints. Wiping the iChair will get rid of some but not all. This may not matter to some people but I'm not a fan of this.
Even though there were a few things that I did not like myself, I enjoyed using the case. It has a nice feel to it and has some very useful features. The value is increased since they add in the extra Slider piece and the screen shield.
If you own this case, I would love to get your feedback in the comments below or on the iPhoneLife Facebook page.
Features:
-Dual layer of protection 
-Integrated stand rotates and adjusts, maximizing your viewing convenience in both landscape and portrait modes
-Ultra slim case allows for sleek portability
-Easy access to screen and ports
-Pull-out tab for convenient typing
-Includes an extra slider, screen protector, dust cloth, and squeegee board
Product Page:
http://www.goichair.com/products/ichair-ipad-case
Price:
$49.00 with Free Shipping