By Louis Senecal on Sat, 01/15/2011

Master your iPhone in one minute a day:
Sign up to iPhone Life's Tip of the Day Newsletter and we'll send you a tip each day to save time and get the most out of your iPhone or iPad.
Here is an iPad case that reminds me a bit of my old Day Planner days. Jovan Van Drielle of Geminus Inc. designed a folio case she calls the Genius Case. She was looking for a case that had the below characteristics/features. When she did not find any, she decided to design her own, which I think you may find useful.
1) sleek, contemporary design
2) convertible kick stand for desk top viewing
3) pen/pogo holder
4) hidden document areas
5) business card slots
6) post-it note pad holder
7) microfiber cloth for fingerprint removal
8) quality construction at an affordable price!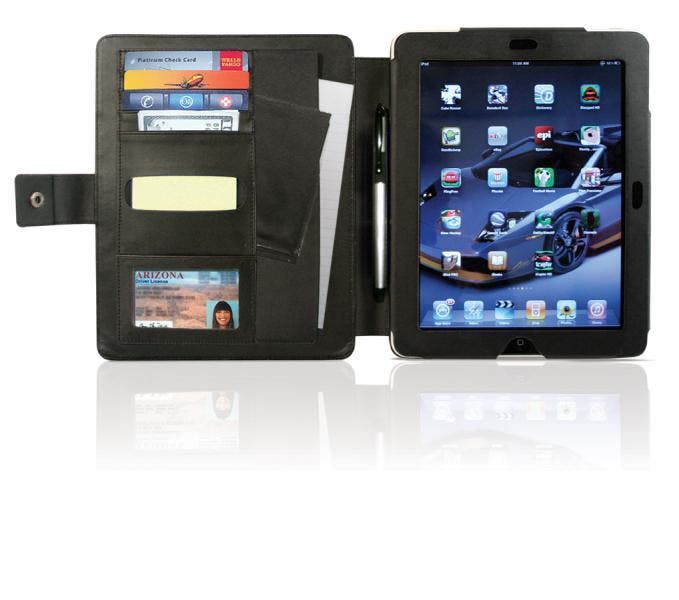 I received the case wrapped inside tissue in a box. The case I am evaluating (Thank You Jovan) is 'faux leather." There is a genuine black leather version coming out in February.
The front cover of the case has some protruded ridges. These ridges are use for the built in stand option I will talk about later. Attached to the front cover is a small strap that snaps onto the back cover to keep it secured (I am a fan of securing cover closures).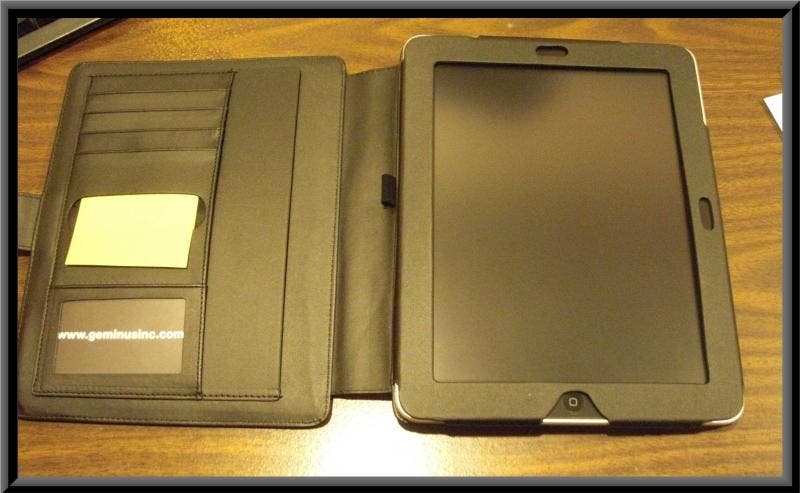 The inside cover contains seven pockets that range from credit/business cards to notes, documents etc. There is even a Post It note holder in there. (Included with the case is a microfiber cloth for your iPad screen. It is tucked in one of the pockets).
The next section is where your iPad goes in. Just slide your device in and you're ready. There is a flap at the top that folds behind the iPad to prevent it from falling out. All of your buttons and openings are accessible. The iPad fits in there very well and it looks good too. There is also a pen loop attached to the side here.
On the back cover, you have a built in stand that is held in place by a second snap. When you want to use the case as a stand, flip the front cover over and insert the stand into the front ridge. There are various degrees of angles you can set it at.
I found it was pretty comfortable using the case. I do not know of any folio cases out there that have multiple pockets like this (Feel free to comment below if you do). That's the part that reminded me of my old Day Planner. I think that is a great option to have in a case. One thing I will note though is there is fair amount of space (or gap) between the iPad screen and the cover when it's shut. You can see this in one of my pics. I think the main reason for this is to accommodate the space a pen/stylus and whatever you choose to put in the pockets, would take up. It may not be a bad idea to add a screen protector on your device, as I would recommend this in other similar scenarios also. I am not saying the case itself will harm the screen, as it shouldn't. My point is that there is space between the iPad and cover, which will vary depending on what you have in there. If you are slipping the case in your bag when you are on the move, it's quite possible something could get in between the cover and screen. It's also possible people may use the case to hold entry door keycards, USB sticks, etc. Those things will fit in there with no problem and it is these types of things that can scratch if not secured properly. Of course, this depends on how you transport your device and what you carry with you.
There is one item that may be of possible concern to you. The case does not sit flat against the table/desk because of the built in stand on the back. This is when you have the full case open and both the back and front covers are touching the table. I listed this as a possible concern only because you may require this to lay flat in this mode if you take a lot of notes with a stylus, especially if you are in a meeting and need access to the document pockets. Personally, if I am writing, taking, notes, drawing etc, at a table like this, I want it to be flat and still. If what I just mentioned is not a concern for you, then disregard.
The case seems to be built very well and I did not notice any build quality issues. As with all cases, it does add some extra weight, but not enough for me to think it was heavier than a lot of the other cases I have tried out in the past. Again it was very comfortable using it and I did not have any related complaints.
Pricing and Personalization
$35.00 - high quality black "faux leather" (in stock)
$55.00 - genuine black leather - (available February 2011)   
Optional Personalization (images at end)
Available in 7 locations: front, inside and back of the case
Blind debossing or foil stamping in gold, silver or white
5.00 - 12.50 per location (depending on length of name)
Company logos require a custom die, please inquire for quote.
Product Page:
(Note that Jovan is in the process of adding this product onto the site.)
http://www.geminusinc.com/case_studies.htm
*********
Note: This review was originally posted on 01/10/11 but was lost when the server failure occurred. Since then, I have updated a few things on it and have reposted it today.
You can also see a second review by iPhoneLife Blogger Mike Riley below:
http://www.iphonelife.com/blog/177/geminus-genius-ipad-case-review