By Louis Senecal on Wed, 05/02/2012
Fabrix sent me their Satchel 2.0 to test out. I have been using this the last few weeks. I have the 15" variant, which is part of their wool felt collection that includes other sizes as well. This accessory will hold a Macbook Pro 15" is you so choose. This is actually their second Satchel. I never used the first one, but from what I read, they took a lot of user feedback and incorporated it into the newer model. (Note: Pics at end of review)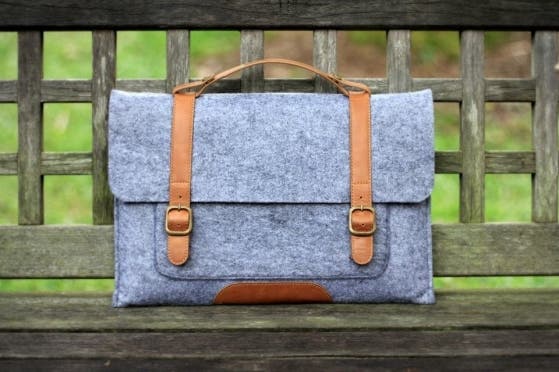 I actually reviewed a Fabrix iPad 1 Folio case for them a couple years ago, which is still available on their site today. I still use it quite often as I found it to be built well and very functional and dependable. That was one of the reasons I reached out to Fabrix on this product. This and the fact that this is a very unique looking bag.  I have used many leather and nylon bags in the past, but I have never seen anything like this. I like that this is different and it stands out.
Master your iPhone in one minute a day:
Sign up to iPhone Life's Tip of the Day Newsletter and we'll send you a tip each day to save time and get the most out of your iPhone or iPad.
The Satchel 2.0 is composed of thick wool and leather. It has two main compartments and is designed with a slim look and yet functional but simple design. The straps (which close the bag with magnets), handle, and protective base are all made with leather. The rest of the bag is wool. As I stated earlier, this version was made with the intent of carrying a Macbook pro. Since I don't own one, I used it for files and notebooks. I used the smaller pocket to carry my tablet. It was mostly utilized for my smaller tablet and glasses, but you can see in my pictures below how it fits the iPad. I'm still using the iPad 1 with a thin back case. It fit very well in that pocket with extra room to spare for a little bigger case.
Fabrix designed the leather handle so it's removable with a snap. They offer an optional over the shoulder strap that can be used with this.
The bag worked well for my needs. Note that if you over stuff it, it's difficult to close the bag and it does not look that great. I mention this because I feel this bag is designed for your essentials, not your entire gear setup. If you need to carry everything, then get a back pack or a full size messenger bag. If you are just carrying your laptop and some folders, or your iPad and a few accessories, then this bag is going to be perfect for you.
I like to switch my bags often depending on my needs. A feature that I really like on this is the magnetic snap closers. I did not have any problems with their strength and they performed excellent. The ease and quickness of use with this type of closure is pretty cool. I would get to work, pop my stuff out, and then back in when done, and not have to worry about zipping or clipping. Sometimes zipping and clipping gets old, depending on the design of the bag. Another feature that I liked is that the bag has an overall small footprint, so I could place it right next to me on my workspace.
The only think I really did not get to try this with was during any heavy rainy conditions. It's not waterproof so I am not sure how much water it could withstand before your contents would get ruined. Honestly, I am not even sure I would have even tested it in a downpour condition knowing that wool and heavy rain are not a good match. Note though I did carry it in light rain conditions and have no negative issues to report.
In these past weeks, I have used it a lot and have banged it around. It's held its shape well and all the stitching is still going strong. I have gotten a mixed reaction of the bag. Some people seem to like it and some people not so much. But this article is about the bag itself and how I feel about it for my needs. I found this to be a good size and design for my work and my meetings for the various local committees I volunteer on. Anything where I would need to be gone more than a day and have more stuff with me, then I would need to leave this bag at home for something bigger. As I say in many of my reviews, it all comes down to personal preference and the specific needs you have. I really loved the look, feel and style of this unique bag.
Features:
•New and improved design
•Made with 100% 4mm Grey Wool Felt
•Trimmings in full grain tanned brown leather
•Specially designed detachable top handle (included) & adjustable shoulder strap (optional)
•Magnetic snap button closure
•Fitted for the new Macbook Pro 15.4" models
•Features an extra pocket in front that can house an iPad / iPad2 or other thin accessories
•Optional shoulder strap is off-white in color
Product Website:
http://www.fabrixcases.com/product/satchel-version-20-15
Pricing:
See website for specific model. Starts at $99 for 13" and $109 for 15"