By Louis Senecal on Tue, 03/22/2011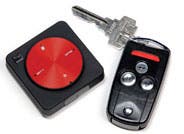 Master your iPhone in one minute a day:
Sign up to iPhone Life's Tip of the Day Newsletter and we'll send you a tip each day to save time and get the most out of your iPhone or iPad.
Dual sent me over their latest GPSr, the XGPS150, for a test drive. This GPSr not only works plug and play for iOS, but can also be used with many other smart phones. The main benefit I see to this is that it adds GPS functionality to your iOS device that may otherwise not have a built in GPS, such as the iPod Touch or iPad (wifi only model). You can also use this with your device that may have a built in GPSr. Because the receiver has a built in battery, this helps save some of your device battery power that you would other wise use for the built in GPS chip. (Of course if you are using a car charger, this does not matter).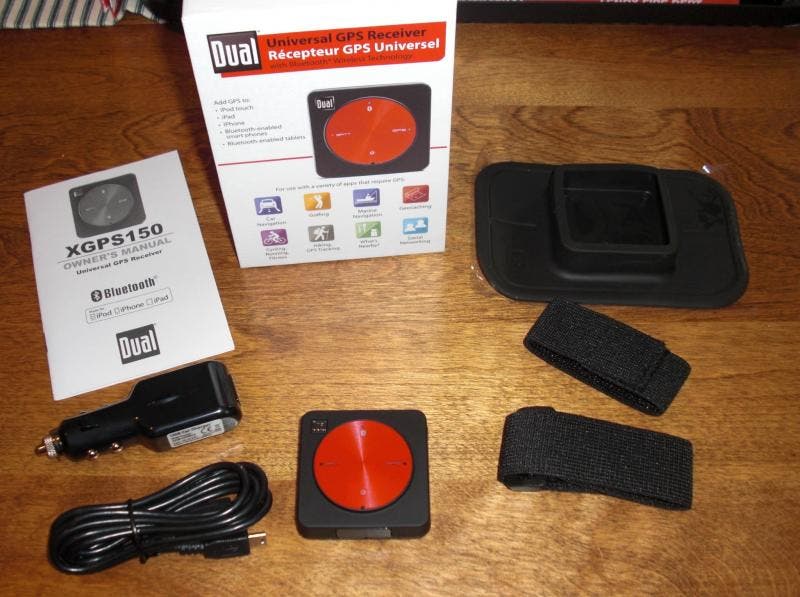 With the kit, you receive the following:
-The XGPS150 GPSr
-Power cord
-Car charger plug
-Rubber dash anti slip mat
-Armband strap
-Manual
From looking at the contents, you receive a nice all around bundle. The slip mat and armband are nice extras. If you recall, I previously reviewed the GNS BT GPSr and it did not come with these two extra items.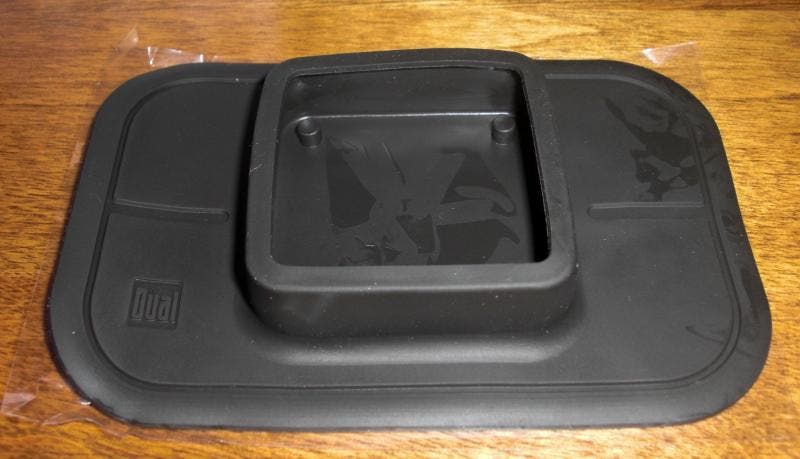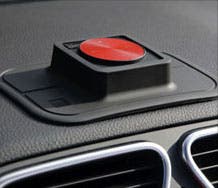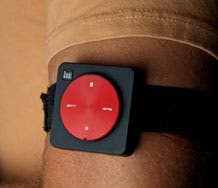 I tested this receiver with my Wi-Fi only iPad, again using Co-Pilot North America. While the device adds GPS functionality, it does not provide cellular data. This is important to note because many GPS apps also require a data plan for non GPS information/data. Since I do not have a data plan, I was not going to waste my time or money on other apps that I know I could not use.
I charged up the GPSr at home before I used it. The manual says it takes 2.5 hours to charge. I found this to be accurate. I used the included charge cable with my own wall power brick.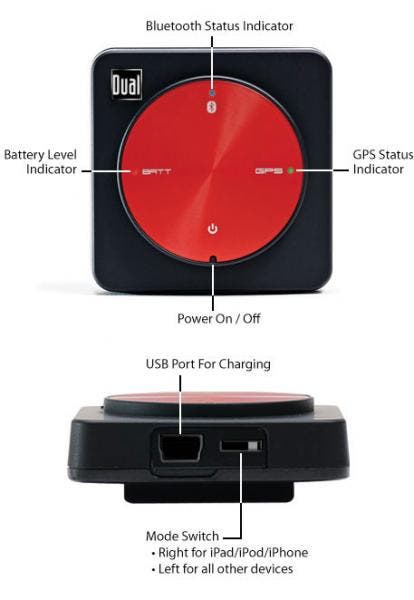 There are four lights on the GPSr
-Power on/off
-Battery Indicator
-GPS status indicator
-Bluetooth Status indicator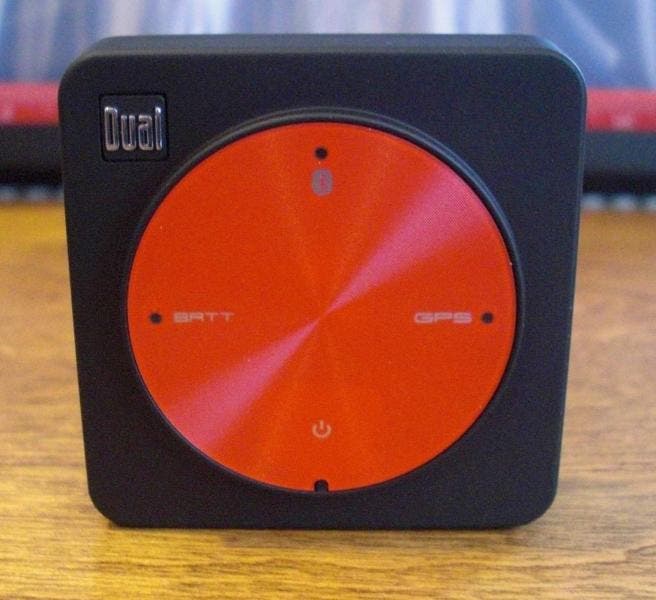 Pairing the XGPS150 was easy. I turned both Bluetooth signals on and selected the XGPS150 under my settings on the iPad to connect. I did not need to enter any keys. When I went to my home screen, I was notified with a pop that the "accessory requires a special app for use" that I did not have. I was not in a position to install it because I had no Wi-Fi signal where I was (I was on the road). I had no idea that I was supposed to install any app to go with the receiver. I clicked No. Fortunately, Co-Pilot picked up the GPS signal with out this app.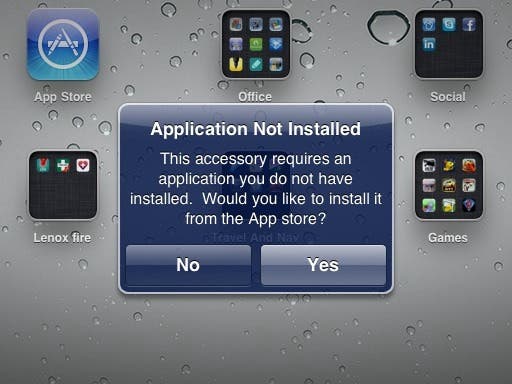 Note: This annoying popup message comes up each time you use the receiver until you install it. I installed it later which I have screenshots below. The only thing the app does is show your longitude, latitude, battery level on GPSr, and where you are via Google maps (data connection required to see that). In my opinion, while it's a good simple utility to make sure you are communicating with the device, I have two requests to Dual.
1-Put a note about that in the instruction manual. I did not see a reference to this.
2-Get rid of that annoying popup. If the app was actually required for use, then I could see having it there,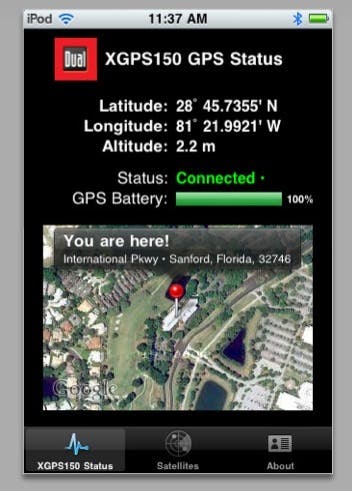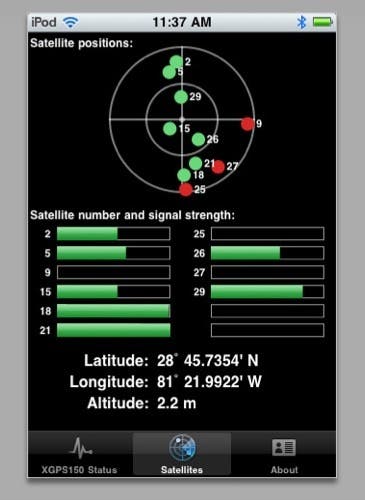 The Mini USB plug is on the side protected by a plastic cover. There is also a mode switch there. For iOS devices, the switch needs to be on one side. For other devices, the switch needs to be on the other side.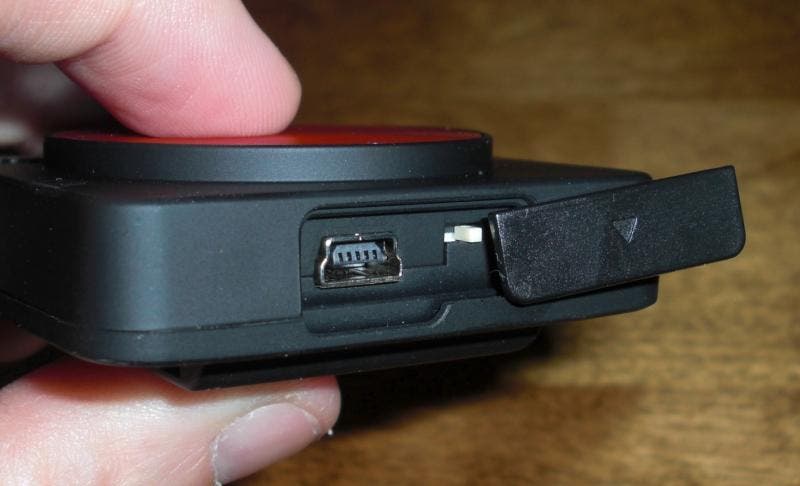 The initial GPS signal took a couple minutes longer than the GNS receiver. In later subsequent uses, it was much faster. As I stated before, I only used my on board Co-pilot maps because of not having any data access. The XGPS150 did not drop the BT connection once. The unit performed well.
As you can see in the picture below, I compared the size of this to the GNS. The GNS is thinner but also longer. I do not have any issues with either size but I do prefer more of the smaller footprint the XGPS100 maintains. This benefits if you want to use the armband accessory, which threads in via a space under the unit.
The anti-slip pad is a very nice touch also.
If you are a current user of the XGPS150, please add some comments below.
1-Do you use data, and if so, what apps to you use with it.
2-If you do not use data, what apps do you use with this receiver.
Note: Dual offers Free on board NavAtlas GPS software for their GPS Cradle for iPod Touch. This ONLY works with the cradle. I tried it on my son's iPod Touch 2g just in case there was a chance it would work with this BT GPSr. While I can use the GPS with the iPod Touch 2G, I confirmed the SatNav software does not work with it. It would be an added value for their customers if Dual also allowed this software to be used with the XGPS150 receiver for iOS devices to make the ultimate bundle at the current price point.
All in all, this was a nice GPS package. Besides that popup surprise (which ended up not being an issue), this unit performed for me well.
Basic Specs:
-55.0 x 55.0 x 18.5 (WxHxD in mm)
-Input Voltage: 5 VDC
-65 Channel SkyTraq engine
-Cold Start:  less than 29 sec (open sky)
-Warm start: less than 25 sec (open sky)
-Internal Battery: 680 mAh, 8.5 hours operating time
Product Website
http://www.xgps150.dualav.com/
Price
$99.99