By Louis Senecal on Wed, 07/04/2012
Below are a couple general accessories that I thought you would be interested in. Proporta sent me these to try out and I wanted to share my experiences. There are two separate write ups below and all of my pictures are at the end. These are multi purpose accessories and can be used with all of your tech.
Master your iPhone in one minute a day:
Sign up to iPhone Life's Tip of the Day Newsletter and we'll send you a tip each day to save time and get the most out of your iPhone or iPad.
Quillit 3 in 1 Stylus Pen
The Quillit stylus has three components. Regular pen, Brush Stylus and a Nib stylus. The overall pen/stylus is very sharp looking. It's light but has enough weight to it to feel substantial. I have been using this combo for geocaching as I need a writing utensil to mark the logs in the caches I find as well as the Nib stylus end for my GPSr touch screen. It's a great combination for my purposes and works well. The brush stylus at the end worked well when I used it on my iPad. This is the first brush stylus that I have used. All of the others have been rubber nibs, so for me, using this is a little different. When I first started, I felt like I had to press harder to get the output on the screen as opposed to using my finger lightly. The more and more I use it, the better I get with it. It's a very different stylus. All three stylus twist for access and twist back in to the pen casing when done. There is a lifetime exchange warranty on this.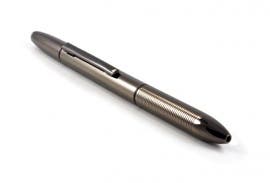 Specs and Features:
-Brush stylus for capacitive touch screens.
-Nib stylus for resistive screens.
-Real working pen
-Deluxe heavyweight feel
-Excellent executive gift
-Lifetime Exchange Warranty
Website:
http://www.proporta.com/F02/PPF02P05.php?t_id=5709&t_mode=des
Price
$33.95
The Gadget Bag
This version that I am using is for the 7" Galaxy Tab (I have been using it with the 7" Galaxy Tab 2.0 that I just purchased not too long ago). If you check out their site, there are different versions of this for other devices, but essentially they are the same thing and/or server the same purpose. This bag would probably fit the rumored iPad Mini. It will also definitely fir the new Google Nexus 7.
The bag consists of three main components and a removable shoulder strap. There is a main larger compartment with a smaller removable pocket inside (via velcro). This is where you could store your smaller tablet if you wanted. On the reverse side, there are two smaller pockets. The neat thing here is that all three pockets can be detached by unzipping them apart. All three compartments also have a plastic aperture to allow headphones or cables through. So ultimately, there is no right or wrong way to use this accessory. You can keep the bag together or use all three pieces separately for different purposes. It a very neat storage and organization solution which also has a lifetime exchange warranty.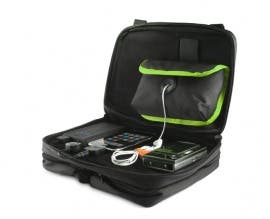 Specs and Features:
-Keep all your mobile gadgets in one place and charge them on the move.
-Three individual compartments to store your mobile devices
-Quick and easy access to your device
-Plastic aperture, allowing headphones and charging cables to be fed through each section
-Gadget Bag External: 26cm x 21.5cm x 8cm
-Gadget Bag Internal: 240 x 190 x 35mm
-Gadget Bag without front pockets: 26cm x 21.5cm x 5cm
-Front Pocket: 13cm x 21cm x 3cm
-Internal Compartment - Black: 15.2cm x 9.8cm x 3cm
-Lifetime Exchange Warranty
Website:
http://www.proporta.com/product/proporta-gadget-bag-for-the-samsung-galaxy-tab-series-7
Price
$35.95