By Louis Senecal on Mon, 04/12/2010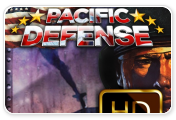 I saw a video of this game being played on the iPad the other day and I wanted to try it out. For $1.99, I bought it for my iPad. I have only played it a few times but I did want to share this information with you. Pacific Defense is a WWII shooter game.
You can get more information about the game and watch a video, specifically related to the iPad. Here are the links. Check them out as it seems like a lot of work was put into this.