By Louis Senecal on Mon, 01/25/2010
I thought I would write a little bit about my switch from my old pocket PC to my touch. I did some research on the productivity and organization software I used and wanted before I decided to change last year. I see discussions now and then about people wanting to upgrade to a newer or replacement device that is not phone related, such as myself. I had written an article for a long term test that was featured in a UK magazine last year. Some of my notes are below as well as some current updates I have done since. I hope that this can be of assistance to someone who is looking for an upgrade or change and that they can consider the iPod Touch as a potential device when looking at their needs.
Below are the items I looked into then and now. Note that for anything related to desktop synchronization, I am using a Windows PC with Outlook. I did not discuss anything related to media, games, or web surfing. I stuck strictly with some apps that had specific tasks for my needs. We can talk about those other items at a later date.
PIM:

ITunes syncs my calendar, contacts, and notes without a problem to Outlook. Contacts and calendar are two built in functions I use almost daily. I only use the notes once in a while.

Outlooks To-Do's do not sync for some reason. There are plenty of paid and free to do apps though that can do this. I found a couple free ones that work for me.I am currently using "To-Do Lists 2" by Tapku.

In relation to contacts there is a free app called "Groupy" by Gerry Beggs in the app store. This simple program creates and manages groups for your contacts. It is compatible with the built in contacts and the groups I created sync to Outlook.
Office Docs:
I had always used the built in MS mobile office previously. I do not usually make any documents on the device from scratch and only needed something for viewing. I chose the regular edition of "Documents To Go" by Dataviz. They had a good reputation and experience on other mobile platforms so I decided to go with them. They also offered a free desktop application to sync with my touch. Note that there is also a premium edition that offers additional services as well. If you also look in the app store, there are other developers who have created similar products.
Passwo

rd Manager
I have always used e-wallet so it was a no brainer for me to get it again. The only thing that bugs me is that you have to pay for the desktop software separately. With that said though, I have always had a great experience when contacting them for support so I guess it's worth it.
Weather App:

I do not like the included weather app because it has limited functionality and your need to be connected to live data for viewing. I wanted something that I could view while I was offline. For my needs, I chose the free version of 'Weatherbug."
Misc Apps:
I purchased an app called "Memory Info." This frees up memory that is not in use by apps on the device and also has a battery meter. I had read some reviews recently that the updated version does not have the free memory feature. According to the developers website, Apple had told them they needed to remove that feature. Not sure if there are any other similar apps but if you already own it, do not delete it as you may never get the free memory option back.
AppBo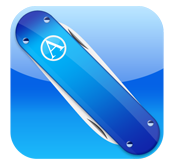 x Pro:
I bought this utility because it has a bunch of apps built in such as battery meter, currency converters, tip and loan calculator, level, unit conversion, ruler, etc. I do not use it a lot but it does come in handy when I need to use the included features.
Skype:
I am not a Skype power user but I did want the option to have this on the touch. All you need is a headset with a built in microphone, and you are all set.
Voice Memo's
The iPod does have this app built in but you need to hook a microphone to use it. I wish that was not needed but for the times I do use it, I just plug in a thumbtack microphone I have and off I go.

I also downloaded a free battery meter called "Accura Free." It is one of the apps that provide remaining power time left for game play, internet usage, standby, audio, video etc-usage. I thought it was neat when I saw it.
I found an app called "ePrint." They have a free version that I tried out first to make sure it was compatible with my HP wireless printer. It's an app that allows you to print contacts, webpages, notes and photos from your iPod Touch or iPhone. As before, there are other solutions, but this is the one I liked and chose to buy. I actually did not have this functionality in the past so this is new for me.
So, you can see from my list that I got the touch to do what I wanted for my productivity and organizational needs. I was also surprised how well the virtual keyboard worked. I had tried some different third party solutions for my pocket PC and never found one that I liked so I always went back to using the stylus. Not the case here, as although I do make some mistakes here and there, it is generally a pleasure typing stuff out. There are a few things out of the box that I wish Apple would allow, such as syncing 3rd party apps via the USB cable, Bluetooth support for external keyboards / GPSr's, and allowing themes and customizations of the screens. I know that some of this can be achieved by jail breaking it but at the moment I have no interest in doing that.
There are tons of apps out there that will do the above mentioned jobs and at the moment anyway, these are what are working for me. I hope this information helps in someone's research. For all you iphone and iPod Touch users out there, what are your essential productivity and organizational apps?