By Louis Senecal on Wed, 07/14/2010

I had entered an online giveaway recently and was fortunate to win a full version of CoPilot Live, North America, along with one years' worth of Premium Live services. I was pretty excited, but then realized that it will only have limited functionality on my iPod Touch. This gives me an excuse to get a car kit for it though. Since I already own a dedicated car GPS unit, I decided that I would keep my eye out for some super excellent deal that I could not refuse or for a used unit. I am not in a hurry to spend a load of dough yet. With that said, this is good timing where I could use the GPS software on the touch for testing and review purposes.
Master your iPhone in one minute a day:
Sign up to iPhone Life's Tip of the Day Newsletter and we'll send you a tip each day to save time and get the most out of your iPhone or iPad.
 http://www.alk.com/copilot/?gclid=CI6wtsiw7KICFQuB5QodZHAniQ#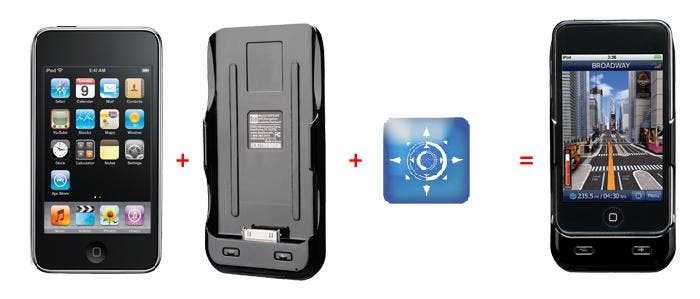 Earlier in the year, I requested a loaner unit of the Dual Electronics XGPS300.They said I was on the long list of reviewers but I never heard back after that. I emailed them again a couple weeks ago as a follow-up but never received a response. Since the time of the release, I really have not heard too much from users of this system out there. I know the price tag was pretty big. Was the system a big bust or was it just too darn expensive? What I liked about this system was that it had a built in battery and GPS that the iPod Touch could use, with any GPS software, and came packaged with their car Navigation software. Portability was also the big thing here. If they do come through with a review unit, I will be sure to put it through its paces.
 http://www.gpscradle.dualav.com/
 Also, Magellan recently released a similar system called the ToughCase. It's a waterproof case for iPhone and iPod Touch that also has an extra battery and GPS unit built in. I requested a loaner unit for review also, and I received a quick response, which at the moment looks good.  This has a pretty hefty price also, but I want to try this bad boy out with the CoPilot software and also geocaching. I am saving up for a better GPS unit for geocaching so I can put my pocket pc setup to rest. This may be the perfect solution for me. We will see.
 http://www.magellangps.com/toughcase/
 If you are reading this and have owned or used either of these GPS systems, what are your thoughts on this? Reply below or on the Facebook page. I would like to know.