By Louis Senecal on Sun, 01/22/2012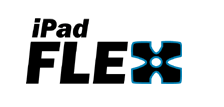 A couple years ago, I reviewed the Ektopad F1 for iPad. Since then they have developed other iPad cases. They are currently working on a Flex Kit. The press release info is below. Check it out.
"For the past year our protective covers have been used by schools and kids around the country. Feedback from parents and educators lead us to integrate additional features and attachments to prevent the drops and to allow the iPad to be comfortable to hold and maneuver. We took this a step further, by adding a tripod thread to an included attachment. The tripod thread opens up the FLEX kit to a universal array of mounts and pods already being used with millions of cameras and video recorders.
For a limited time we are Kickstarting the FLEX kit with big pre-order discounts at:
http://www.kickstarter.com/projects/uzbl/flex-versatility-kit-for-ipad-2