By

Jim Karpen
Thu, 02/21/2013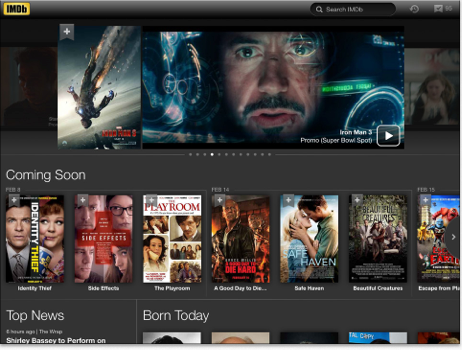 I've long thought Amazon Prime is an excellent deal. For $79 per year, you get free two-day shipping on everything you buy on Amazon, unlimited instant streaming of movies via Prime Instant Video, plus a free book per month from the Kindle Owners' Lending Library of more than 270,000 titles.
And now, those of you with Prime accounts have yet another benefit — the option to stream video while perusing movies on IMDb's free app, IMDb Movies & TV.
IMDb has long been one of the best resources on the Internet for information about movies, TV, actors, actresses, and more. Amazon purchased IMDb in 2008, and has integrated the IMDb app with its own free app, Amazon Instant Video, which gives you free unlimited streaming of movies to your device if you're a Prime member. That means if you're browsing the IMDb app and come across a movie you want to watch, you can tap a link to watch the movie via the Amazon Instant Video app. Of course, you can only watch a particular title if it is among the 25,000 movies and TV shows available through Amazon Prime. Note that you need to have the Amazon Instant Video app already installed in order to use the new feature that integrates it with the IMDb app.
The newly updated IMDb app also includes information about awards for all the movies and actors — a feature that had long been requested. And it has information about the upcoming 2012 Oscars. It also has several improvements related to navigation on the iPad.
The app is quite popular, and claims to be the "world's largest collection of movie, TV, and celebrity info." You also can use it to find showtimes, TV listings, as well as to watch trailers, keep a list of movies you want to watch, and rate favorites.
IMDb attempts to cover every movie and TV show ever made, and includes plot, reviews, photos, quotes, trivia, user ratings, who made it, and more. It has information about more than 2 million movies and TV shows, and about 4 million actors, actresses, directors, and crewmembers.
Other features of the app include recaps of the previous evening's TV shows, entertainment news, and latest DVD releases. It also has some great charts such as Best Picture award winners and the top-rated movies of all time.
This new development has sweetened the deal even further for Amazon Prime members. It's easier to browse and stream movies, is cheaper than Netflix, plus comes with additional benefits.