By

Jim Karpen
Wed, 01/16/2013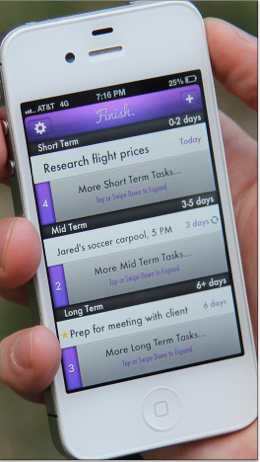 I've never found task apps that useful, and have generally resorted to the old technology: paper. But Finish for iPhone ($0.99), a new app out today, has changed that. It's a simple, yet very useful and handy to-do list for the iPhone. (No iPad version yet.) It has several features I like: time frames, automatically ordering your tasks according to time frame, and Focus Mode, which shows the most immediate tasks in each of the time frames. The developers, two teenagers, say that the the goal of the app is to help you stop procrastinating by focusing your attention on the most immediate tasks.
You simply tap the + icon to enter a task. The next step is to tap the date on a calendar when the task is due. Based on the due date, the task will appear in one of three time frames in the app: short, mid, and long-term. Here's the cool part: as the due date of a task approaches, it automatically moves into the next time frame. The default time frames, which you can easily change in settings, are 0-2 days, 3-7 days, and 8+ days.
Focus Mode is the default setting for the app's home screen. It just shows the most immediate task in each of the time frames. To see the rest of the tasks in the time frame, you simply tap it. By design, this is intended to help you stop procrastinating by focusing your attention on the top task. You can turn off Focus Mode in settings if you simply want to see all of your to-do items in a single list.
Once you've entered a task, you can access the options simply by swiping it. Options include: marking it done, starring it, sharing it, and the ability to change the name or date. You can also set it to repeat once.
The app comes with a very clear and quick tutorial, which is automatically presented the first time you open the app. In addition, the tutorial continues to be accessible in the settings if you need to refer back to it. Other settings include whether or not you want to use Focus Mode, a task count that appears on each time frame icon, sound effects on or off, the ability to change the duration of the time frames, and notification options. You can set notifications so that they alert you when tasks move between time frames and on a task's due date, or so they alert you only on the due date.
It would be nice if the app could accomdate different categories. I have several different jobs, and I'd like to keep a discrete set of tasks for each one. And it would be nice if you could also sort tasks so that the starred ones appear at the top. But those aren't criticisms -- just features that I'm hoping for in the future.