By

Jim Karpen
Fri, 04/20/2012
Thinner and lighter: that's the general direction of Apple's gizmos. And rumors are swirling that Apple will use technologies in the iPhone 5 that will allow it to be even more svelte. A couple days ago the rumor was the Apple would use a new material called Liquidmetal for the casing on the back. This alloy offers great durability yet is light like plastic. And now the rumor today, via DigiTimes and reported on AppleInsider, is that Apple may use in-cell touch displays. This new technology allows a display's touch sensors to be placed inside the color filters instead of on top of them, as with current phones. Having one layer instead of two reduces thickness and weight.
There continue to be rumors that the iPhone 5 will have 4G LTE data speeds, and will have a larger screen size. If you're having a hard time imagining how an iPhone might look with a 4-inch screen, iMore has a great mockup.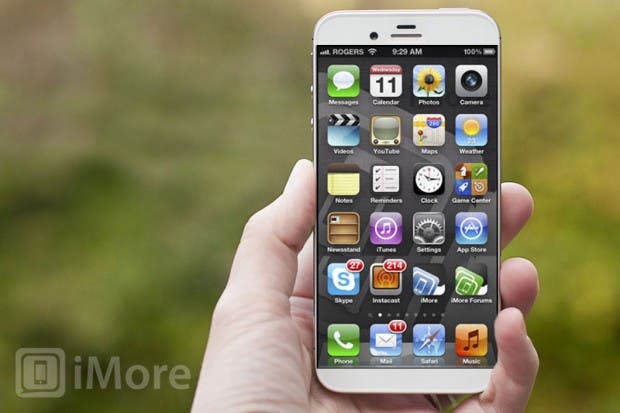 And speaking of rumors, AP has put out an article that nicely summarizes the rumors related to a possible 7.85-inch iPad Mini. The article gives an overview of why it's a good idea, as well as why it's a bad idea. And it analyzes what the cost would likely be, suggesting that Apple would have to price it a $329 or $349. (Apple doesn't do loss-leaders.) And the article closes by quoting Steve Jobs's comments on why a 7-inch tablet isn't of use.
Clearly the 9.7-inch iPad is wildly popular, and sales of the newest iPad remain strong. However, the supply is finally starting to catch up to demand, and Apple has reduced the shipping times to 5-7 days. There is even a report today that Apple may take the unusual step of offering less conservative projections for the quarter ending in June when they present their quarterly earnings report next week. Apple always projects low, such that the actual sales figures then exceed their projections. Investors like that. Market analysts are saying that the demand for both the new iPhone and iPad remains strong.
And on a humorous note: the new iPad is so popular that a recent poll found that some men would actually prefer to have a new iPad than a new woman. The poll by RoxyPalace.com showed that 11% of men would opt for the iPad. And 3% said that they would leave their current partner if they could get a new iPad. Women in the poll were less inclined to choose the iPad over a relationship. And, in a bit of irony, 44% of all those polled said that they had used an app to solve a relationship problem. You can read more on the Express website.
Despite the continued strong demand for the iPhone and iPad, the stock as been on a bit of a slide, currently trading at 581 after the earlier high of 644. Is something amiss? Is this a warning sign? A writer for CNBC says it's a healthy correction. The article says that the near-term momentum of the stock has slowed, which makes sense, given it's meteoric rise the past few months. And the article goes on to say that after the correction Apple's stock will likely continue to trend upward, given that there are so many positive factors. If the stock continues to drop, it may be a good buying opportunity.