By Jim Karpen updated on 08/16/2014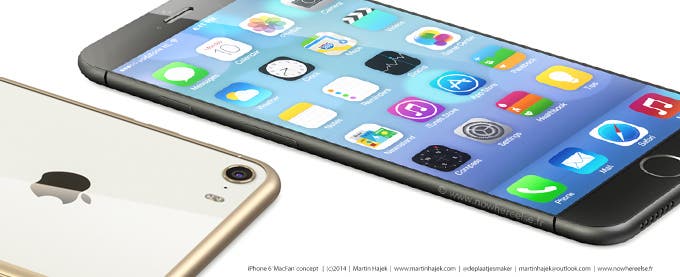 There have been months of rumors regarding the next iPhone, dubbed the "iPhone 6" by bloggers and the media. Increasingly the rumors are coming from reliable sources, and some are now being supported by leaked images. Here's a roundup of what the rumors are saying. 
Master your iPhone in one minute a day:
Sign up to iPhone Life's Tip of the Day Newsletter and we'll send you a tip each day to save time and get the most out of your iPhone or iPad.
As always, it's important to realize that rumors fall short of fact and that we won't know for sure what the new iPhone will be until Apple announces it, which will most likely be in September. Accompanying this post is a rendering by Martin Hajek based on the cases that manufacturers are already making and purported specs. It shows what a bezel-free, 4.7-inch iPhone may look like. You can see more renderings on NWE.
[Update 8/16/14]: A number of rumors are suggesting Apple will hold their special event on September 9, as reported in this post by my fellow blogger Todd Bernhard. And in mid-August I shared news reports that said the iPhone 6 was entering its test production phase, suggesting mass production would be starting soon and that the phone was on track for a September 9 announcement. Also, Todd posted on alleged photos of the new phone that have been posted online.
[Update 7/23/14]: Apple's revenue forecast for the September quarter that was presented during their June quarter results only projects revenue of $37-$40 billion in the September quarter, compared to $37.4 billion reported for the June quarter. Since Apple is expected to sell a huge number of iPhone 6 units when it launches, that low projection suggests that the iPhone 6 will launch in late September. Likely September 26.
[Update 7/16/14]: Amazon Japan inadvertently posted a listing online for the iPhone 6, revealing some of details. Notably, as I mention in this post, the listing said the device would be available in Japan on September 30. So the evidence to date is strongly pointing toward a September announcement and release. In addition, it's becoming increasingly clear that the 5.5-inch iPhone will be arriving much later. As I discuss in this post, a noted market analyst who usually has reliable inside information has released a note to investors saying that the 5.5-inch phone in a best-case scenario will arrive in late November but also may not arrive until 2015.
[Update 7/7/14}: As noted in a post by my fellow blogger Todd Bernhard, earlier this month a Chinese website had reported the iPhone 6 would be announced September 15 and would launch on September 25. However, Apple almost always launches its new devices on a weekend, and September 25 is a Thursday. In any case, I think we'll most likely see the new phone in September and not earlier or later. 
[Update 5/12/14]: As I noted in this recent post, Reuters has reported that Apple will be releasing the iPhone 6 in August, which is earlier than most had been expecting. And they say Apple's 5.5-inch phone, sometimes referred to as a "phablet," could be coming in September.
Display
The rumors have converged around the new phone having a 4.7-inch display. Concrete evidence began surfacing in April, which I covered in a post on leaked photos of molds used to make the casing. The image at right shows the mold in comparison to an iPhone 4s. While earlier rumors said the phone would have a 1,920 x 1,080 display, most recently a credible rumor said it will have a resolution of 1334 x 750 (326ppi). You can read more in my post about Apple's roadmap for 2014, which relays information from Ming Chi Kuo, who usually has solid inside knowledge of what Apple is coming out with. Also, my post on leaked specs noted the iPhone 6 could sport an "ultra-retina" display at 389 ppi.
In addition, rumors have converged around Apple releasing a second new phone later in the year (or early next year) that would have a 5.5-inch display, which Ming Chi Kuo affirmed. In February I passed along the rumor that this "phablet" might not carry the iPhone moniker. Kuo also said that the phablet's display will be made of sapphire crystal or have a sapphire crystal laminate and a resolution of 1920 x 1080 (401 ppi). However, he said Apple may not use sapphire crystal in their 4.7-inch phone. In late February, I posted a hot rumor that the iPhone 6 display may use Quantum Dot technology, which renders colors much more accurately. Finally, in a post in early February, I passed along the rumor that said the phablet will be a 2K device, with 2,272 x 1,280 pixels.
[Update 8/16/14]: Photos of an assembled front panel showing the glass mounted in its casing were posted in early August, as I detail in this post. On August 14 the Wall Street Journal reported that Apple was considering using sapphire crystal in the display of the iPhone 6 but that it may only be in pricier higher-end models.
[Update 7/16/14]: While much evidence points toward the use of sapphire crystal in the display of the 4.7-inch iPhone, there's still some doubt, as I note in this post.
[Update 7/11/14]: As my fellow blogger Todd Bernhard reported in this post, Apple is rumored to have developed a new vibration unit that could appear in the iPhone 6 that would have the remarkable ability to give you varying levels of tactile feedback depending on where you touch the screen. This might be useful in gaming, for example.
[Update 7/8/14]: Videos of alleged front panels for the iPhone 6 are starting to appear on the web. The panels come courtesy of Sonny Dickson, who says they're straight off the assembly line and who has been the first to post leaked iPhone and iPad parts in the past. As shown in the embedded video in this post, an amazing scratch test of the sapphire crystal display shows just how indestructible this material is. No matter what he does, video blogger Marques Brownlee is unable to scratch or break it.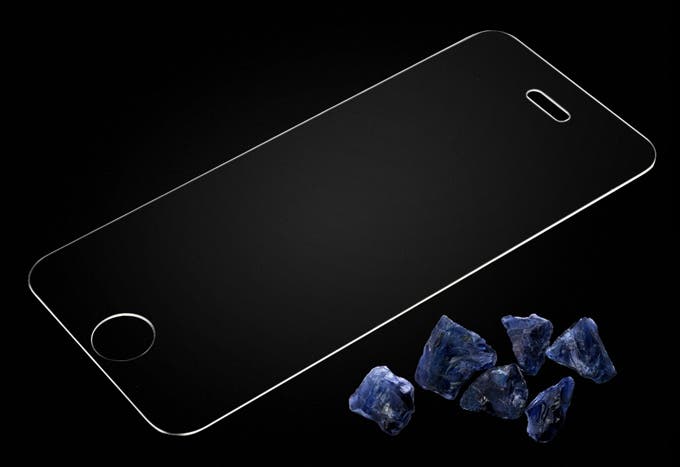 Bezels
In February we also began to get rumors that the iPhone 6 would have narrower bezels (the left and right borders on the display) or even no bezels. This would mean that while the display would be larger, it would keep the overall size of the phone as small as possible.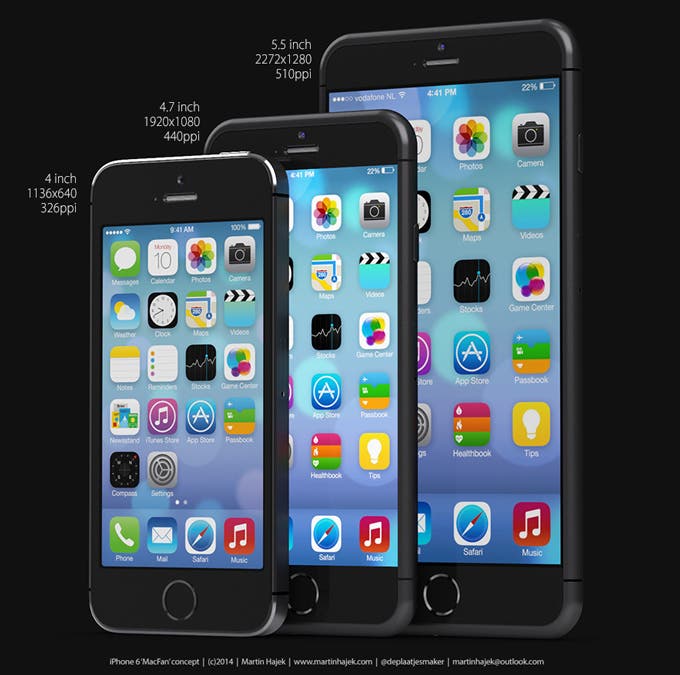 Buttons
I also posted a photo of an iPhone 6 case that suggests the sleep/wake button will be moved to the right side of the phone opposite volume-up button. And I passed along the rumor that the shape of the phone's volume buttons will be an elongated pill shape, similar to the iPhone 5c. In that post I also reported noted that the iPhone 6 will emulate the iPhone 5c's holes on the bottom for the speaker and microphone as well as the iPhone 5c's back, rounded edges. In my post on the bezel-free design, I passed along the rumor suggesting that the Touch ID would be incorporated into the bottom of the display, and that there would no longer be a Home button.
Styling
[Update 7/7/14]: A number of mockups based on the specs for the new phones began to appear in June, not only giving a sense for their overall size, but also the styling. As I note in this post showing the mockups, the phones will styling continuity with the iPad Air and iPad mini, with the same sort of rounded edges. This lends a softer appearance to the hardware and is a departure from Apple's current iPhone 5 and iPhone 5s handsets.
Processor
Pretty much everyone expects the phone to have a new A8 processor. In March I passed along the rumor that new processor will be a quad-core chip with quad core graphics. I also posted in March some leaked specs, which included the tidbit that the processor will be a speedy 2.6ghz. The new processor is rumored to greatly enhance performance and efficiency, thereby giving a longer battery life.
Battery
[Update 7/7/14]: As I detail in this post, a Chinese technology website has reported that the 4.7-inch phone will have a battery capacity between 1,800 and 1,900 mAh, compared to 1,570 for the current iPhone 5s. The larger 5.5-inch iPhone 6 is expected to have a 2,500 mAh battery. The large displays of the new phones will require more battery capacity, so these specs don't necessarily indicate these devices will have a longer battery life. But I suspect battery life will be improved because of the new A8 chip.
Mobile payments
[Update 5/14/14]: Rumors are about that the iPhone 6 will have a near field communications (NFC) chip for making mobile payments. The information is said to come from a source close to the matter. But given Apple's use of iBeacons and the increasing adoption of this technology, this rumor may not be credible.
Memory
In a post in early February, I passed along some leaked specs that said the there would be a 128GB option for the new phone.
Dimensions
Some rumors have suggested the iPhone 6 will be even thinner than the .3 inches of the iPhone 5s, as in this post about leaked specs in which I reported it will be in the range of .22 inches thick.
[Update 7/16/14]: Amazon Japan inadvertently temporarily posted a listing for the forthcoming iPhone 6 that gave specs regarding the overall size of the device. As I detail in this post, it gave the dimensions of 130 x 65 x 7mm, which compares to the iPhone 5s specs of 123.8 x 58.6 x 7.6mm. It appears that the new phone will be even thinner than the iPhone 5s. In addition, the weight was listed as 113g, compared to 112g for the iPhone 5s. 
Camera
Rumors suggest the camera will continue to be 8-megapixel but will be much improved and will include optical image stabilization.
[Update 8/13/14]: As I note in this post, leaked images are suggesting the iPhone 6 will have a protruding camera lens. One result of this would likely be a thinner iPhone.
Touch ID
[Update 7/7/14]: According to Gadget Insiders, a report out of China in late June said that Touch ID in the new phone will be upgraded so that the fingerprint sensor is more durable than in the iPhone 5s. Also, many are expecting improvements in accuracy and security.
Cost
In mid-April TheStreetInsider.com reported that Apple was talking with the carriers to see what they'd think about a $100 price increase for the iPhone 6. So far, the carriers are balking, but it's possible Apple could succeed in getting them to agree to at least a small increase in price.
[Update 7/16/14]: As I note in this post, Amazon Japan's inadvertent premature listing showed a price increase for the iPhone 6 over the iPhone 5s.
Bottom line
Everything points to a 4.7-inch iPhone 6, and a larger 5.5-inch iPhone that would come out late this year, or even possibly early next year. Of course it will have a faster chip, and I'm betting we'll see the A8 processor. I also think it's a good bet that the appearance will change, such as the bezels, button shape, and edges. It will come with iOS 8, a feature of which will be the new Healthbook app for monitoring health and performance, as well as a new version of the Maps app.
What it means
So is Apple copying Samsung, who's been making larger smartphones for several years? Steve Jobs was pretty clear that he thought a phone should be small enough that you could easily hold it in one hand. But larger phones and phablets have become extremely popular, so much so that a court document in Apple vs Samsung revealed that Apple explicitly acknowledged they needed a device to compete in this segment of the market. Not only does a larger phone seem to contradict the direction Steve Jobs gave, it also goes against Apple's long-held tradition of keeping its product line tightly focused. This has helped Apple be more profitable, as well as sell more devices. Research suggests that when there are too many options, consumers actually make fewer purchases. By the end of the year, we could have three phones to choose from: the iPhone 5s, the 4.7-inch iPhone 6, and a 5.5-inch phablet. That's quite a change for Apple.
Market analysts seem pretty much agreed, though, that the iPhone 6 is going to create the biggest splash of 2014 in the smartphone market. Many are already expecting huge sales for the device, and there are rumors that Apple will be making some 80 million of them in 2014. That's a lot of phones. In the meantime, the world awaits breathlessly to hear what Apple announces.