By Jim Karpen updated on 08/29/2013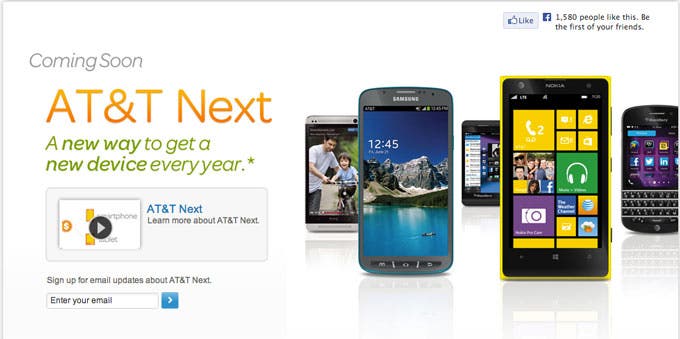 The devil is in the details, and I'm having a bit of a hard time understanding these. But the bottom line is this: T-Mobile and AT&T have announced new plans whereby customers will be able to upgrade their devices every year (even twice a year for T-Mobile), which will entail trading in their old phones or tablets without having to pay an early termination fee. Plus, rumors are saying Verizon will be announcing a similar plan. [Update: Verizon has announced Edge. See below.] These new offerings make it easier—if you're addicted to these gadgets—to always have the latest and greatest. AT&T just announced its new option today, called AT&T Next, with CNET having a somewhat clearer description of the details than the Reuters report. 
Master your iPhone in one minute a day:
Sign up to iPhone Life's Tip of the Day Newsletter and we'll send you a tip each day to save time and get the most out of your iPhone or iPad.
Instead of an up-front fee or activation fee and two-year contract, under AT&T Next, you simply pay monthly installments on your phone in addition to your cell phone service fee. An iPhone 5 costs $32.50 per month. After a year, you can trade in your device for a new model. 
Although there's no longer a two-year contract, the installments of $32.50 a month are prorated for a 20-month period. If you go for a new device after 12 months, say an iPhone 5S, your remaining installments are waived, and you simply switch to paying installments on your new phone. However, should you decide to keep your iPhone 5 for the full 20 months, then there won't be any more installment payments. This is very different from today, in which the carriers continue to bill you at the subsidized rate even after you've essentially paid for the device.
Should you decide after 12 months to go with a different carrier, then, as I understand it, you will be liable for paying off the remaining installments, which isn't that much different from an early termination fee.
AT&T Next will be available beginning July 26.
Last week, T-Mobile was the first carrier to announce its plan to allow frequent upgrades — but in this case you can upgrade TWICE a year. Unlike AT&T, the new option, called T-Mobile Jump, comes with an up-front cost for the phone — $145.99 for an iPhone 5. You also make a monthly payment of $20 per month for the phone for 24 months. In addition, you pay $10 per month to be in the Jump plan. But this entitles you to trade in your old phone twice a year for a new model, with no early termination fee. You're only liable for the unpaid installments if you cancel your service. Plus, the $10 fee includes insurance.
According to the website Droid Life, Verizon also is planning to announce a new service, called VZ Edge, that allows annual upgrades. 
These seem like great options, and I'm glad to see carriers finally making it easier for addicts like me to upgrade more frequently.
[Update]
On July 18 Verizon announced their early upgrade plan, called Edge. You can read more on AppleInsider.  Like the other plans, you're actually paying for the cost of the phone, such that you can eventually pay it off and then only be charged for service. Verizon's plan prorates the cost over 24 months. Once you pay 50% of the cost of the phone, you can upgrade after as few as six months. You waive the rest of the payments on the old phone and simply start making payments on the new one. Edge will be available beginning August 25. There will be no service contract, finance charge, or upgrade fee.