By

Jim Karpen
Thu, 01/10/2013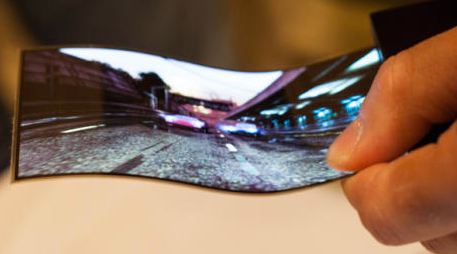 I wish I were at this week's Consumer Electronics Show (CES) in Las Vegas seeing these technologies in person. Some of them look pretty exciting, and may portend things to come from Apple. Samsung got a lot of attention for its demo of flexible OLED (oganic light-emitting diode) displays that can be bent, twisted, or folded. Instead of using glass, the layer of chemicals is laid on a thin plastic film. You can read more on Huffington Post and see an image gallery on CNET. In addition, the Samsung presentation on OLED displays gives a good overview. If you start watching the video here, you'll see the presenter show a prototype phone with a flexible plastic panel attached to a matchbox-sized device. It's amazing to watch the device showing a video while the presenter is actually bending and curving the display. He also shows a prototype of a phone where the screen curves beyond the edge of display. As the demo shows, the phone can send alerts that appear on the edge of the phone such that you're able to see them even if your phone is in a case but the edge is showing. The video also shows a tablet that folds in half. Put it in your pocket folded and use it as a phone. Unfold it like a book and use it as a tablet.
Samsung also demoed a TV with curved glass, with one report saying that this technology appears to be closest to production. Samsung says that a curved glass screen gives the viewer a better experience of depth, in part because the screen is the same distance from the viewer at the edges as it is in the middle.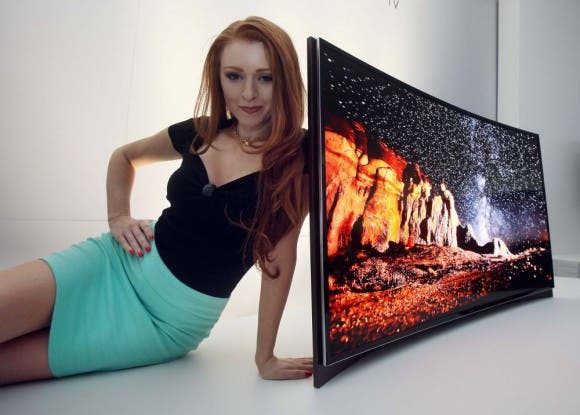 The Pebble smartwatch also got a huge amount of attention. This is a good thing, because if this sort of wearable computing takes off, it makes it more likely that we'll see innovative wearable products from Apple. The first Pebble watches will be shipping to the company's Kickstarter contributors later this month. You can read a hands-on article with images on AppleInsider.
PCWorld has an article and a short video.
According to the article, it has a 1.26-inch, 144x168 Sharp LCD screen that refreshes at 30 frames per second, so it can show smooth animations as well as having a responsive interface. It weighs slgihtly more than one ounce and comes in black, white, red, gray, and orange. It includes a magnometer, accelerometer, and Bluetooth. It communicates wirelessly with your phone so, for example, text messages and emails can be pushed to your watch. Reports also say that it has a variety of attractive displays, and that you can switch quickly and easily among them.
In addition, CNET highlights two gizmos that might interest you. One is a billfold-size device that serves as a USB connector for your 32-pin iPhone or iPad. On one end is the docking connector, and the device includes a USB connector on a flexible arm that pops up. They also note a power booster that connects to your laptop so that it charges your iPad much faster than the typical trickle charge via a USB connection.
Finally, CNET has posted their nominees for Best of CES 2013. You can check out all the other cool products that are available now or soon will be.