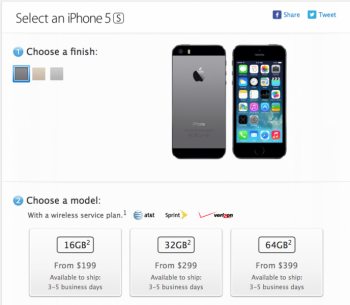 A number of days ago, Apple quietly began making a new option available for those interested in purchasing an iPhone 5s. You can now buy an unlocked, SIM-free iPhone 5s. As you likely know, this entails paying the whole price of the phone up front, but you avoid having to commit to a two-year contract. Note though, they're only offering GSM, which limits the phone to being used on AT&T's or T-Mobile's networks. You'll need to get your SIM card directly from one of those carriers. The price is $649 for the 16GB iPhone 5s, $749 for 32GB, and $849 for 64GB.
Why buy an unsubsidized phone? In the long run, you'll save money because your monthly plan will be cheaper. In addition, as Apple explains, if you travel abroad frequently and want to use your phone inexpensively in other countries, an unlocked phone is your best choice. GSM is the protocol of choice in most countries, and you can simply get a SIM from a local carrier and pay local rates rather than having to pay the high international rate offered by AT&T and T-Mobile. Some countries even offer SIM cards in vending machines on the street.
The iPhone 5c has been available in an unlocked, SIM-free version since it launched in September.