By Jim Karpen on Thu, 08/14/2014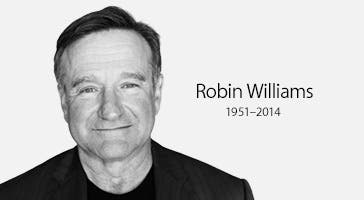 Apple is honoring the late Robin Williams with a short tribute on their website and a special section of the iTunes Store featuring his many movies and standup routines. The tribute reads, "We are deeply saddened by the passing of Robin Williams. He inspired us through his passion, his generosity, and the gift of laughter. He will be greatly missed." Apple CEO Tim Cook also tweeted, "Heartbroken by the news of Robin Williams' passing. He was an incomparable talent and a great human being. Rest in peace." The iTunes Store gives a categorized listing of his movies (Essentials, Comedy, Drama, More to Explore) as well as an additional tribute:
No one made us laugh like Robin Williams. His mile-a-minute comic energy — a dizzying stream of jokes, impressions, and hyper-physicality — left us exhausted from the fun of it, but always wanting more. Williams could make the most dramatic moments somehow hilarious, and the silliest moments deeply meaningful. His characters embodies this talent, from kooky writer T.S. Garp in the World According to Garp to a father masquerading as a dubious English nanny to stay near his children in Mrs. Doubtfire, to a psychotherapist cutting through a troubled young janitor's defenses in Good Will Hunting. An Oscar, an Emmy, and a Grammy winner, Williams was also a generous philanthropist who performed with the USO for troops stationed overseas, and worked passionately with a variety of organizations such as Comic Relief and St. Jude Children's Research Hospital.