By

Jim Karpen
Updated 03/17/2014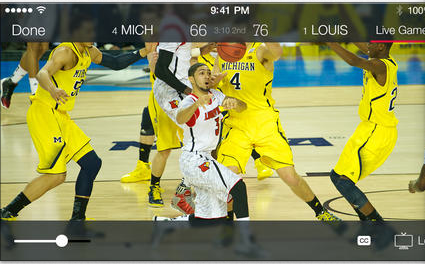 It's that time of year again, when basketball fans work themselves into a frenzy over the NCAA basketball tournament, otherwise known as March Madness. The action begins March 18, and you'll want to be sure to have these free apps on your iPhone or iPad.
NCAA March Madness Live, the official NCAA app, lets you stream every game live to you iPhone, iPad, or iPod touch. In order to view the games that stream from TBS, TNT, and truTV, you have to already be a cable subscriber and log into your account. But they do offer a three-hour temporary preview before requiring that you log in. And all the games being broadcast by CBS are available free without your needing to be a cable subscriber. You can also use the app to follow up-to-the minute scores and stats. A new pinch-to-zoom feature makes it easier to interact with the redesigned tournament bracket, letting you move quickly between viewing the entire schedule and viewing information on specific games. In addition, you can use the app to create your own bracket as part of the Capital One NCAA March Madness Bracket Challenge. The app also now has a news section and integration of social media. As before, the app includes alerts for the latest news, upsets, etc., video highlights and recaps, and a TV guide.
ESPN Tournament Challenge claims to be the number-one bracket app — plus it offers a chance to win $10,000 if you make the best picks. The app also lets you start a bracket group and invite your friends. You can create up to 10 brackets.
the Score Mobile may be the best choice if you're unable to watch a game via live streaming but still want to track the live scores. It offers an interactive bracket and up-to-the-minute scores, as well as the latest news and push alerts. It also has a feature called Upset Tracker Alert that sends an alert if there's an upset in the making so that you can follow the action live. 
Sporting News NCAA Basketball, from the journalism team at Sporting News, offers the latest news, scores, videos, and March Madness updates. It also includes push notifications and lets you customize it to select your favorite teams. 
SportsManias Team News! from SportsManias offers the latest news on the latest news on your favorite teams. The app curates all of the tweets, articles, videos, and rumors into one place, and is especially useful for fans of smaller schools.