By Eric Pankoke on Wed, 01/11/2012
I love zombie blasters, but there are enough of them out on the App Store that you might be wondering why I'm writing about one that's over a year old.  Well, despite the fact that there have been some really slick alternatives released since this one came out back in November of 2010, Zombie Crisis 3D is still quite enjoyable.  In fact, I'd wager to say that it is probably the best of the series discounting Prologue, which really could have been just a couple of extra episodes tacked on to the original.  There's just one small "feature" that I believe is new that's really getting on my nerves…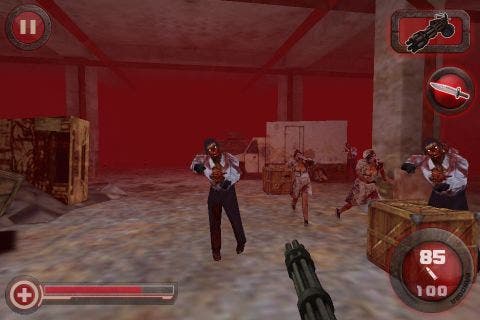 The game has a survival mode, but for me the main selling point is almost always the story mode.  That's not necessarily because of the story, mind you, because in this case it's pretty standard zombie experiment fare.  Rather, I like story mode because it has definitive chapters with definitive endings, so you always feel your accomplishing something.  There's really no sense of value in survival mode until the very end when you see your stats for that particular run.  Anyway, story mode is divided into 5 chapters, and thankfully you can start at any chapter up until the last one you've played.

Zombie Crisis 3D is a rails shooter, so you basically let the game guide you through the hallways and concentrate on the shooting.  Even that is a simple tap to shoot affair, so it's the perfect combination for someone like me who doesn't quite have the skill set to pull of an FPS with much success.  True FPS fans will probably find the control scheme way too limiting, but that's what games like Shadowgun are for.  The level design is pretty decent, and even though the fixed movement tends to spoil a lot of the surprises, there are still a few twists and turns now and again.  You start out with your garden variety zombies as assailants, but as you delve further into the complex and learn more about the experiments that were being done you'll encounter "other things" as well.
Master your iPhone in one minute a day:
Sign up to iPhone Life's Tip of the Day Newsletter and we'll send you a tip each day to save time and get the most out of your iPhone or iPad.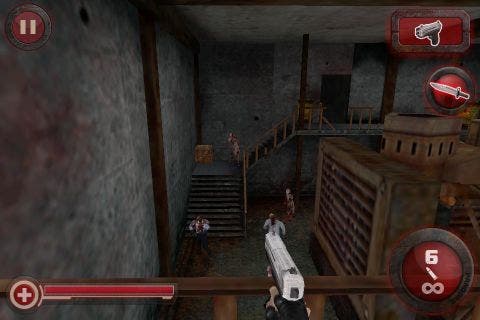 The one disadvantage to this type of game is when it comes to power ups.  Your ammunition and health refills come from crates scattered throughout the levels, and if you aren't quick enough you'll tend to miss them more often than not.  Worse yet, you might just manage to shoot the crate but not have enough time to shoot the power up itself.  Since the game controls your movement, you have no way of turning back to look at and claim that power up.

So what had me flustered at the beginning of the review?  I don't recall this "feature" when I first played this game a long time ago, but it seems at some point the ability to continue during a level became an IAP purchase!  Now I get the idea of IAP for "cheats" like unlimited ammo or "bonuses" like new levels, but charging me for a feature that's a fundamental part of the average game?  I think that's sad, and as a result I will probably never make it through the third episode of the game.  I guess I'll have to rethink survival mode after all.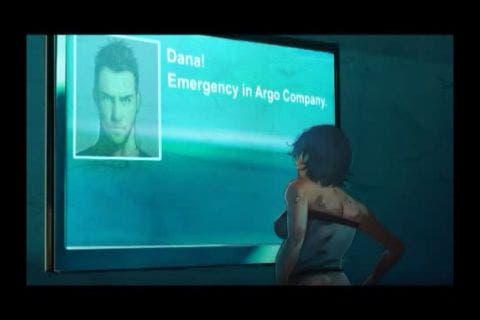 The game is starting to show its age a bit graphically, especially with the new breed of Unreal 3 games hitting the App Store.  Given that I'm playing on a device that could almost fit in my wallet, I'm still impressed with how it looks.  The backgrounds are definitely the best part of the view, but the character models aren't too shabby.  The sound effects are okay, but you've pretty much heard them all if you've played your share of zombie games.  There's not really any ambient noise either, which seems like it would have suited the creepy atmosphere perfectly.  The music is good, but the only time you really get to appreciate it is when there's not a lot of gunfire and zombie grumblings going on, which usually means you're at the menu or you're dead.

When Zombie Crisis 3D first came out it would have been a little easier to say don't hesitate in checking it out.  With all the zombie shooters that are out now, however, it's probably not the best choice available.  That being said, as long as you can handle the "no continues during a level without paying" feature, Zombie Crisis 3D still manages to provide a pretty entertaining experience.  I'd also recommend checking out Zombie Crisis 3D: Prologue, if for no other reason than to experience the psychic knife throwing.

Overall Score: 7/10
App Store Link
This game was reviewed on an iPod Touch 4G running iOS 5.0.1.