By Eric Pankoke on Sat, 09/24/2011
These days, physics games seem to be mainly of two varieties: destroy everything in sight or collect stars and candy.  From that perspective Sprinkle is a breath of fresh air, because your goal is to help a bunch of cute (and often annoying) aliens put out a bunch of fires that are going to devastate their village.  It even has different game mechanics than what we're used to in the typical physics game.  My biggest problem with the game is that the difficulty of some of the levels is insane, and your progress in the game can completely stop just because you can't pass a particular level.  To me physics games should be casual fun, and that's hard to have when it takes a ridiculous amount of tries to pass a level.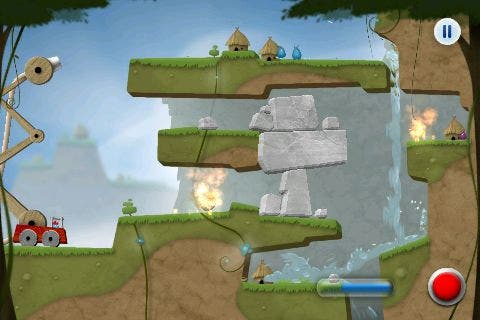 Some tourists from Earth have crashed through the rings of Saturn and sent rock fragments hurtling towards the poor inhabitants of the moon Titan.  Now it's up to you and your trusty water cannon to save these helpless aliens from certain doom.  Your task won't be easy, however, because these little guys have an odd sense of practicality when it comes to laying out their villages.  You'll be able to put out some of the fires directly, but more often than not you'll have to take advantage of your surroundings in order to successfully quell the flames.

If you're lucky, the fires will be exposed so you can hit the directly with a water stream.  Usually that might cover one blaze in the group.  Other fires might require you to bounce water off of walls, rocks or other items.  You might even need to move objects to block paths, roll boulders to trigger switches, and other tasks that give the game a somewhat platform puzzle type feel.  Thankfully you'll be able to do all this with the water cannon.
Master your iPhone in one minute a day:
Sign up to iPhone Life's Tip of the Day Newsletter and we'll send you a tip each day to save time and get the most out of your iPhone or iPad.
The cannon's base stays stationary once it's in place.  What you can do is tilt the cannon by dragging your finger up and down on the screen.  You don't have to be right next to the cannon to do this.  If you want to raise or lower the cannon's arm you touch the cannon itself and drag it up and down.  To fire the cannon you press a red button in the lower right corner of the screen.  The controls work well, but don't necessarily all work well together.  This is especially true in those rare instances where it seems like it would be beneficial to fire, raise and rotate the cannon all at the same time.  Unless you have really nimble fingers or a mysterious hand floating around, it's probably not going to happen.

So here's where the game gets frustrating for me.  You can earn up to five "drops" per level, determined by how much water you use to put out the fire.  Now they claim you can earn five drops, but I have as yet to do that on a single level.  The problem is that you need to get a certain number of drops to move on to the next level.  In the first group that wasn't so bad.  In the second group, however, I've had to struggle just to pass certain levels, even forgetting about getting 3 or more drops on the level.  Basically this forces me to replay levels that I didn't do well on (and didn't necessarily care for) to try and do better.  I much prefer just being able to play through the levels at my leisure, and then coming back to try and improve my scores on the ones I want to after I've finished the game.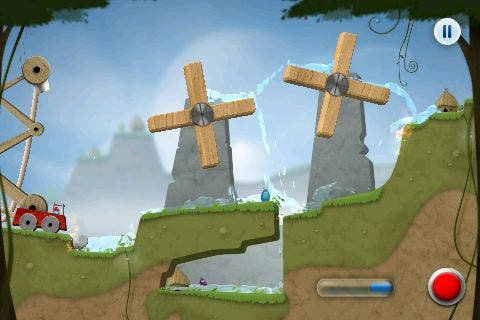 What makes this game a joy to come back to despite the sometimes maddening levels is the atmosphere.  The graphics are a bit tiny so that a lot can be packed into a screen, but there is still a lot of charm to them.  The water and fire move realistically thanks to particles, and they also look really good.  The aliens are quite animated, though they are so small you don't get any detail.  Overall the world is fun to watch – except, of course, when a house is burning down.  The sound effects are a nice compliment for the most part.  The aliens get a bit annoying after a while, but their world is burning down around them, so what do you expect?  The music actually has a bit of a calming effect, which kind of belies the time sensitive nature of what you're trying to accomplish.  It is well written, though.

Whenever I play a game in an overcrowded genre the first thing I ask myself is "will this game stand out from the crowd?"  There's no question that Sprinkle does that.  From the presentation to the game play, I don't think I have another physics / puzzle game like it on my device.  My only concern is that the difficulty of some levels combined with the rigid progression scheme will make this game inaccessible to more causal players, which I think is a large part of the crowd this type of game generally draws.  That being said, I'd say anyone looking for a challenge from this type of game really needs to give Sprinkle a shot.  I don't think you'll regret it, but be prepared to get the device chucking blues more than once while you play.

Overall Score: 8/10
App Store Link