By Eric Pankoke on Tue, 08/30/2011
I try to be extremely patient with the games I review and play as much of them as I can before writing anything down.  I guess you'd call it giving them the "benefit of the doubt".  Sadly, that benefit ran out for Splash Ball after playing level 2 for roughly the 30th time.  I really want to like this game, if for no other reason than it takes the marble rolling game and gives it a different look, but I just can't deal with terrible controls on a game that offers absolutely no leeway before dying.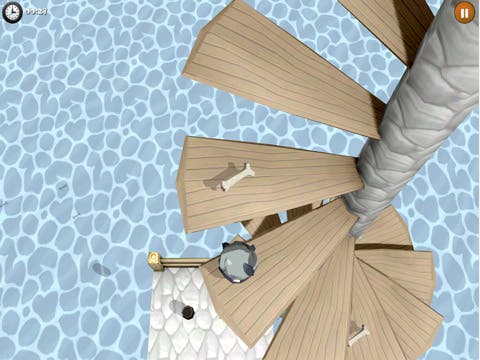 You control a spunky little dog that spins its way around various landscapes collecting bones.  I don't know why the dog is in the shape of a ball, but the game really wouldn't work if it wasn't, so we'll just pretend it makes sense.  To control the dog you simply tilt the device.  There is a sensitivity control, but it seems to make little difference.  Once you start to stray off course, it's almost impossible to tilt the other way and get the dog back in line.  For that matter it's way too easy to barely tilt and end up off the beaten path in the first place.  You also have the ability to jump, which either requires a tap or double tap.  I'm not sure which mainly because I usually have to tap 4 or 5 times before the dog will actually jump.

The objective is to collect all the bones on a level and make it to the end.  So far I've managed to pass one level, and after way too many attempts at the second level I finally gave up.  The sad thing is that level two is not that complex.  There are 18 levels total, and at my current rate of completion I'd be playing the game for years before finishing it.  I have better things to do than that.  To add insult to injury the game is supposedly integrated into Game Center, yet there is no way to view your achievements (if they exist) from within the game and I can't even seem to find the game when I launch the Game Center app itself.
Master your iPhone in one minute a day:
Sign up to iPhone Life's Tip of the Day Newsletter and we'll send you a tip each day to save time and get the most out of your iPhone or iPad.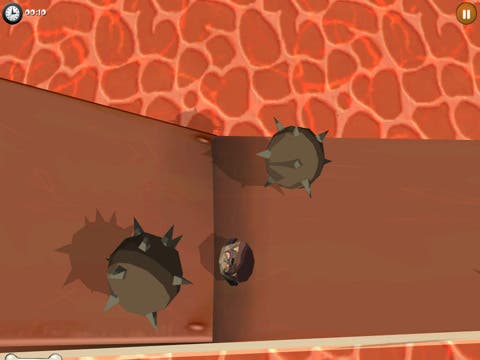 The graphics aren't bad.  The dog is kind of cute, and some of the 3D rendering is actually pretty cool.  There are a couple of nice little effects like droplets of water shooting up when the dog falls in the ocean.  Overall the visuals have a nice cartoon like quality that fits the whole concept of the game.  So far sound effects have been pretty limited to noises like splashing water and collecting the bones.  I'm assuming there will be more noises as you get to later levels and more objects are introduced into the mix.  The music is decent, with a tune for the menu area and a separate song for the first world.  Again, I'm guessing at this point that each world has its own theme, though I've no way to currently validate that assumption.

I really feel this game could have a lot to offer.  Unfortunately, none of the positives really matter if the game isn't playable, and with its current control scheme I feel that to be the case.  I hope the developers will revisit the controls and make them more palatable, because I'd really like to check out the rest of the stages and see what else Splash Ball has up its sleeve.

Final Score: 4/10
App Store Link