By Eric Pankoke updated on 02/02/2011
I remember playing the Shinobi games on both my Genesis and Game Gear when I was a kid, and I remember them being tough.  However, I also remember them being lots of fun.  I guess I enjoyed my games being a bit punishing in those days.  When I heard they were bringing a Shinobi out for the iPhone I was quite excited, though I was a bit disappointed that it was part 3 instead of Revenge Of Shinobi, which is by far my favorite.  After spending some time with Shinobi III, though, I'm really enjoying it.  The game play actually holds up quite well for a game that's almost 20 years old, and I'd say this is definitely one of SEGA's strongest emulated games to date.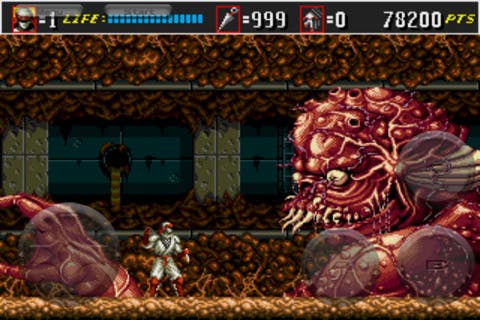 Master your iPhone in one minute a day:
Sign up to iPhone Life's Tip of the Day Newsletter and we'll send you a tip each day to save time and get the most out of your iPhone or iPad.
The story is your basic good vs. evil, in this case a ninja trying to take down an evil crime syndicate.  The story really is background, however, as it's never acknowledged through any sort of cut scenes.  The game focuses on high octane action, and that it delivers quite well.  You'll face a variety of different villains, including disembodied brains at one point!  The action is all side scrolling, but every level feels different.  There are 7 altogether that you must conquer, and in addition to your general running and jumping you'll get to ride a horse in one level and a waterboard in another.  As I delved further into this game I realized I didn't recognize it so much, so either I was really bad at it or never got to play this installment.  Whatever the case, I was impressed with how well it's held up over the years.

Your basic attack is a throwing star at long range and daggers at close range.  If you attack while double jumping you'll actually throw out a shower of stars, which looks cool but uses quite a few of your stars up.  Only use this move when necessary.  You also can execute a slash kick move when jumping, but I'm not quite sure how to pull that one off.  Finally there are the Ninjitsu moves.  You get one per level unless you can find a second lying around somewhere, and to execute it you press one of your buttons (whichever you have assigned to the Ninjitsu).  You have four choices including a lightening shield, fire dragons, the ability to jump higher / farther, and the ability to sacrifice a life to eliminate tougher enemies.  You can switch these at any time on a level up until you use them, but the one you want to execute must be active when you press the button.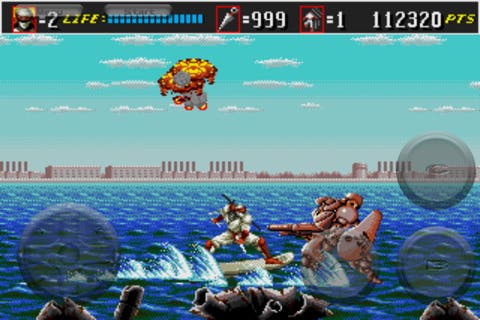 Unfortunately, as with most of SEGA's emulated games, the controls are the weak point.  The emulator uses a virtual D-pad on the lower left side of the screen, and on the lower right are three buttons (A, B and C) that are configurable in the options menu.  I used A as attack, B as jump and C as Ninjitsu while I was playing.  The d-pad works well enough when you're actually on it, but I found "slide off" to be a big problem in this game.  Also, if you're playing the game in "full screen" mode the d-pad will often block your character, as he spends a lot of time on the left side of the screen.  I had a lot of problems tapping the jump button twice in a row quickly enough to execute a double jump, and there were several times that I unknowingly tapped the Ninjitsu button when I meant to hit jump.

Shinobi III has held up incredibly well graphically over the years.  I probably wouldn't be impressed if this was the best my Wii could do, but if the majority of 2D iPhone games were at least this quality visually I'd be quite content.  For the most part the character designs are very well done, and the backgrounds do the game justice in most places as well.  The spell effects are decent as well, though nothing earth shattering.  Sadly, the least impressive part of the visuals in my opinion is the end bosses.  They aren't bad by any means, but they just don't stand out compared to the rest of the game like end bosses should.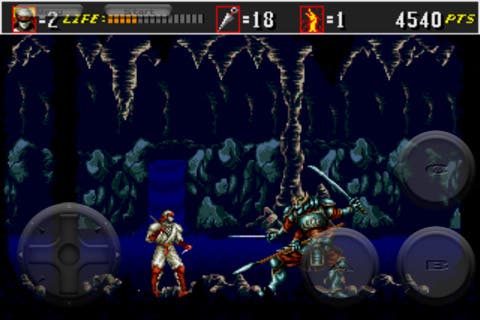 The sound is serviceable, but nothing extraordinary.  In fact, I'm a bit disappointed that there aren't more vocals around things like characters dying.  On the other hand, I've really enjoyed the music.  We get kind of spoiled with all this modern equipment that lets our entertainment soundtracks seem like we've bottled up an orchestra, so it's easy to forget how good some of these old soundtracks resonated even without the fancy technology.  I'm not saying I'm ready to give up the band, but I am relieved that I can go back and play some of these old games without feeling like I have to turn down the sound.

I'm always a bit hesitant when it comes to trying out one of SEGA's new emulated releases, but Shinobi is just proof that they are still working to refine their emulation engine.  While it's not perfect, it plays better than any of the previous entries of tried.  More importantly, Shinobi III is a whole lot of fun.  Unfortunately, the sad reality is that a lot of games that were "something special" when they were released just aren't any fun any more (I'm looking at you, Pac-Man).  I realize that modern platformers probably have more substance to offer than Shinobi III, but in the end this game still provides for a compelling and challenging gaming experience.  If you have fond memories of this game or have never had the chance to experience it, I'd suggest giving it a shot.

Overall Score: 9/10
App Store Link