By Eric Pankoke on Sun, 01/08/2012
So far the iOS platform has severed my adventure gaming needs well in terms of how the device can handle such games, yet while it's not unheard of it's still uncommon to find anything original in this department.  Thankfully there are a few developers who like to buck the trends, however, and as a result we get cool offerings like The Secret Of Chateau De Moreau.  Now I'll warn you that the game often feels like a soap opera – albeit an interesting one – but if you look past that facet you'll discover, murder, mystery, romance and a host of interesting characters.  I also like how the game strays from the normal adventure game convention when it comes to moving from room to room.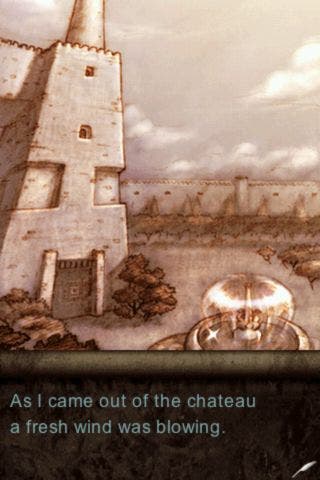 You take on the role of Antoine, a somewhat estranged son of an affluent family that gets called home on the eve of his father's murder – only to be accused for the very same crime!  Now you have 4 days to prove your innocence before the big yearly party that celebrates the late Count's crowning political achievement.  You'll have to search for clues, solve puzzles and talk with both bitter loved ones and newcomers to the family household.  The one caveat is that in order to have the lenience to prove that you aren't guilty your family has requested that you don't leave the house.  Does the Chateau have all the answers you need to uncover the real killer?

From the vicious reunion between siblings at the beginning of the game to the way each character is overdramatically introduced with their name scrolling in big letters across the screen, this game screams portable soap opera.  The thing is, in this case it actually works.  As you romp around the chateau questioning each participant about various events or objects and getting their different answers the whole thing sucks you in and you want to know more.  I even went through the intro two or three different times and enjoyed it every time.  Given the pseudo-linear nature of the game, that's pretty impressive.
Master your iPhone in one minute a day:
Sign up to iPhone Life's Tip of the Day Newsletter and we'll send you a tip each day to save time and get the most out of your iPhone or iPad.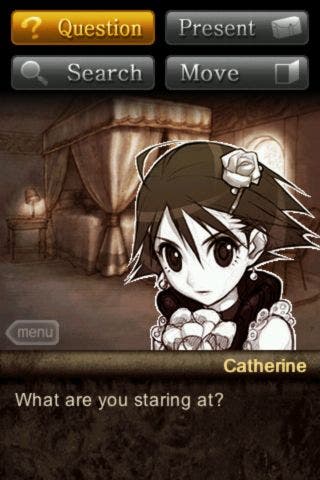 Investigating a room is pretty standard fare.  You tap around until you strike an object that requires further investigation, at which point the game will give you some feedback.  You might simply add the object to your inventory, or you might need to select an object from your inventory and interact with the object in the scene again.  Occasionally you will have to solve a puzzle to proceed, at which point you might tap, drag or otherwise interact with the puzzle elements in whatever way necessary to get the job done.  To talk with one of the other characters in the story you simply pick options from a list of available topics and see what the characters have to say.  I will admit that I'm just a bit disappointed that dialogs only seem to go one level deep – in other words, you'll never select a topic for discussion and then at some point need to pick another choice as the conversation is going on.

What really struck me as creative regarding the interface, however, was movement between rooms.  You get an overhead map of the chateau and travel as though you were playing an old fashioned role playing game.  As you're travelling on this map, when other characters are around they will show up as silhouettes.  I found this be a rather interesting visual choice.  It's almost like they don't quite want you to know who is where in this view.  Controlling Antoine is also different in the fact that instead of having some sort of virtual joypad you simply tap or drag where you want him to move.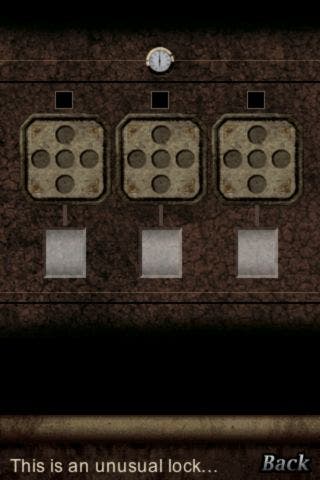 Chateau De Moreau has a great look about it.  The room graphics almost look more like polished sketches than completed graphics, but it's done in a way that looks very nice.  I also like the use of earth-tone type colors and a limited palette to give them the feel of old photos.  The different characters have a slick anime style and would make great illustrations for a comic book.  The sound effects are decent enough though I really think the drama and suspense in this game would be heightened if we could hear the characters speak (as long as the voice acting wasn't cheesy, of course).  The music is well done, and rather than there being a specific piece for each room it tends to augment the activities that are going on at the time.

I really have nothing negative to say about this game.  From the moment it starts the plot sucks you in, and as you talk with the characters you want to know more about what makes everyone tick.  The interface is makes it a breeze to get through the mansion, and the visuals make it a delight to explore.  I'm always tentative about throwing such statements around, but this might just be the best original adventure game of played on my iOS devices to date.  I look forward to seeing what else this developer might offer in the future.

Overall Score: 10/10
App Store Link