By Eric Pankoke on Fri, 01/21/2011
I don't know if you ever run into this problem or not, but due to the sheer volume of games I go through, it often takes me a while to play many of the games I own.  Then when I finally do, I sometimes think to myself "wow, I wish I would have played this game sooner".  If you haven't guessed yet, Push Panic is one of those games.  The concept is simple, yet it's a fresh take on the matching genre that really sets a new standard for this type of game.  Add to that four different game play modes, social network integration and a snazzy appearance and you have a causal gaming experience that no one should miss.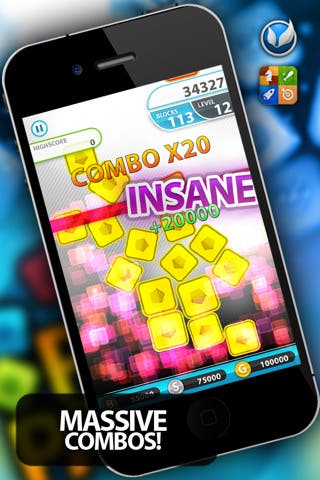 The basic idea behind Push Panic is to select like colored cubes to clear them from the screen.  Unlike just about any other matching game you'll play, however, the cubes don't have to be next to each other.  Your first selection determines the color that you're picking, and then you just start tapping all the other cubes of that color you see.  When you're ready to clear the cubes off the screen simply tap one of them again, and all the cubes that are selected will go away.  There is a "no cubes here" zone at the top of the screen, and when too many cubes go over that line your game ends.  Other conditions apply depending on which game play mode you select.

Along the way you'll encounter various bonuses and power ups.  Multipliers of x2 and x4 can be applied to your chain at any time after you've selected your first cube.  A bomb will clear away the clutter and shuffle the board, which is especially useful when you have one or more unmatchable cubes on the screen.  The chain allows you to string groups of two different colors together, and the multi-color cube will give you the chance to select all the cubes of a certain color that are currently on the screen.  There are also blocks that temporarily decrease the speed of falling blocks and push the "danger line" back up when it has started to fall.
Master your iPhone in one minute a day:
Sign up to iPhone Life's Tip of the Day Newsletter and we'll send you a tip each day to save time and get the most out of your iPhone or iPad.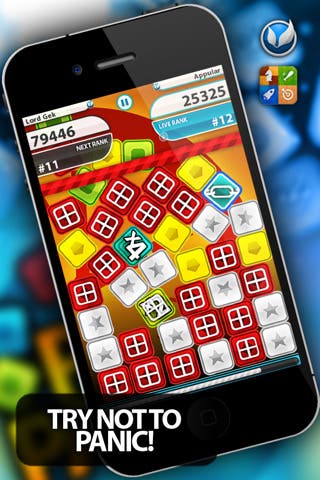 Push Panic has 4 game play modes, and amazingly enough I actually enjoy all of them, which is something I very rarely say about casual puzzle games like this.  The Classic Game takes you through a series of level where you have to get an increasing number of blocks to pass to the next level.  You can also earn bronze, silver and gold medals, which is the real staying power of this mode.  Ironically, so far the only level I haven't been able to earn a gold on is level 1!  Score Panic is the basic endless mode, where you're just worried about playing as long as you can to earn a high score.  Chains and multipliers come in really handy on this level.

Color Panic is similar to Score Panic, except you can't have more than 8 blocks of a given color on screen at once.  As much as you might be tempted to score that ultimate combo, you need to keep this color limitation in mind.  Finally you have Time Panic, where you get 180 seconds to get the highest score possible.  The big question in this mode is do you try and make lots of smaller chains or do you go for as many big chains as you can possibly get?  I rather enjoy trying to get the big chains, because naturally bigger chains are much cooler.

The entire presentation of Push Panic is very sleek and polished.  The interface is clear and readable, and while the objects themselves are pretty simple there are nice little effects everywhere.  Due to the game's physics the blocks bounce around when they come in contact with each other.  There are nifty fades and particle effects when you select blocks to disappear.  Blocks that survive a bomb blast even come back cracked.  It's nice that the simple game design didn't dissuade the developers from putting some visual flare on the whole thing.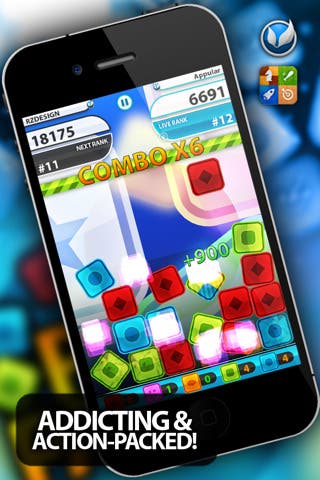 The sound effects are actually pretty decent as well.  I like the noise the blocks make when they are hitting and rolling off of each other.  There's even a distinct buzzer like sound to let you know that you've selected an inappropriate block.  I just wish there were some audio signal to indicate that you were in danger of crossing the line, as it were.  There are visual ques, but when you're paying attention the blocks a little noise is always a helpful reminder.  The music isn't bad, but a different track for each game type would be great.

I'm not really sure how to classify Push Panic.  There's matching involved, but it doesn't play like any matching game I've ever seen before.  In some ways it reminds me of Jawbreaker, but it's not really like that game either.  At the end of the day, though, all that matters is that Push Panic is incredibly fun and addictive.  If you're into casual games, or like quick reflex, beat the clock matching type games, you owe it to yourself to check Push Panic out.  You won't regret it.

Overall Score: 9/10
App Store Link