By Eric Pankoke on Fri, 12/09/2011
It's the same old song and dance you've heard from movies like "You've Got Mail" to games like "Cake Mania".  Corporate America is taking over and ruining the little mom and pop shops, or in this case a whole town.  While the premise is actually a bit more depressing than entertaining, Profitville still manages to make it loads of fun.  There's no question that this game will test your sorting and judgment skills, and you'll get so caught up in it that you'll often wonder where your time has gone.  The real question is whether or not you have what it takes to put Profitville back on the map again.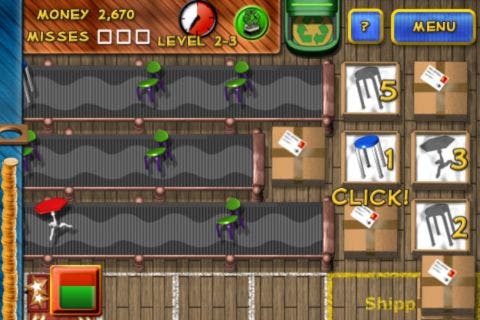 The small hometown shops of Profitville have been pushed to the brink of closure by modern megamalls, and you have been asked to help them find their way.  To do this you'll visit a variety of locations, helping each shop owner along the way to pack and ship as many goods as possible.  If you meet your monetary goals, the shops will be saved.  If not, well, then you'll just need to keep trying.  You can also fail a level if you make 3 mistakes during the level.  Once you've beaten a store you can play that store in survival mode, where the only thing that stops you is 3 mistakes or a product running off the assembly line.

Each level contains three rows: the left side of the row is a conveyor belt and the right side of the row is filled with boxes.  Your job is to tap the items on the conveyor belts and then tap the corresponding boxes until you've filled a box with the number of items on the box.  You can select as many of the same item as you want, and if you accidentally select extra the extras will just be left on the belt.  Once a box is full you tap it again to ship it.  If you can fill multiple adjacent boxes you can tap one to ship them all and you'll get bonus points.  Eventually you'll start getting broken items which you either have to tap and move to the recycle bin or repair.
Master your iPhone in one minute a day:
Sign up to iPhone Life's Tip of the Day Newsletter and we'll send you a tip each day to save time and get the most out of your iPhone or iPad.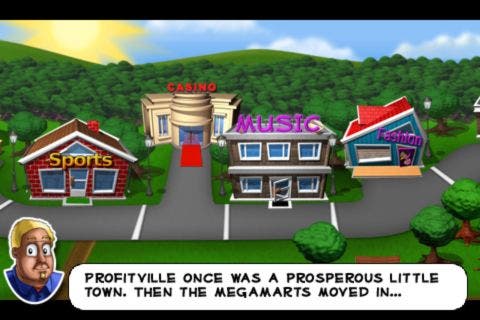 As the game progresses you'll start getting power ups like a wrench that repairs all broken items on the screen or a magnet that draws items to open boxes.  You'll also start getting "devices" that take a certain number of items to use and produce a nice result.  For instance, one device will make a single item on the screen worth lots of money, while another will repair all broken items on the screen.  The thing with devices is that you have to weigh whether using them is worth giving up the items they require to run.  At the end of the day it's all about making the most money with the items you have.

The game looks very nice.  Everything is well drawn and quite colorful.  There aren't really any "wow me" visuals, though there are a few nice little effects like a particle explosion when you earn the expert bonus on a level or a curtain dropping when you win a trophy.  I do like how the map of Profitville cleans itself up as you conquer each location.  The only issue I had is that sometimes the different between good and broken items is subtle and hard to notice until you've accidentally tried to pack a broken item.  The baseball bats in the sports store are a good example of this.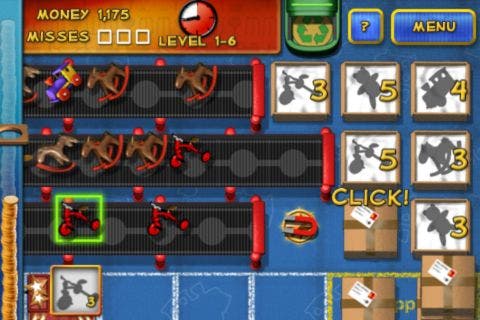 The special effects are decent enough.  Each action has its own sound effect, though any item going through the same action sounds the same.  There's a nice little around of applause when you finish a level so that you feel appreciated.  I'm really enjoying the background music in Profitville.  Each store has its own theme, and even the music played over the menus and when you are on the map screen is good.

When I first got my hands on Profitville I was expecting some sort of match 3 variant, and I think it might have even been billed that way.  The truth is, however, that Profitville is so much more than that.  Power ups, devices and the recycle bin are all play a part in how you can maximize your object throughput and consequently get the most money for a round.  I even like the survival mode in this game, which is normally the kind of thing that doesn't interest me since I prefer my games to have concrete goals.  If you're looking for a fast paced alternative to the match 3 scene that still might give you some of the same thrills, it's time you spent some time in the town of Profitville.

Overall Score: 9/10
App Store Link