By Eric Pankoke on Fri, 07/16/2010
Average zombie games may come and go, and there's not much you can do with a traditional soccer game.  Combine the two, however, and you have pure iPhone gold.  Pro Zombie Soccer takes zombie wars to a new level with a humorous story, intense soccer kicking action, and an awesome special weapon.  The visuals are wonderful, there are a variety of different zombies to contend with, and the controls are spot on.  Not really a whole lot more you could ask for.


The "I don't want to spoil too much" synopsis of Pro Zombie Soccer is that you decide to try out for your dream team, only the night before you get a bit too drunk.  As a result you not only don't make the team, but you're told you'll never play soccer again.  The short of it is that you end up getting infected by a zombie, who just happens to be a converted member of your dream team, and before the disease completely overtakes you, you decide you're going to rid the world of as many zombies as you can.  What better weapon to use than a soccer ball?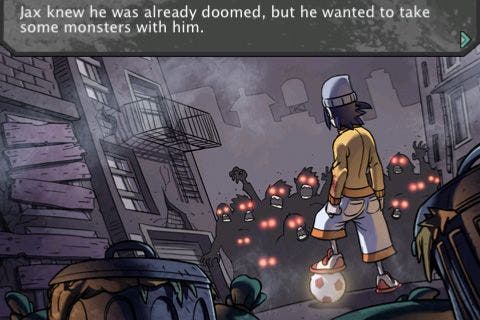 Master your iPhone in one minute a day:
Sign up to iPhone Life's Tip of the Day Newsletter and we'll send you a tip each day to save time and get the most out of your iPhone or iPad.


You'll play through nine different worlds, several of them containing multiple levels (I'm currently stuck on level 1 of world 4 in normal mode, so yes, I stink at this game).  As you progress through the game the story unfolds in comic book format, often humorous and always cool.  After the comic book interleaves you'll be treated to multiple levels of zombie pounding action.  The primary layout is that you're on one side of the screen and the zombies are coming at you from the other, though in one instance so far you're actually running through a level.  I hope there are more levels like this, because it was actually really fun.



Whatever your dynamic of motion, all you have control over is the soccer ball itself.  A slider behind the character allows you to adjust the angle of the soccer ball, and you let go of the screen to launch the ball.  If you hold your finger down long enough the ball will super charge, which can be advantageous – and necessary – in some occasions.  A normal ball can kill many zombies on the first try, while a super charged ball can kill most zombies with one hit, depending on where you hit them.  There are some zombies that can be killed with one hit of a normal ball if you hit them in the head.  You actually get bonus points and multipliers for killing zombies with head shots, so it's to your advantage to practice that technique as much as possible.  Then there are the special weapons.  Unfortunately there are only 3, so I'll let you play the game to discover them.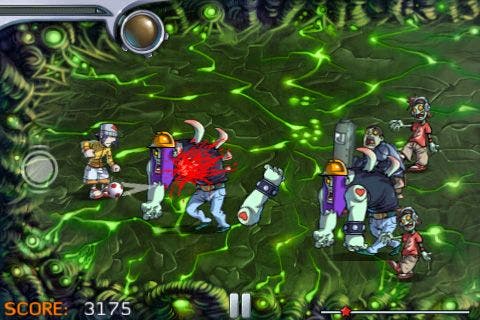 As for the zombies themselves, what impressed me when I wrote my preview some time ago and still impresses me know is the variety of zombies.  Sure you have your average zombies that move like they'd be going to work if they weren't dead.  Then there are the cheerleader zombies that are a bit more aggressive, but not by much.  The butcher zombie uses its belly as a shield, so you have to find a way around that.  One zombie travels underground, and every once in a while you get a small opportunity to kill it as it pops its head and arm above the surface.  There are more zombie types as well, some of which require creative methods to kill.  Every time a new zombie is introduced it's cool to find out what the zombie has in store for you.



The aesthetics are a virtual tour de force.  Visually the game is top notch, with finely detailed and smoothly animated characters as well as slick backgrounds.  Occasionally it feels like the characters are just a bit on the small side, but that thought soon goes away when you see a ton of them on screen at once.  It would be hard to fit them all if they were larger.  I really like zombies that take multiple hits, because the intermittent hits usually result in some body parts flying off or something.  The story sequences are also skillfully drawn, and could easily be collected into an awesome – albeit rather short – comic book.  The only thing I don't care for is when you die and a bunch of zombies converge on you, their animation is no different than the normal game, so it looks a bit cheesy.  They could have done without that part.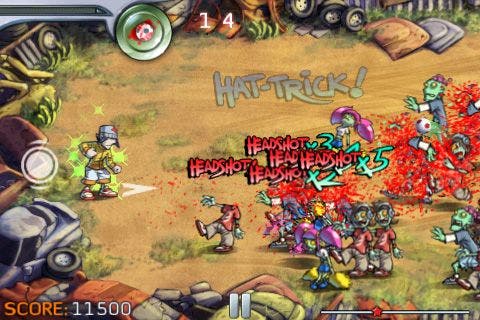 The sound effects compliment the visuals nicely.  All the zombies have their grunts and groans, and some extra noises that pop up every now and again fit any nicely.  There isn't a whole lot of ambient noise beyond the zombies, but I'd suppose it isn't really needed.  The music rocks pretty hard, and really suits the overall mood of the game.  I do have to say, however, that I think my favorite two snippets of sound are what plays right before a level starts and what plays once you've achieved victory on a level.



Pro Zombie Soccer is a great game, regardless of whether you're a fan of zombie games or soccer games or not.  The visuals are wonderful, the sound is a perfect compliment to the atmosphere, and the story is wacky and fun.  The game play is mechanically simple yet challenging and at times quite hectic.  And, once you complete the game in normal mode you'll be able to play hardcore mode for even zanier, more chaotic action.  Pro Zombie Soccer is a game that shouldn't be missed.



Overall Score: 9/10

App Store Link