By Eric Pankoke on Thu, 01/28/2010
I like electronic pinball, but it's not something I get overly excited about, so there really has to be something special about a particular version for me to spend more than a few minutes on it. Unfortunately, that's not the case with Pinball Wizard. The game has one board which on its own is not very exciting. Its claim to originality is its customizable nature, yet the only thing you can customize is the position of the three main bumpers. To me that's not worth advertising such a feature. If there were more to do in the design phase this might be a product to keep your eye on, but right now there's not a lot to keep you coming back for repeated play sessions.


For those who might actually be unfamiliar with the concept of pinball, it's really quite simple. You have a certain number of balls (in this case 3) that you hit around the playing field one at a time, trying to keep each one in play as long as you can. The longer a ball stays in play the more things you hit, and the more things you hit the more points you get. You keep the ball in play by hitting it with one of two flippers that can be found at the bottom of the screen. That's really all there is to the game. Sadly, Pinball Wizard doesn't provide much more of an experience than that.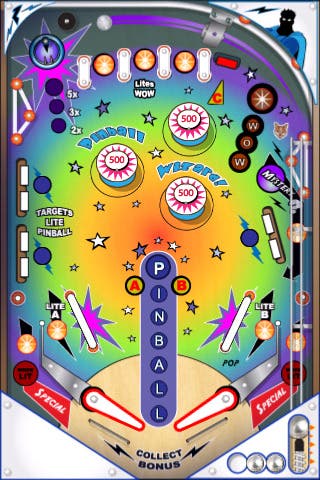 The board itself has a fairly standard, boring layout. In the middle of the playing field are the three main bumpers. At the top are "gates" that you get points for passing through. Along the sides are various ancillary bumpers that help keep the ball moving around the table. In the upper left corner there's one of those traps that catches the ball for a couple of seconds and then lets it go. What really disappoints me is that even in the traditional sense of pinball tables, certain elements in Pinball Wizard don't work like you'd expect them to. The bumpers along the side look like the type that should descend into the table when hit, but they don't. Bumpers towards the top of the screen look like the rubber band style that should act a bit rubbery when you hit them, and while they do deflect your ball, they otherwise just sit there. Beyond that there are none of the cool extras one might expect like rails that create a track that takes the ball above the playing field or bumpers that temporarily block the "gutters" so that it's almost impossible to lose a ball.

For your part in the game you basically tap the screen near the flippers to control them. You also get to launch each ball into play, but even that action feels mediocre as you simply tap the screen instead of actually swiping the trigger to make it feel like you're pulling it back. The other thing you can do is "modify" the layout of the table, but the only thing you can move is the central three bumpers. Why not give me the ability to move almost everything save the flippers? Better yet, why can't I create a whole new layout with whatever elements I want? This feature is touted as something no other iPhone pinball game has, and while that may be true, it's so limited in functionality that you'll never miss it if you don't use it.

The look of the table isn't much more exciting than the layout. It's not bad, mind you, but it's certainly not eye-catching either. If nothing else, it would have been nice to have a few skins to choose from. Better yet, let me import a picture from my photo gallery to use as a background. As for the sound, it's pretty standard pinball noises. They did a good job with the background chatter, making you feel like you're actually tucked in the corner of an arcade somewhere. However, given the choice I would rather have had music than the ambient background noise.

I wish there were more to share with you about Pinball Wizard. Moreover, I wish there were more to get excited about. The problem is that there isn't. The table layout feels uninspired, the physics feel stiff (and sometimes the ball just jumps between the bumpers and the flippers), and the customization option is pretty non-functional at this point. If you're really in the market for an electronic pinball game there are much better choices out there, some of which might even still be free.

Overall Score: 4/10