By Eric Pankoke on Tue, 09/28/2010
I don't go for the "farting is fun" application genre on my iPod Touch.  I think it's silly and juvenile, and just further crowds the App Store so that good games don't get noticed.  For that matter, I'm not big into the defecation appreciation games as a whole, but something about Pigeon Squadron intrigued me.  I'm not sure if it's because at its heart Pigeon Squadron is really just another target bombing game where the weapon of choice happens to be bird feces, or what drew me in to wanting to try the game.  Well as it turns out, despite the fowl droppings premise, Pigeon Squadron is actually a rather entertaining game.  It's also quite challenging, so don't think you're going to just coast through this defacing experience with a gold medal for no effort.  Are you ready to join the pigeon army?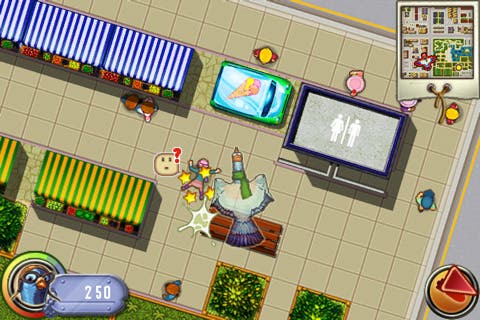 In Pigeon Squadron you play 1 of 4 pigeons in an elite squadron of dive-poopers.  I'm a bit disappointed that you don't get to be your own character, sort of like the new recruit on the job, but it's all good in the end.  You'll get the chance to fly a number of missions that span three different cities, so you certainly get the chance to spread the wealth.  Each city will see you conquering several missions, though there are really only two varieties of tasks: hit specific targets or do as much damage as you can before the time runs out.  Both mission types are fun, but I find the targeted ones just a bit more interesting.  The only thing I don't really care for is the fact that the targets are often so spread apart that you spend most of your mission simply flying to reach the targets in the first place.



Control is pretty simple.  Tilt the device left and right to turn, tilt forward to go faster, and title back to slow down.  When you're ready you can tap the bomb button to let it fly.  Keep in mind that more often than not both you and the targets are moving, however, and there's also some height between you and them.  You need to adjust for all that when taking aim.  Once you've successfully plopped on a target, be prepared for some backlash.  The golfers and tennis players I can understand, but it amazes me what good throwing arms some of these pedestrians possess.  They'll throw all manner of stuff at you from newspapers to umbrellas and anything in between.  Most of it will go away after a bit, and all of it that's glowing red is dangerous.  There are occasional green items that fly your way, and it's safe to pick them up, but I'm not quite sure what they do.
Master your iPhone in one minute a day:
Sign up to iPhone Life's Tip of the Day Newsletter and we'll send you a tip each day to save time and get the most out of your iPhone or iPad.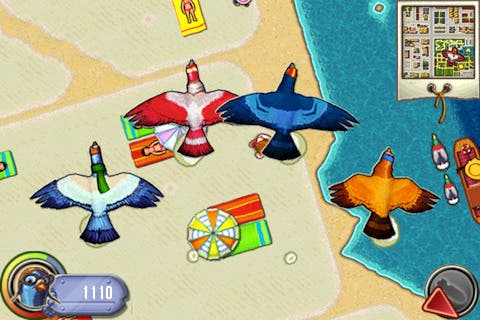 Each mission has certain goals you must reach, and you will earn bronze, silver and gold medals for reaching those goals.  You must earn at least a bronze to move on to the next mission, so be sure to watch the counter on the screen that tells you how many targets you have left until your next medal.  There are also a few awards to earn, though given the number of missions it seems like there should be more awards.  I also find it interesting that there's no social integration – this seems like a great game for that.  In fact, I could see a couple of really fun two player modes, as you work cooperatively to cover the town as quickly as possible or race to see who can get more targets first.



The graphics are actually pretty decent, and while I'm not a big fan of top down visuals that feature lots of people, the people are even fairly well drawn.  There are some nice little touches like ducks ruffling their feathers when they get hit that make a strike all the more satisfying.  The cut scenes are very nicely rendered.  The visuals there remind me of stills from an animated movie.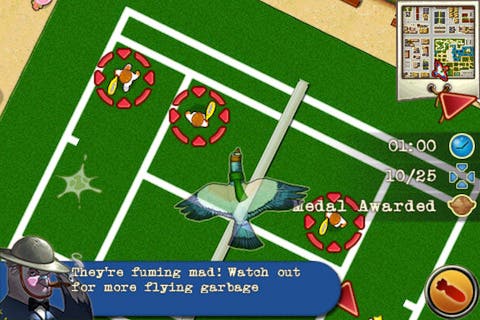 The sound effects are perfect for this game.  People grumble when you hit them, your ammo sounds just right as it contacts its targets, and it all just does a great job of complimenting the atmosphere.  The one addition that would be really cool would be to hear the birds talking during the cut scenes.  I think that would add even more to the comedic nature of the dialog.  The music is also pretty easy to listen to.  Each town has its own theme that actually fits well with your location.



Pigeon Squadron is actually a rather entertaining little game.  I was afraid that it might get boring after a while, but it doesn't.  It can get frustrating at times, though, especially when the targets are throwing so many things at you that you can't even turn without getting hit.  Still, that means you just need to keep trying until you beat those levels.  The atmosphere is light and fun, the graphics are colorful and the music is upbeat.  If you think you can handle it, the pigeon army needs you.



Overall Score: 8/10

App Store Link