By Eric Pankoke on Thu, 09/15/2011
I would say that the top down, overhead view is probably my favorite way to look at racing games.  It's no surprise then that I would be drawn to Paper Racer.  The truth is that at its heart, the game is a solid racer with cool tracks and a decent control scheme.  Unfortunately, there isn't much in the way of bells and whistles.  That's not necessarily a bad thing, but with as many offerings as there are in the App Store, it's all the little extras that make one title stand out from the pack.  Now it is true that you can import your own images for your car, but even that's been done before.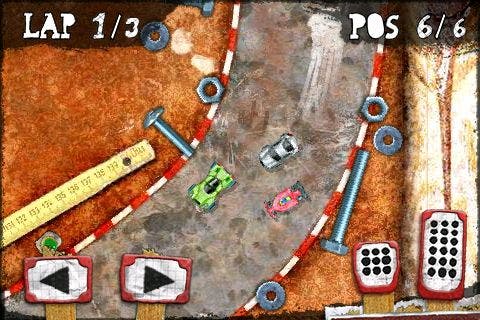 Basically you have your run of 16 different tracks, and naturally the goal is to get first place on each of them.  The tracks are broken up into themes, and each theme initially has two tracks open.  Placing third or better in an unbeaten track will open a new one and so on until all the tracks in a theme are opened.  To get to the next theme you must finish all races in a theme with third or better.  One thing I really like about the tracks is that if it looks small enough to be knocked around, it probably is.  This type of interactivity is something more racing games need to explore.  Of course it sometimes can be detrimental to your progress, but you have to way the fun of scattering stuff around to the joy of coming in first.

There are a number of cars to choose from, and you can even designate which ones should be used for computer controlled vehicles.  You can also import your own and share them with your friends.  This does add a nice bit of customization to the game, but personally I'd rather be able to customize the cars themselves.  Sadly, nothing like that exists in this game.  Every car plays exactly the same.  Worse yet, there are really no power ups to be found.  In the second set of levels there is a temporary speed boost, but it's a permanent fixture on the track and it's available to everyone.  There are no cool weapons or anything to use as deterrents, either.
Master your iPhone in one minute a day:
Sign up to iPhone Life's Tip of the Day Newsletter and we'll send you a tip each day to save time and get the most out of your iPhone or iPad.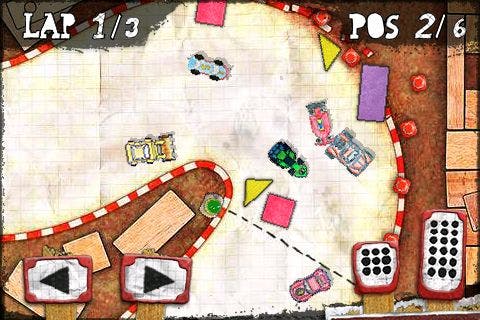 There are two control schemes for the game.  The default is to use left and right arrows for turning and brake and gas pedals for momentum control.  It would be nice if these could be flip flopped (arrows are on the left and pedals on the right), but they work pretty decent none the less.  The main problem I have is that sometimes it seems like the game thinks I'm hitting one direction when I'm really trying to go the other way.  The other option is a virtual joystick which can be placed on either the right or left hand side, but I find this control a bit hard to use.

Since there are no upgrades in the game there is no money to be won.  In fact, other than your position when finishing the race there really is no score at all.  The game is integrated with Game Center, where there are 17 achievements to earn and leaderboards to compete in.  The awards are pretty cool (I've already earned the "crashed but raced well anyway" one), but the leaderboards only pertain to the Time Trial mode.  Still, I guess it's better than nothing.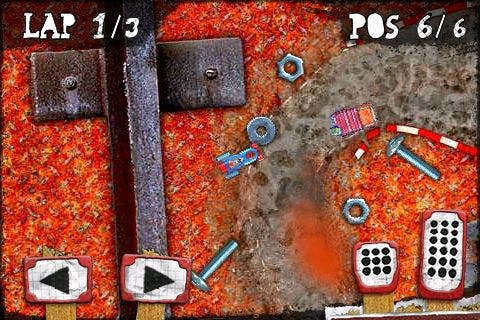 The themes used in the game make for some pretty slick visuals.  Building Blocks are filled with children's toys, Tiny Tools are littered with things like nuts and bolts, and Metal Madness has, well, lots of metal (and some lava to boot).  There are lots of nice details, and some nifty effects like leaving streaks on the path after you drive through paint.  The cars themselves look like doodle art, though for the most part pretty decent doodle art.  Sound effects are pretty standard racing fare, and there are no adoring fans to cheer you on or boo when you make a mistake (except for at the very end).  There's one song that plays throughout the entire game and it's an okay song, but not really my type of music.  It would be nice if there were at least a separate song for each theme.

Paper Racer is not a bad little racing game.  In fact, I've rather enjoyed my time barreling around the tracks.  The problem is that I could say the same thing about half a dozen other racing games.  There's really nothing that stands out about Paper Racer, and that's its biggest flaw.  I think the game is worth it for a spin around the various tracks (make sure you don't play on easy if you're any good at these sorts of games), but I'm really hoping that some day there will be a content update so I have something more to sink my teeth into.

Overall Score: 7/10
App Store Link