By Eric Pankoke on Wed, 06/15/2011
As certain genres of game continue to get overly bloated in the App Store, the first question on my mind is always "what sets this game apart?"  In the case of Mooniz, I'm not sure how to answer that question.  The game is fun and is certainly a solid entry in the ever growing category of matching games, but it doesn't really do anything that I haven't seen before.  I'm also a bit concerned about the difficulty level given that this is supposed to be a casual game.  Still, the bouncy music and colorful mooniz that make up the world of Mooniz somewhat make up for the brutal nature of the game play.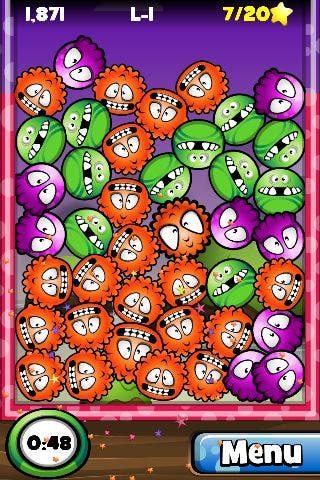 Before you argue that this isn't a matching game, I'm not really sure what else you'd categorize it as.  It's certainly not a Bejeweled type game, but you are trying to match objects of the same color.  In this case it just happens to be large groups of them instead of just 3, 4 or 5.  The overriding goal of the game is to earn as many points as you can so that you can get lots of coins.  In classic mode you're trying to earn enough stars to move on to the next level.  You're also trying to earn stars in Rush mode, but here for every 100 stars you earn you simply get to play a frenzied mode where you tap individual mooniz to get rid of them.

Points are earned by clearing away groups of like colored mooniz, and stars are earned by clearing away large enough groups.  The problem is that the game is timed (a minute per level in Classic mode and a minute and a half total in Rush mode), so you don't always have time to maneuver the board to your liking to get large groups.  The thing is, you really need to get points, because as I mentioned before points turn into coins, and what I didn't mention yet is that coins will buy you power ups.  In the game's first update they did institute a feature where once every six hours that you are connected to the internet you can get a bunch of free coins.  Take advantage of this every chance you remember, even if you're not actually planning on playing the game while you're connected.
Master your iPhone in one minute a day:
Sign up to iPhone Life's Tip of the Day Newsletter and we'll send you a tip each day to save time and get the most out of your iPhone or iPad.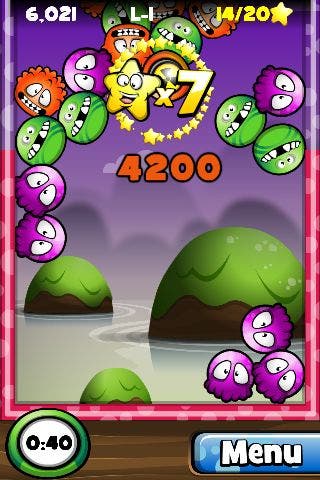 The game is already difficult to play, but it's even harder if you don't have power ups.  There are some default ones in the game, but the "premium" ones are much better.  These include "loco", which eliminates all mooniz on screen except the color with the highest count, "nuke", which eliminates all mooniz of a certain color, and extra time, which adds five seconds to the clock (doesn't sound like a lot, but trust me, it's useful).  Premium power ups cost 25 coins apiece, and you get to keep them for 3 games.

The trouble is that I very rarely even make it up to level 7 in Classic mode, which will net me somewhere between 10-15 coins, and I'm lucky if I even get 10 coins in Rush mode.  This means that for every 3 power ups I buy, I'm lucky to earn coins enough to buy 2 more when those run out.  If it weren't for the daily bonuses from being connected to the internet, I'd have to play quite a few games without cool power ups.  Personally, I've always found that the fun of causal games is reaching insanely high levels every time you play, and I feel like they maybe just went a bit overboard with the difficulty on Mooniz.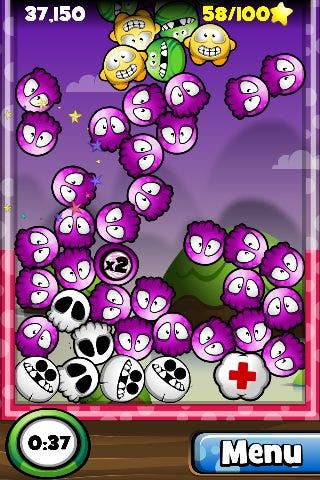 The graphics are probably the highlight of the game.  The Mooniz are quite charming, and they have these huge grins on their faces, even when they turn into skulls because you've accidentally tapped a group with less than 3 of them.  A little bit of animation aside from them falling into the pile might be nice, but overall the critters are a joy to look at.  The sound effects are pretty decent as well.  I especially like the fact that each of the different color Mooniz makes a different noise when you tap it.  This may not seem like a big deal, but to me it says the developers were willing to put extra effort into the small details, which I feel is pretty important.  The music is ok and suits the atmosphere of the game, but it would be nice to have at least a couple of different songs to choose from.  It does tend to get old after a while.

Mooniz is certainly an entertaining game – there's no question I've enjoyed my time playing it.  However, I'm not really sure the game does much to stand out from the crowd.  The "cute" look is in these days, so you'd be more hard pressed to find a game that didn't have quirky characters, and the level of difficulty makes me unsure whether the game is a casual game trying to appeal to more hardcore players or a hardcore game that missed the mark.  If you're a huge fan of matching games you'll probably enjoy it, but if you're easily frustrated when you don't obtain high levels during game play, Mooniz is not the game for you.

Overall Score: 7/10
App Store Link