By

Eric Pankoke
Mon, 12/31/2012
I never considered frogs to be a very popular subject for video games, but there really are quite a few games staring the lily pad bound amphibians and their desire to eat bugs.  Thankfully Mister Frog is a different beast altogether.  Yeah you're still trying to collect bugs with the protagonist's tongue, but there isn't a lily pad anywhere to be seen in this game.  Plus, the actual game play mechanic is different than any I've come across in this sort of game to date.  This is another fine example of simple, fun and addictive blending seamlessly together to create a game that probably won't get the recognition it deserves.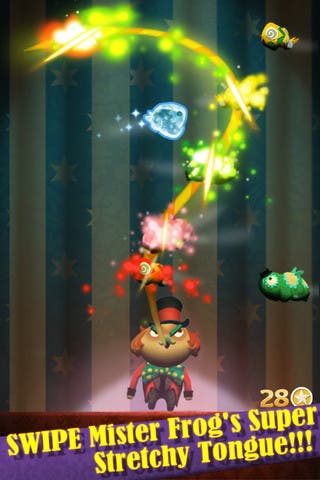 If you really need a story, basically you play a depressed frog that decides to see if his bug eating talent will be appreciated at the circus.  Happy you asked?  Regardless of the reason, your job is to try and eat as many bugs as you can in one of two game modes.  Arcade mode gives you a minute to consume all the insects you can, though you can get both positive and negative time modifiers to affect total play duration.  In survival, on the other hand, you just keep eating until you've lost all three lives or accidentally swallowed the bomb, whichever comes first.  Along the way you'll randomly earn coins to buy both "utilities" and clothing.

Control is simple – just draw a path for the tongue to follow.  What makes this so fun is that unlike most of these games, you can actually curve the tongue to bend around obstacles or to get more bugs at once, and you can even loop it if you'd like.  What really gets this game going is the achievements.  You always have three to work on, and thankfully this game doesn't make you complete all three before you get more.  Once you complete an achievement it will be replaced in the next round.  They start off pretty simple, but eventually you'll get things like having to earn a particular score or survive so many seconds with or without doing something.  I just completed one where I had to score 1500+ points while playing upside down (yep, the orientation doesn't flip on this game when you turn your device around).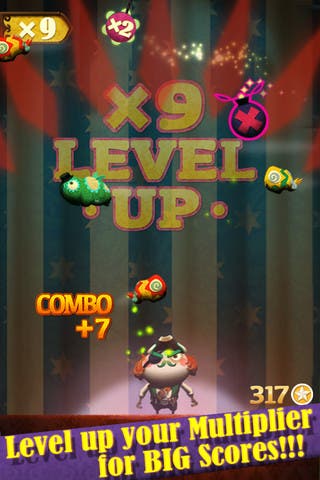 The visuals are pretty slick.  I don't know why, but I want to say it has an "old fashioned" look about it.  However, there are some cool effects like how your tongue almost looks like a stream of energy or how the edges of the screen "ice up" when you get the slow power up.  The music is fun, but there's only one track so it does get repetitive after a while.  Once you start getting wrapped up in the action you won't really notice, though.

Mister Frog is for people that like to either constantly strive for new high scores or love achievements.  There isn't really much depth to the game, but it's perfect for a 10 minute bus ride or for losing yourself for an hour with the TV glowing in the background.  If you think you know amphibian games, it's time to give Mister Frog a try.

Overall Score: 9/10
App Store Link
This game was reviewed on an iPod Touch 4 running iOS 5.1.1.