By Eric Pankoke on Thu, 12/15/2011
I Won't Fall is the heartwarming saga of a mother hen who will risk anything to save her baby chicks.  In all honesty the game can sometimes get a bit depressing, especially when you get smacked again and again by the picture of a baby chick with a solitary tear running down its cheek if you fail a level.  Have no fear, though, because love always prevails and when you finally conquer the treacherous surroundings and reach each baby chick you'll feel warm and fuzzy all over. At least I think that's the emotions from the game…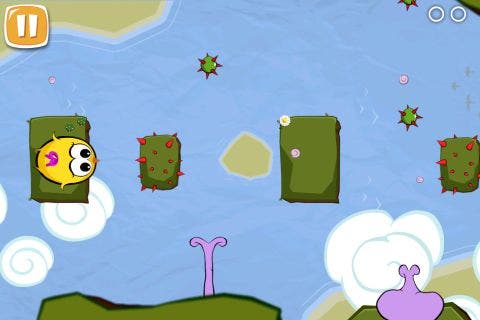 You've probably gathered the premise by now, though I have to wonder – how did all these chicks get in trouble and why does she have so many in the first place?  Guess she's looking for a reality show or something.  Anyway, the control scheme is dead simple: tap the screen to jump.  Everything else is just a matter of timing.  I'm not sure that the actual amount of time you spend on a level is as important as the quickness of your actions.

The more jumps you make in rapid succession, the better your comments are, ranging from "Good" to "Awesome" and more.  I'm not sure what determines the proportion of each that allows you to still earn three stars, but obviously the more "Excellent" and "Awesome" comments you can get the better.  Most levels have one or more pink bonus bubbles as well (personally I think they are gumballs), and it would seem that in order to earn three stars you must collect all the bonus bubbles that are offered.  In actuality, I can't think of a situation yet where I didn't get three stars if I captured all the bonus bubbles.
Master your iPhone in one minute a day:
Sign up to iPhone Life's Tip of the Day Newsletter and we'll send you a tip each day to save time and get the most out of your iPhone or iPad.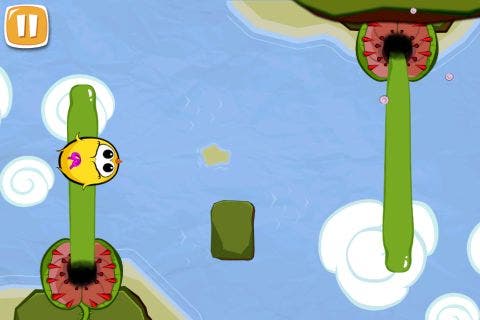 The main cause of death in I Won't Fall will be falling.  However, there are plenty of other obstacles along the way.  Many platforms move, some of them crumble away after you land on them, and others even have spikes preventing you from jumping on them at all.  Plants will shoot barbed projectiles at you or try to ensnare you with their sticky tongues.  So far the only real critter I've seen is a nasty red beetle that will try and run you over if it sees you, but hopefully there will be more adversaries like that eventually (or if not in the currently offered level sets then maybe in future updates).

While the graphics aren't going to stun you with their beauty, they are nice and simple and pleasing to the eye.  The characters are all cartoony which makes the bad guys somewhat less than formidable, but that's okay.  Nice little touches permeate the levels like small bubbles floating by or birds flying in formation underneath all the action (the game takes a top down view of the proceedings).  When you land on a platform that's crumbling you'll see bits of rock fall away and the cracks deepen.  It's all this attention to detail that makes the world come alive before you.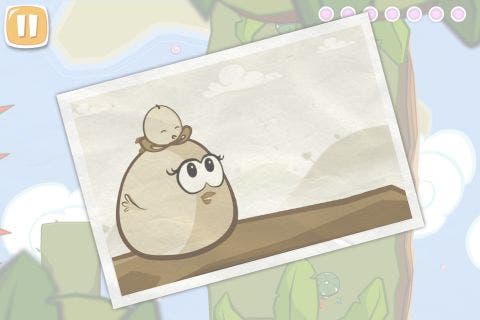 The sound effects are decent, though nothing really earth shattering.  I will say that once you get close to the end and hear the bird chirping "mama", it's hard to not want to give it your all to rescue that chick.  The music that plays during the menu is quite serene, and it almost seems like it could put you to sleep if you listened long enough without doing anything.  What I finally realized about the in-game music is that it's basically a melody, and the tempo of the main notes is completely reliant on how you jump through the level.  That put a whole new spin on the background track that made me appreciate it that much more.

I like this game because it's simple.  I also like it because the levels are challenging without becoming so overwhelming that you can't advance.  It also helps that the levels move quickly enough that if you have to repeat one several times it's still not going to take you hours to solve it.  There are games out there that are flashier and might have a few more bells and whistles, but this has kept me so entertained the whole time I've played it that I don't mind.  If you want a good pick up and play game that might become too hard to put down you should definitely try I Won't Fall.

Overall Score: 8/10
App Store Link