By Eric Pankoke on Thu, 12/01/2011
I've primarily stuck to reviews of games in the past, because that's mostly what I do with my iPod Touch.  However, I have been a comic book fan for a long time, and when I got the chance to review this cool looking "3D" comic book, I jumped on it.  To its credit, the book is pretty cool.  However, I think the 3D aspect of it is more gimmicky than practical or useful.  Still, to get an 84 page full color graphic novel for under $6 these days is a pretty good deal, and having it narrated thanks to its electronic format is a cool bonus.  If you're really hoping for some slam-bang 3D effects you're not going to be so impressed, but if you just want a decent story, slick 2D illustrations, and good voice work (at your discretion), The Gwaii is a solid choice for you.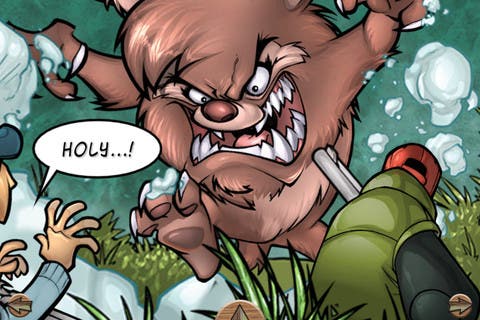 The Gwaii is a story about a mother / son family of mythical creatures called known as Sasquatch.  The mother gets captured by some hunters, and despite her mystical urgings (read the story for details) the son, with the help of a young female Sasquatch, sets out to find and rescue her.  I can't say that there's really anything original about the story, or at least not in the first section that I've read, but it's well written and it does just enough to keep you wanting to "flip" each page and continue the tale.  You have your choice of reading the story yourself or having it narrated for you, and you can choose to navigate "panels" manually or have the book do it for you so that you only have to "flip the page" when the time comes.

There are also a couple of nice extras, like the ability to pull up a selector bar and navigate to any page you want, and the capability of clicking on individual words in a dialog to have them spoken to you again.  The main problem with the navigation as a whole is that on the iPod Touch everything is kind of small, and it's often hard to hit the arrow buttons or the X to close something like the selector window.  The interface looks quite nice, though, and I imagine on the iPad screen it's a lot more finger friendly.
Master your iPhone in one minute a day:
Sign up to iPhone Life's Tip of the Day Newsletter and we'll send you a tip each day to save time and get the most out of your iPhone or iPad.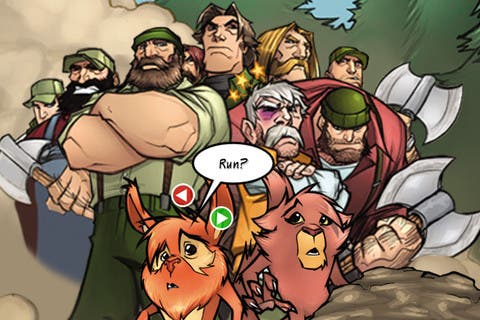 So now the real question – what about the artwork?  Well as far as comic book illustrations go, it is first rate.  If I ran across a comic on the store shelves that looked like this, I'd probably buy it without hesitation.  It's what I like to call "American anime", and it really makes the characters look cool.  There are also little animations every once in a while that add a bit of extra "oomph" to the whole presentation.  As for the 3D, it kind of reminds me of the old Viewmaster system.  There are several layers to a given scene, but each layer still feels "flat".  The effect is kind of cool, especially given that you don't need glasses to see it, but it's not the "reach out and grab it" type effects that people might be expecting – and it really doesn't add much to the presentation, quite honestly.

The voiceovers are quite good and seem very professional.  They did a good job of providing voices that seem to fit the characters, or at least that's the way it feels by the time you're done reading the story.  Even if you decide to go through this the first time without narration, I highly recommend visiting it again with the voices on.  There are also some pretty decent effects throughout the story.  Sadly, there is no music to be heard anywhere.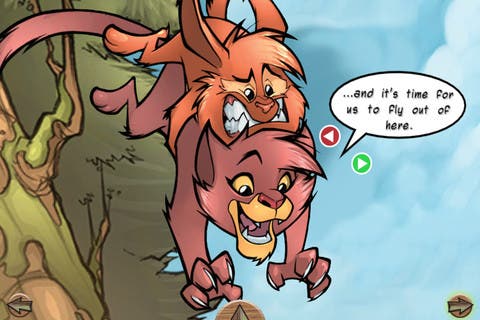 If you're looking for the next great evolution in comic book storytelling, you're probably not going to be too excited with The Gwaii.  If, however, you want a decent yet slightly clichéd story, great artwork, and an overall polished multimedia experience, this is certainly worth giving a try.  You get the first "chapter" with the player for $1.99, and then you can purchase the subsequent two chapters through IAP.  Anyone who has purchased a comic on the newsstand recently knows this is a pretty good deal.

Overall Score: 7/10
App Store Link