By Eric Pankoke on Tue, 08/02/2011
The more I play mobile games, the more I realize that sometimes simpler is better.  I don't mean a game that's easy, mind you, but a game that doesn't have a lot of options or settings or menus to mess with.  Greedy Bankers is one such game, and it's very easy to get lost in once you get started.  It's also one of those games that will often have you gritting your teeth down to the very last second… assuming, of course, you make the last second match to move on to the next level.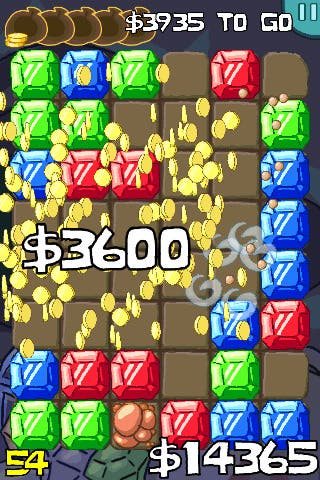 The idea is simple: jewels are tumbling into your vault, and you must collect them to make money.  Each level requires you to make $1,000 more than the last, and you always get 60 seconds to make that money.  Every fifth level gives you the opportunity to earn a bonus if you can complete your goal in 30 seconds.  So far I've only managed to do this on level 5.  So how do you make money?  If you tap on a single gem you get $100.  If you drag gems into groups of four or more you start getting bonuses for tapping on them.  Groups must be all the same color, and they must be rectangular or square (2x2 or 4x3, for example).  Keep in mind that falling gems can get in the way of where you're dragging another gem.

In addition to an open path suddenly being blocked by a new gem, you also have to watch out for the ceiling.  Tiles will fall onto the playing field periodically, and in order to get rid of them you have to tap a 2x2 or bigger group where one gem is touching the tile.  They cannot be moved either.  The other big obstacle is the thief that shows up periodically.  He will steal both single gems and groups of gems, and even the gems you are sliding around the board!  He'll eventually go away, but unfortunately you don't have any way to get rid of him on your own.  One thing that's quite interesting with this game is that when you finish a level the board doesn't get cleared, so if you have enough skill and patience you can often set yourself up to get a decent head start on the next level.  Once you fail to complete a level in 60 seconds the game is over.
Master your iPhone in one minute a day:
Sign up to iPhone Life's Tip of the Day Newsletter and we'll send you a tip each day to save time and get the most out of your iPhone or iPad.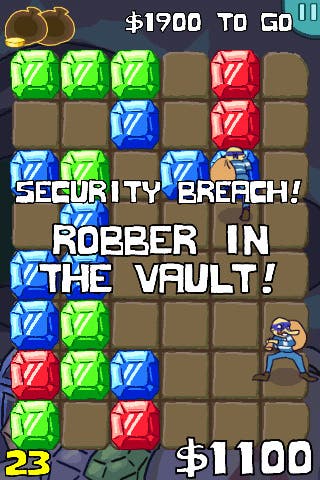 Greedy Bankers is not an overly flashy game, but the visual do look pretty nice.  The thief is fun to watch sneaking around, and the bankers that pop up when you complete a level or lose the game are nicely drawn.  There are a couple of small touches like tapped gems turning into coins that add some "special effects" to the game.  The sound effects are okay, though nothing to really get excited over.  It would be nice if the bankers or the thief made some sort of utterances during the game.  The music is actually pretty good.  I couldn't really define a genre for it, and I'm not sure how many tracks there are, but I enjoyed listening to it while I was playing the game.

Greedy Bankers takes approaches gem matching from a whole different angle, and for that I am quite grateful.  The game is lots of fun, and it has managed to help me pass the time during a couple of projects that basically required me to sit and watch progress bars.  There's not a whole lot to it, but that's part of the charm.  I'd say this is the perfect game for anyone looking for the simplicity of solitaire but not wanting to actually play a card game.

Final Score: 8/10
App Store Link